Paving Program
Current Works
Prest Road (Trans-Canada Highway to Chilliwack Central)

removal of top layer of asphalt, repave and installation of dedicated 1.5m bicycle lanes
Paving is scheduled Tuesday, September 19 - Friday, September 22

expect single lane alternating traffic control, delays and respect traffic control personnel

Uplands Road (Promontory to 46419 Uplands)

road widening, drainage upgrades and mill and pave
Completed Works
Arnold Rd
Bailey Landfill – repaved areas, new bypass lane
Barrow Rd
Butchart St – Chilliwack Central to McCaffery
Elk View Rd – Payne to Ryder Lake Rd
Elm Dr – Chilliwack Central to Norrish – repaved and added pedestrian lane
Karson Rd – repaved with additional shouldering
Kitchen Rd – Fairfield Rd to Ballam Rd – repaved and added sharrow symbols
Lombardy Cres
McCaffery Blvd – Broadway to Cornwall Cres
Pearson St – Chilliwack Central to McCaffery
Sylvan Drive – Promontory to Lutz Rd
Teskey Rd – Sylvan Dr to Cedar Creek
Vedder Rd – Luckakuck to Knight
Yarrow Central Rd – No.3 to Eckart
Future Works
Dyke Rd – Pave municipally owned portion
Lower Landing Rd – Repave 80 meters of road
Background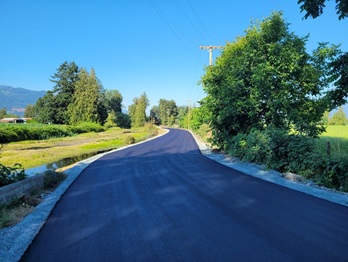 Each year the City of Chilliwack tenders asphalt rehabilitation work for various roads to maintain the driving surface and reduce maintenance costs.
Typically the Engineering Department recommends rehabilitation of roads in the worst condition in each classification based on a condition survey which is updated every five years. A comprehensive survey was done by Stantec in the late summer of 2017.
Minor drainage and curb and gutter improvements will be made adjacent to rehabilitation projects where significant deterioration has occurred or upgrades are required.
The Engineering Department coordinates both timing and scope of work with the City Operations, Development, and Utility Departments. The coordination avoids unnecessary utility cuts in newer asphalt, increases cost efficiencies and minimizes impacts to residents.
Project Updates
For monthly updates on transportation construction projects, subscribe to our newsletter.