Airport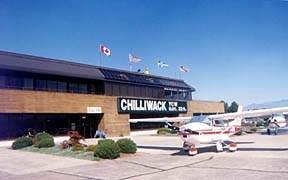 The Chilliwack airport is 130 acres with 1,219 metres (3,990ft.) paved and lit runway that includes a parallel taxiway.
Approximately 70% of the estimated 60,000 annual air traffic movements are itinerant traffic that consists of both pilot training and recreational flights from all around BC and south of the border.
Amenities
Facility accommodationfor 75 private and commercial aircraft, including fixed wing and helicopters.
Terminal building – designed to accommodate aircraft to a maximum seating capacity of 19 passengers.
Fueling station – available 24 hours and offers competitively priced:

100LL Avgas, small aircraft
Jet A, turbine and jet engine and helicopter

Chilliwack Airport is well known to B.C. aviators as one of the most attractive airports in the province.

20 businesses

Flight training
Charter companies – fixed wing and helicopter
Aircraft maintenance and painting
Airport Coffee Shop, famous for their pies
Various other aviation orientated business
---
Chilliwack Flight Fest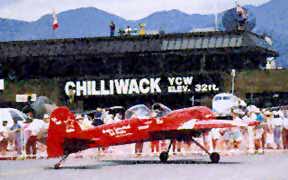 Each year, in August, the airport hosts the Chilliwack Flight Fest - a free Airshow with top name performers. The fun takes off in the morning with a pancake breakfast, followed by a full day of flying and ground activities, fun for the whole family.