Air Quality
Air quality is an environmental and social issue of high priority since it can have a profound effect on quality of life. The Lower Fraser Valley Airshed (LFVA), in which Chilliwack is located, is confined because air becomes trapped in the valley due to the surrounding mountains. As a result, the airshed is susceptible to the build-up of contaminants. Therefore, protective measures are required to reduce potential impacts on human health, visibility and the environment. The LFVA is shown by light green on the map below.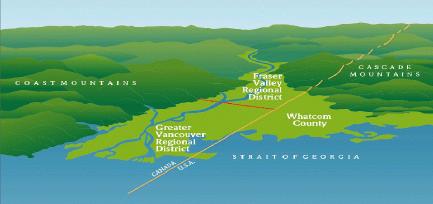 (Map source: 2000 Emission Inventory for the LFVA)
Air quality in Chilliwack is a function of both human and environmental factors. Vehicle, industrial and agricultural emissions are the greatest human factors. Weather conditions also influence Chilliwack's air quality, as wind from the west transports pollutants up the valley.
Air Quality Monitoring in Chilliwack
Air quality and emissions in the Fraser Valley Regional District (FVRD) are regulated by the provincial government under the Environmental Management Act. For more information, please visit the FVRD Air Quality and Climate website. Air quality in Chilliwack is also monitored on an on-going basis by Metro Vancouver.
The Air Quality Health Index (AQHI), a standardized measurement designed to report air-borne pollutants health risks, can be found here. Metro Vancouver also prepares annual reports as well as a Lower Fraser Valley Air Emissions Inventory every five years.