Transit
NEW - April 25, 2022
BC Transit has launched NextRide, its Automatic Vehicle Location technology. NextRide allows customers to see real-time bus locations along routes and identify what predicted arrival times are at any selected stop.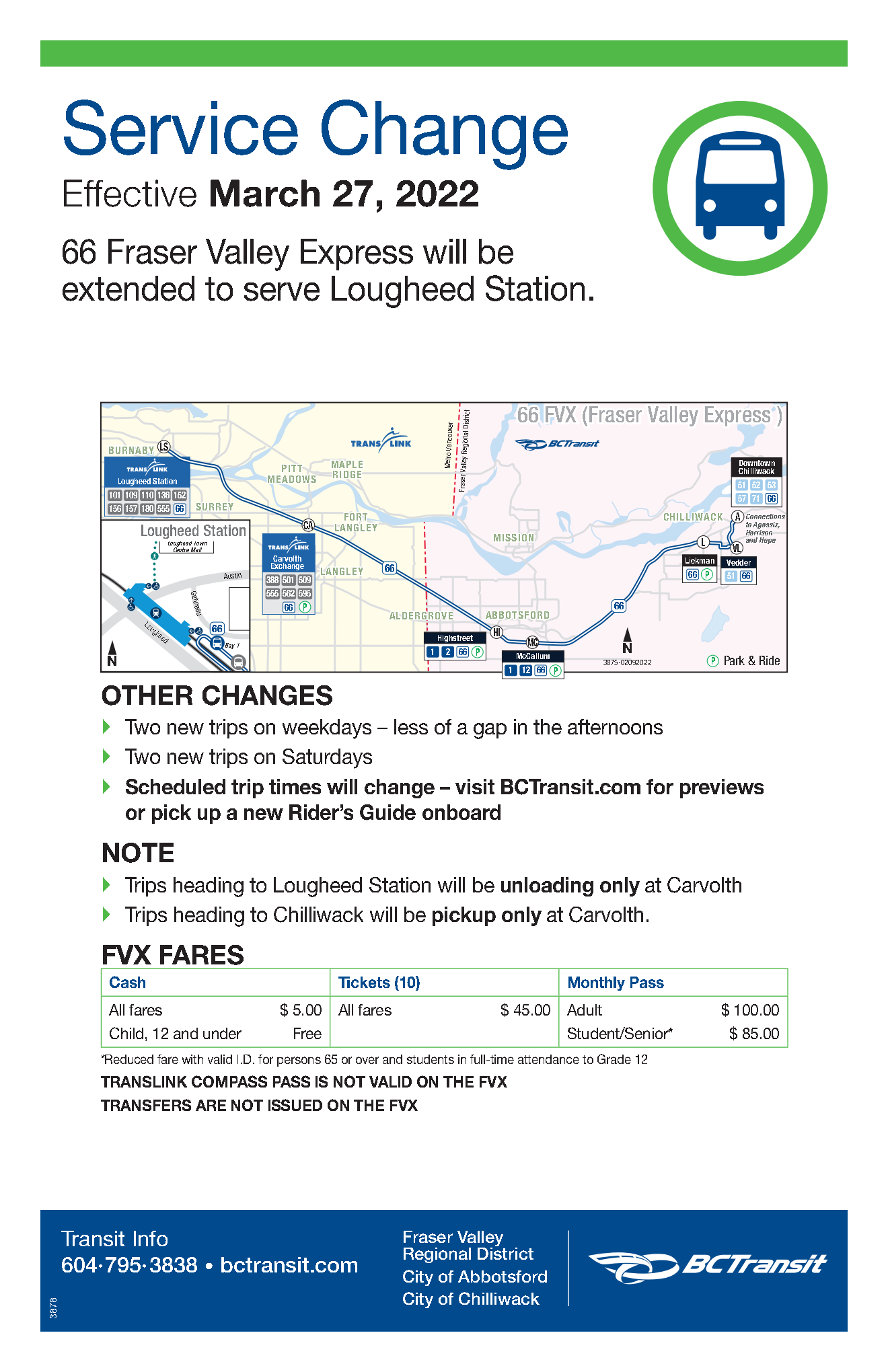 Chilliwack has an efficient public transportation system, with local and regional bus service and local HandyDart provided by BC Transit. For a trip planner, rider information and more information on fares, schedules and route maps, please visit www.bctransit.com/chilliwack.
Chilliwack
Transit System

Fraser Valley Express
(Chilliwack to Langley)
Route Info
Route Info
Route Info
Purchase Online
CHILLIWACK
FVX

Purchase In Person

Chilliwack City Hall
8550 Young Road
Chilliwack, BC

Save-On-Foods
46020 Yale Road West
Chilliwack, BC

FV Regional District
45950 Cheam Avenue
Chilliwack, BC
Bus stops and shelters are managed by the City of Chilliwack. To report a maintenance issue or inquire about adding a bench, shelter or bus stop, please contact [email protected] or call 604-793-2907.
The Chilliwack Transit System is funded and operated as a partnership between the City and the provincial agency, BC Transit. Chilliwack Transit provides well over 500,000 rides per year. The province covers about 50% of the cost, the City 20% and rider fares cover approximately 30%.
FirstCanada Transit Services Inc manages drivers, vehicle maintenance and lost and found services. They can be contacted at 604-795-3838, and dial "0" to speak to a live operator.