Careers
Build your career with the City of Chilliwack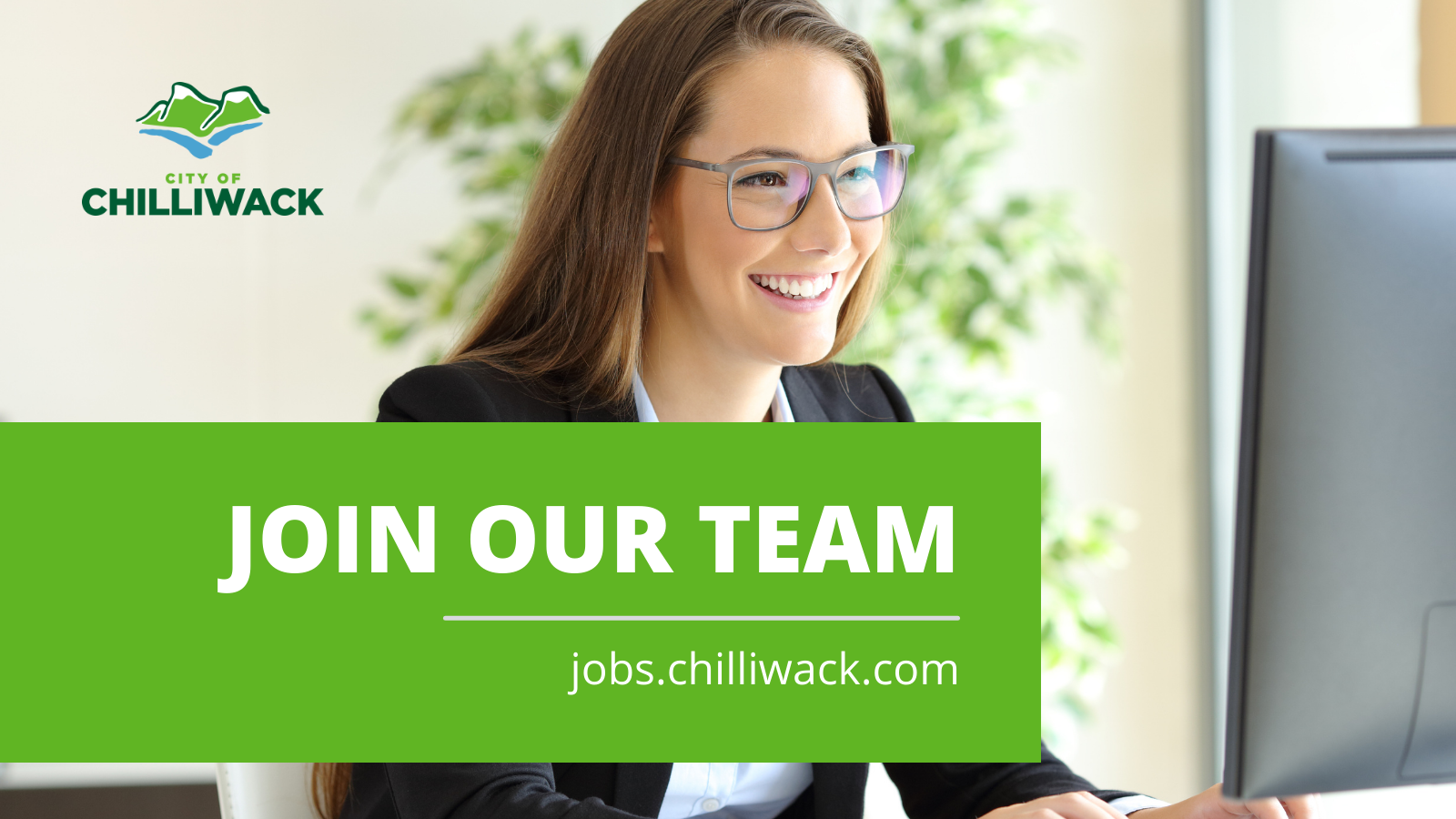 Visit jobs.chilliwack.com to view and apply for current job postings.
Our city
Chilliwack is a vibrant, growing community that more than 100,000 residents call home. Surrounded by mountains, rivers, trails, parks, and lakes, people come here for adventure, and stay for the sense of community. At the City of Chilliwack, we provide a wide range of facilities and services to support a strong and connected community, and we are looking for passionate individuals to join us.
Why work here
At the City of Chilliwack, we are committed to providing a positive work environment where employees feel valued and respected. We are proud to offer our employees opportunities for professional development, competitive compensation, comprehensive benefits packages, and a focus on corporate wellness.
Who we hire
As a rapidly growing municipality committed to quality service and a supportive workplace, we are seeking talented professionals who want to contribute to community building.
Accommodations are available during the hiring process upon request. Please contact our Human Resources team at [email protected] or 604.793.2933 to let us know your access needs.
What we offer
We offer a number of benefits to eligible employees, which include:
Extended health and dental coverage
Life insurance
Municipal pension plan
Employee and family assistance plan
Vacation and sick time
Training and development opportunities
Frequently Asked Questions
The City uses an online application system that is simple and easy to use! This is the best way to ensure that your application is received by the deadline. Please contact the Human Resources team directly if you have any access needs.
After a career opportunity closes, candidate applications are reviewed to determine those that meet the knowledge, skills, abilities and experience indicated on the postings. Shortlisted candidates are contacted by telephone or email to participate in the hiring process. Candidates may be asked to complete testing requirements and or be scheduled to participate in an interview. The City of Chilliwack thanks all applicants for their interest in career opportunities with us; due to the high volume of applicants only those considered for the position will be contacted. .
We do not accept general resumes. If you are interested in one of our career opportunities, please apply to a specific advertised posting online through the job board.
Every position may have specific requirements. You can apply for multiple positions if you qualify.
Testing is a part of the hiring process for some careers at the City of Chilliwack. If testing is a requirement, Human Resources will let shortlisted candidates know in advance.
All applications are accepted only through the online system. Therefore, we are unable to accept applications after the deadline. We recommend that interested candidates keep their online profiles up to date and sign up for email notifications to ensure you can apply quickly and easily the next time a suitable position is available.
Contact Us
City of Chilliwack Human Resources
[email protected]
604.793.2933