Fire Department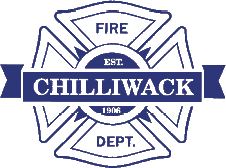 For fire prevention inquiries,
please contact the
Chilliwack Fire Department at:
604-792-8713
Fire Services
The Chilliwack Fire Department is committed to community safety through public education, code enforcement, fire suppression and rescue services. Some of the many services we provide include:
Fire Suppression
Structural, vehicles, brush, aircraft.
BCAS/First Responder
Heart attacks, collapses, traumas.
Rescue and Safety Calls
Hazardous material spills, industrial
and farm accidents.
Motor Vehicle Accidents
Extinguish fires, extricate victims,
provide medical assistance.
Public Service Calls
Carbon monoxide alarms, downed hydro electric lines, lock-outs.
Fire Prevention Services
Code & bylaw enforcement, public building inspections.
Public Education Services
Fire safety lectures for schools, clubs and associations;
fire extinguisher training and fire hall tours.
Fire Safety Inspections
All public buildings and for special events.
Fire Investigations
Determine fire origin and cause.
Community Support
Organize and participate in many local community events.
Juvenile Fire Setter Intervention
Intervention and support for juveniles and their guardians.