Sardis Neighbourhood Plan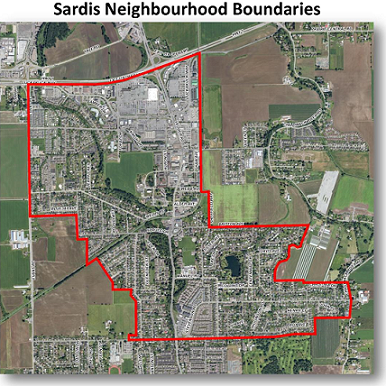 The Sardis Neighbourhood Plan has now been completed and forms a part of Schedule D-Neighbourhood Plans in the City of Chilliwack's 2040 Official Community Plan (OCP), serving as a guide for future decision making regarding changes in land use.
The Plan builds on the objectives of the OCP and responds to concerns expressed by residents, providing more detailed policies to guide infill redevelopment, focusing on land use and development, housing, mobility, parks, the natural environment and urban design. The Plan is supported by 8 overarching principles that form the foundation of the Plan and inform policy direction, future decision-making and investments in Sardis. The principles reflect community values, OCP city-wide goals, Council priorities and best practices.
There are various factors that influence implementation timelines. For example, timing of redevelopment is dependent on the market and the interest of property owners, and successful rezoning and development. The Plan reflects a comprehensive planning process and is intended to be a living document whose implementation includes monitoring and amendments, as needed, over time to respond to emerging community needs and opportunities, through established public processes.
Please contact the Planning & Strategic Initiatives Department by phone or email with any questions or comments.
Email: planning@chilliwack.com
Phone: 604.793.2906