Wildlife
The hillside communities in Chilliwack are prime habitat for bears, cougars, coyotes, deer and many other wildlife. Please help keep wildlife wild and our community safe by responsibly managing your waste.
If you see a wildlife accessing curbside materials or acting aggressively toward humans or pets, please call BC Conservation Office Service RAPP line at 1-877-952-7277.
Be Bear Aware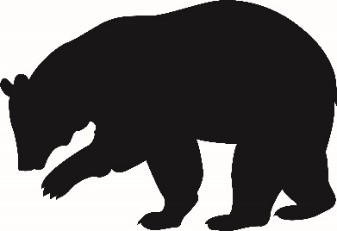 Bears have keen sense of smell and are easily attracted to readily available food sources such as garbage and compost. Bears that fail to find a food source will often move on, however, bears that become highly food-conditioned and habituated to humans are often destroyed because of concerns for human safety.
According to the updated Solid Waste Management Bylaw, residents located within an area with wildlife issues (see map below must ensure garbage, recycling, compostable waste, and associated containers are stored in a way that is not accessible to wildlife. When not at the curb, please store the containers inside the garage, or another enclosed structure, to further prevent access by wildlife. Residents must only place materials out for curbside collection after 5 am on the morning of collection to help prevent bears and other wildlife from accessing waste overnight. All containers must be returned to their secure storage place by 10 pm on your collection day.
Even residents who are not in designated areas with wildlife issues are encouraged to follow the best practices and minimize the amount of time their materials are at the curb to reduce the risk of wildlife accessing waste.
Map of Areas With Wildlife Issues
Below is a map designating all hillside neighborhoods as areas with wildlife issues. These areas include but are not limited to Promontory, Ryder Lake, Eastern Hillsides, Chilliwack Mountain, Majuba Hill, Riverstone Heights and Little Mountain.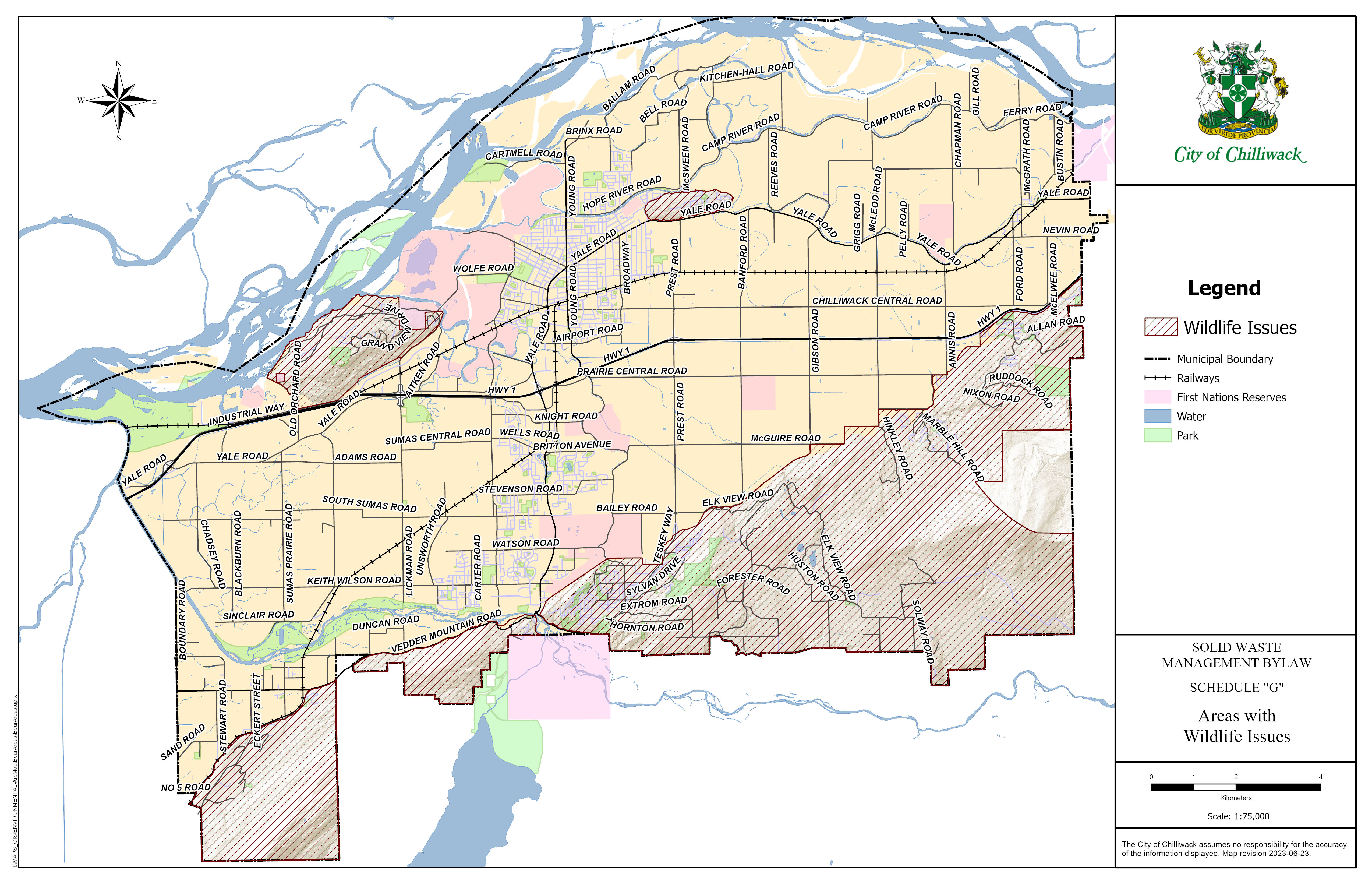 Hillside residents cannot place curbside materials out until after 5:00am on their collection day (no materials out overnight). Additionally, residents who live in the designated areas with wildlife issues are required to to store their waste and waste containers in an enclosure and/or in a way that is inaccessible to bears and other wildlife.
Residents who live in areas with wildlife issues will automatically be required to set out their containers at the prescribed times.

Information stickers may also be placed on waste container observed at the roadside overnight. The first sticker will be left as a warning, followed up with a letter. Additional observations of curbside materials left at the curb overnight may results in fines.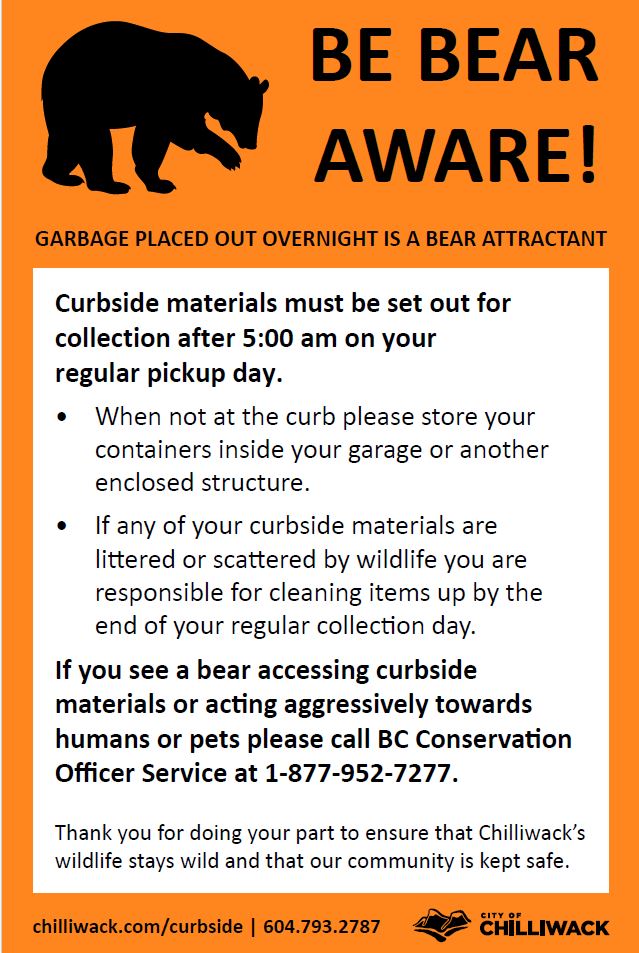 Reduce odours by freezing smelly food waste and disposing of it on the day of collection.

Rinse recycling materials to remove food residue. Even with rinsing mixed-recycling often contains traces of food residue and odours which may attract bears so it is important to secure these bins and only place them out on regular collection day.
Keep all containers securely stored inside a garage or another enclosed structure until collection day.

Ensure all your containers have tight fitted lids.

Tips to Minimize Interaction with Wildlife
Manage fruits trees and berry bushes by picking fruit as it ripens and avoiding it collecting on the ground.

Feed pets indoors and keep bowls and food containers inside.

Bird feeders often become bear-feeders so please only feed birds during the winter months when bears are hibernating and natural bird food is limited.

Keep your barbecue clean and free from odours by burning off the grill every time after use and cleaning out the grease traps.

Manage your compost properly and have equal amounts of brown and green materials added to reduce odours.

If you have chickens, bees or small livestock, use a properly installed and maintained electric fence. Store all your feed in a secure location and ensure feeding areas are clean and free of attractants.
For more tips, including what to do if you encounter a bear, visit wildsafebc.com.
In British Columbia, through the Provincial Wildlife Act the province is responsible for the management and health of wildlife. Through conservation and wildlife health programs, they ensure wildlife and their habitats thrive and at the same time reduce the human-wildlife conflict.
The province also created the Report All Poachers and Polluters (RAPP) hotline to report wildlife-human interactions where public safety may be at risk. The RAPP program is a toll-free tip line and online service that also allows you to report known or suspected violations of fisheries, wildlife, or environmental protection laws anonymously and without risk of confronting the offender. It is available 24 hours a day and can be reached at 1-877-952-7277 or #7277 on TELUS Mobility Network or report the incident online with the link below.
Report All Poachers and Polluters (RAPP) – Environmental Protection & Sustainability Forms (gov.bc.ca)
WildSafeBC is the provincial leader in preventing conflict with wildlife through collaboration, education and community solutions. They provide wildlife facts, safety advice and conflict reduction strategies for wildlife species in British Columbia. They also have different programs to increase awareness and reduce human-wildlife conflicts. WildSafeBC has local coordinators to deliver education and outreach activities to residents in their areas.
A few highlights with WildSafeBC according to the WildSafeBC Fraser Valley Annual Report of 2022, there were 1067 wildlife reports made to the Conservation Officer Service and the WildSafeBC Wildlife Alert Reporting Program (WARP). Abbotsford, Mission and Chilliwack accounted for most wildlife reports made within the FRVD last year. The top three species were black bears (793 reports), coyote (89 reports) and cougar (73 reports).
In May to December 2022, the local WildSafeBC Community Coordinator performed outreach activities with WildSafe Rangers to 8 Chilliwack schools and door-to-door education to 238 homes with door hanger information that was distributed in Chilliwack Mountain, Marble Hill and Eastern Hillside neighbourhoods since these areas have high levels of wildlife activities. The City is providing extra funding to partner with WildSafeBC in 2023 to have continue support designated in our hillside areas for more door-to- door outreach, bin tagging and educational booths at community events.
For more information about WildSafeBC please visit their website Home – WildsafeBC.