Compostables (Organics) Diversion
Keeping compostable waste out the landfill
The Fraser Valley Regional District is taking steps to divert compostable material from disposal; a priority in the FVRD Solid Waste Management Plan. To support the regional efforts, the City of Chilliwack has modified our Residential Curbside Collection Program to separate organics/compostables (food waste, food-soiled paper and yard waste) for composting.
The City has also been working with the FVRD to ultimately expand compostables diversion to other sectors such as multi-family residences, businesses, schools, and health facilities. The FVRD's Solid Waste Removal Regulations Bylaw comes into effect in 2020 and will require all residential, commercial and institutional properties in the region, including Chilliwack, to separate compostables and recyclables from garbage. For more information, click here.
Why is it important to compost?
When food and other compostable material end up in the garbage they use up a lot of valuable space in our landfill. This space is limited and creating more landfills is undesirable. It is estimated that 1/3 of what we send to the landfill in our region is can be composted and a significant amount of compostable waste is generated by residents. A waste audit conducted for single family residences in Chilliwack in 2010 showed that compostable waste comprised over 45% of the total garbage stream: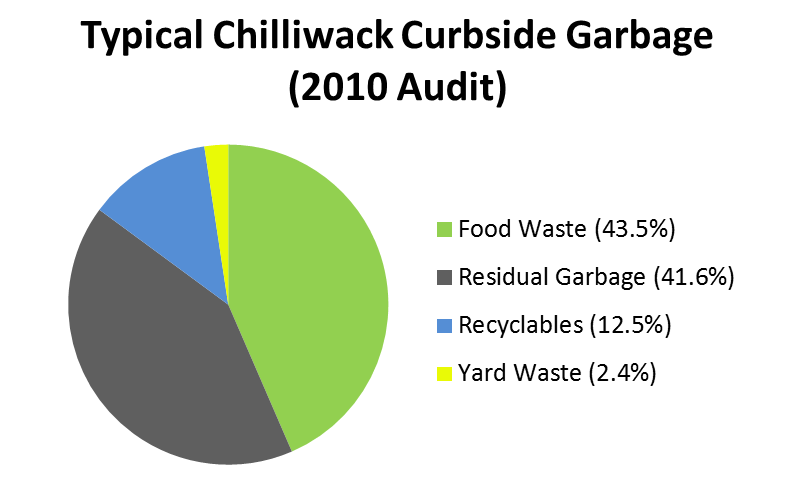 The diversion of compostable material from the landfill will have several other benefits:
Less odour generation
Less attractants for rodents, birds, and wildlife
Less greenhouse gas generation
When compostable material breaks down inside a landfill site where there is no oxygen, it generates methane, which is a greenhouse gas 23 times more powerful than carbon dioxide. Although we now have a gas collection system at the Bailey Landfill, it is impossible to collect all of the gas generated. In just one year, the gas extraction system collected over 800,000 cubic metres of methane or 11,300 tonnes of greenhouse gas! If compostable material is diverted from the landfill in the future, the gas collection system is still required because historic food waste disposed of at the landfill will continue to generate methane for years to come.
By participating in the City's Compostable Collection Program, you will:
Produce less garbage because food waste makes up over 40% of residential garbage.
Turn waste into a resource by transforming this compostable waste into nutrient-rich compost for farmers and landscapers.
Contribute to cleaner air by reducing methane production at the landfill.
For more information, please contact our Engineering Department at 604.793.2787, e-mail curbside@chilliwack.com or visit the Curbside Compostables (Organics) Collection Program webpage.
Information about the Residential Curbside Compostables (Organics) Collection Program
Answers to common questions about the new Curbside Compostables (Organics) Collection Program