Cycling Safety
---
**NEW click here to view our Bike Map OR if you prefer, you can pick up a paper copy at City of Chilliwack; Pedal Sport; Mt. Waddington's Outdoors; Vedder Mountain Bike; The Bookman; and Abbotsford Airport. More locations coming soon.
Did you know that the Motor Vehicle Act and City Bylaw apply to cyclist too? Cyclists have the same rights and duties as a driver of a vehicle.
Be a safe rider by:
Always wearing a bicycle helmet; it is the law in B.C.

Position the helmet flat on the head, not slanting forward or back. Fasten the chinstrap to fit snugly.

Ride in single file – it's the law in B.C.
Obey all traffic signs, signals and rules of the road.
Stop and look all directions before cycling out of an intersection, driveway or lane.
Keep to the right-hand side of the road as much as it is safe to do so. Never ride your bike on the left-hand side of the road while facing traffic. A bicycle is considered a vehicle in the Motor Vehicle Act.
Yield the right-of-way to pedestrians
Keep a straight line. Do not weave in and out of parked cars, obstacles, etc.
Shoulder check before signaling to turn, change lanes, move in and out of traffic or stop.
It is against the laws to carry passengers on a bike with one seat.
Never pull or tow anybody with your bike.
Keep both hands on the handlebars unless signaling.
When passing other cyclists, look behind for approaching traffic and use a bell, horn or voice to indicate you are about to pass.
Walk your bike over rough spots (gravel, ruts, rocks and potholes) and over cattle guards, crosswalks, and on sidewalks.
Avoid riding your bike through puddles; there may be hazards hidden beneath the water that you cannot see.
Remember you bicycle is not a toy – it is a vehicle.
Drivers, you can help with cycling safety too:
Share the road with cyclists
Do not park or stop on bike lanes as it is prohibited. Park or stop in designated areas only.
Watch for cyclists at:

Intersections;
Before turning right or left;
Before opening your vehicle door;
When travelling on roadways, especially when visibility is restricted (fog, rain, dawn, dusk, evening);
And when leaving a parking stall or driveway.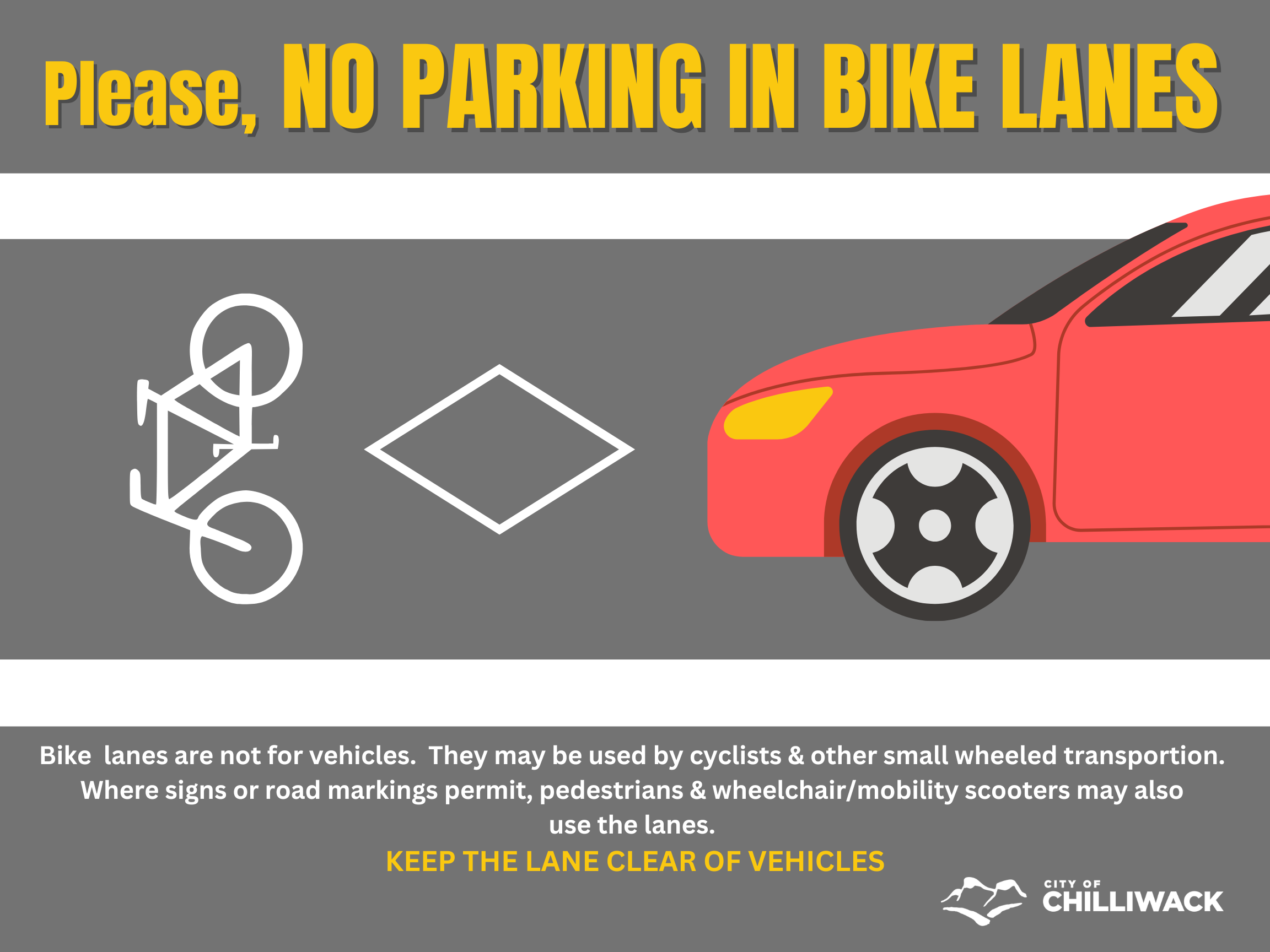 Bicycle Theft
Bikes can take only a moment to steal. Always lock up your bike with a good quality chain and lock through the frame and wheels. Learn other preventative measures to help reduce the chance of having your bicycle stolen.
RCMP protect your bike from theft
Crime Prevention Toolkit (crime mapping)
More Safety Information Available Here:
Click here for our Biking Map for all of the City of Chilliwack Bike Routes
Use these TIPS to fit a bike helmet for your child in seconds
Visit ICBC Cycling Safety to learn more
Visit Cycling Safety Tips to view the brochure