Idle-Free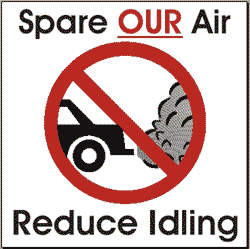 Spare Our Air! Reduce Vehicle Idling!
The City of Chilliwack is taking action to make our community healthier and greener!
In order to reduce greenhouse gas emissions and smog causing pollutants, the City has launched an "anti-idling" campaign. This campaign involves both policy and public education components. In September 2004, City Council adopted a policy that will eliminate all unnecessary vehicle idling within municipal fleets. You can see our trucks proudly displaying a "Spare Our Air" decal on the window.
Join Us In Making Chilliwack Healthier and Greener!
If you would like to participate in our program and make a commitment to stop idling, please contact our Engineering Department at 604-793-2907 to request a "Spare Our Air" idling window decal.
For more information:
Most Canadians idle their vehicle for 5-10 minutes a day. Here are the main reasons why idling is a big problem.
Many Canadians still believe several myths concerning idling their vehicles. Research by government and vehicle manufacturers has debunked three common myths.
You can help improve air quality and use energy more wisely by turning off your engine when your vehicle is parked.