John Weaver and his Studio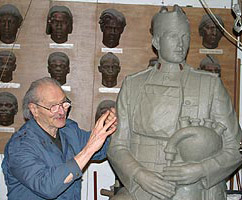 "In this case, sculpture has to be a complete means of communication, one could easily write a long essay to tell this story, but what I do, you have to be able to get it in just one glance."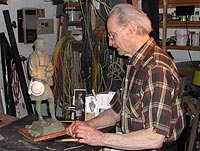 Master Sculptor, John Barney Weaver lived in Hope, BC beside Silver Creek where he operated a studio with his family, son Henry and daughter Sara. Born at Annaconda, Montana in 1920 he was a graduate of the Art Institute of Chicago in 1946.
Mr. Weever had been employed as a sculptor for both the Smithsonian Institute, Washington, DC and, upon his arrival in Canada in 1966, with the Alberta Provincial Museum.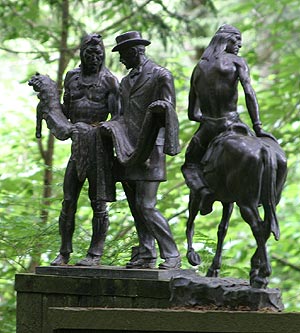 John Weaver had a long and distinguished career and his record of work fills museums, galleries, private and public institutions and is also enjoyed by private collectors.
The Weaver's studio, home and forest garden, immediately bordered by a mountainside and Silver Creek, features numerous small bronze casts, and life size plaster versions of his work.
Beckoning from atop moss covered boulders and various man-made and natural plinths his work incited investigation, curiosity and immediate appreciation.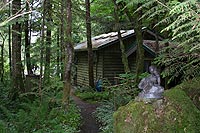 Visitors to the Weaver Studio quickly become enraptured with his work, and the eclectic ambience of his studio and home.
Final project approval for casting was granted by the project committee on June 24, 2003.
The Weavers then produced a mold directly from the life-size plasteline model. This mold was delivered to Studio West where the bronze cast was created employing the lost wax technique. All of the statue's finishing work was completed at this Cochrane, Alberta foundry.
Sadly, John Weaver passed away at his home in Hope, BC on April 10, 2012 at the age of 92.