The Piper Richardson Statue Project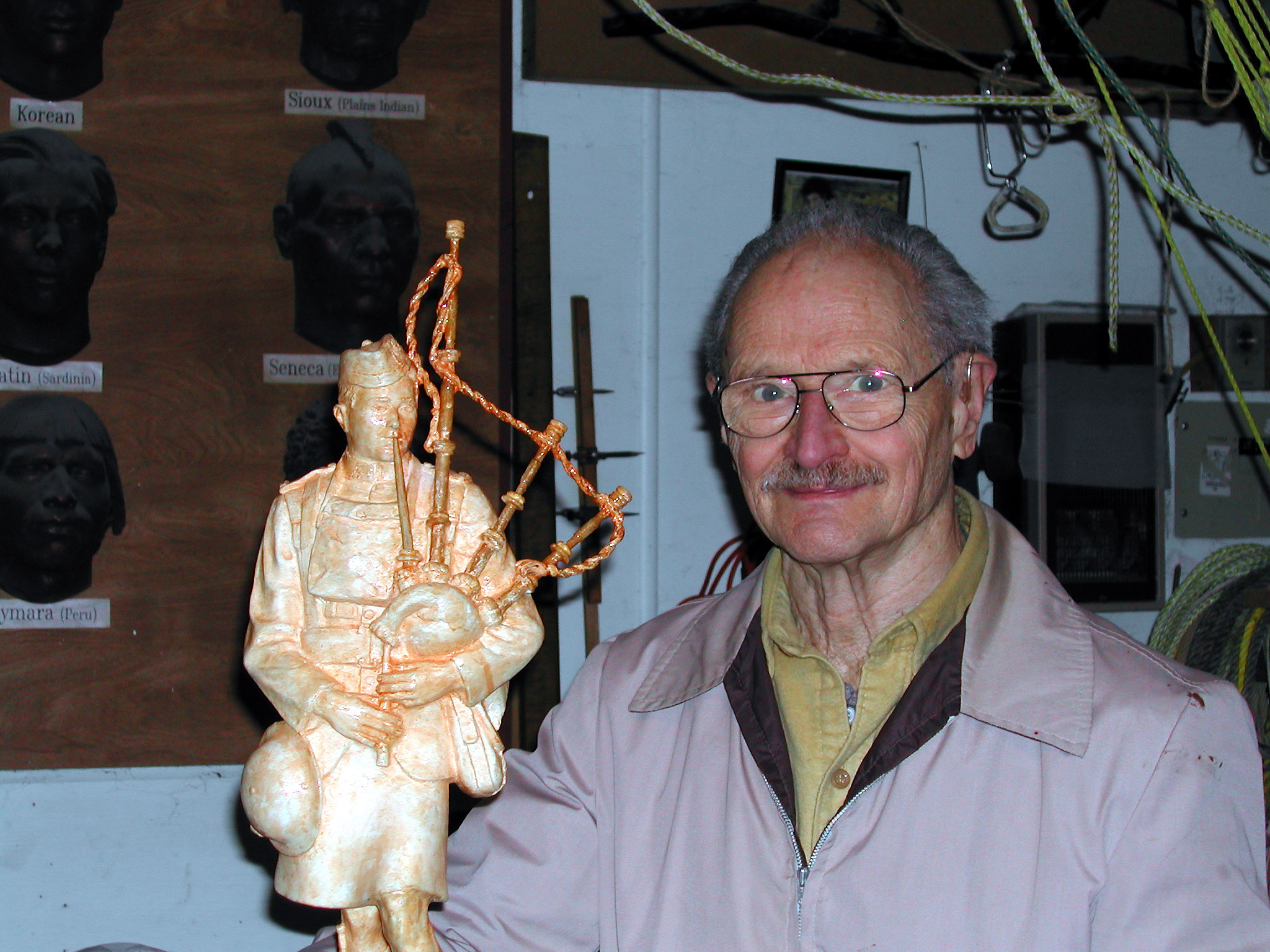 Master Sculptor, John Weaver
Commemorating the achievements and sacrifice of
Piper James Cleland Richardson was a topic of conversation and desire for some time. It was through the urging and work of Jim Chrystal, a member with the Royal Canadian Legion, Branch 4 and upon his discovery that Master Sculptor John Weaver lived in Hope, BC, that Councilor Dorothy Kostrzewa initiated the Piper Richardson Statue Project Committee with Mayor Clint Hames' approval.
Extensive Research Was Conducted
The Canadian Scottish Regimental
Museum provided images of uniforms and First World War personnel ensuring relevant details were provided to sculptor John Weaver. Many challenges were encountered but in the end the desires of the committee, the physical requirements of a bronze cast, historical accuracy and artistic expression were respected.
The first model was about 2' tall and was modeled in plasteline, a mold produced and plaster casts made. Changes were made between this initial model and the final life size version that stands 6' tall.
It was decided to locate the statue at the corner of Yale Road West and Spadina Avenue on the front grounds of the Chilliwack Museum.
Uniform Details and Modifications
It was determined Piper Richardson would wear a glengarry rather than a helmet as the helmet would cast a shadow across his face. The 16th Battalion cap badge on the glengarry is slightly larger than the issue insignia to make it more visible. The final version does not include 16th Battalion Division flashes as these were not issued to the unit until 1917. However, "C" over "16" collar badges, Canadian Scottish shoulder titles and regimental buttons were incorporated into the final work.
The statue is modeled with 1908 pattern web gear from which a helmet is harnessed, and a bag, and water canteen are carried. Uniform details such as the hose tabs and half-wrap kilt cover were based on an image of a soldier in the 16th Battalion C.E.F. Also placed within in his hose is a Sgian Dube (Gaeilic for "Black Knife), or skeendo. In this position the placement indicates that 'no malice is intended' and though unlikely to have been worn on the battlefield, suggests an element of peace on the statue.
Consideration was also given to the puttees, boots and laces. Laces were difficult to study due to the lack of images of soldiers with their boots and laces in the forefront of the picture.
In working with a piper, numerous changes were made to the bagpipes, including the bagpipes being modeled into a 'playing' rather than a 'relaxed position.'
The life size model as shown without pipes and ribbons in place is due to these items being modeled and cast separately from the main figure. These articles were then welded in place at "Studio West", a Canadian bronze art foundry located at Cochrane, Alberta. The statue was then cast during the summer of 2003 and installed October 11,2003.