Yarrow Septic System Guidelines
Yarrow is a communty in Chilliwack located south of the Vedder River. It includes approximately 175 hectares of land and the land use is primarily residential with a commercial / institutional district in the centre.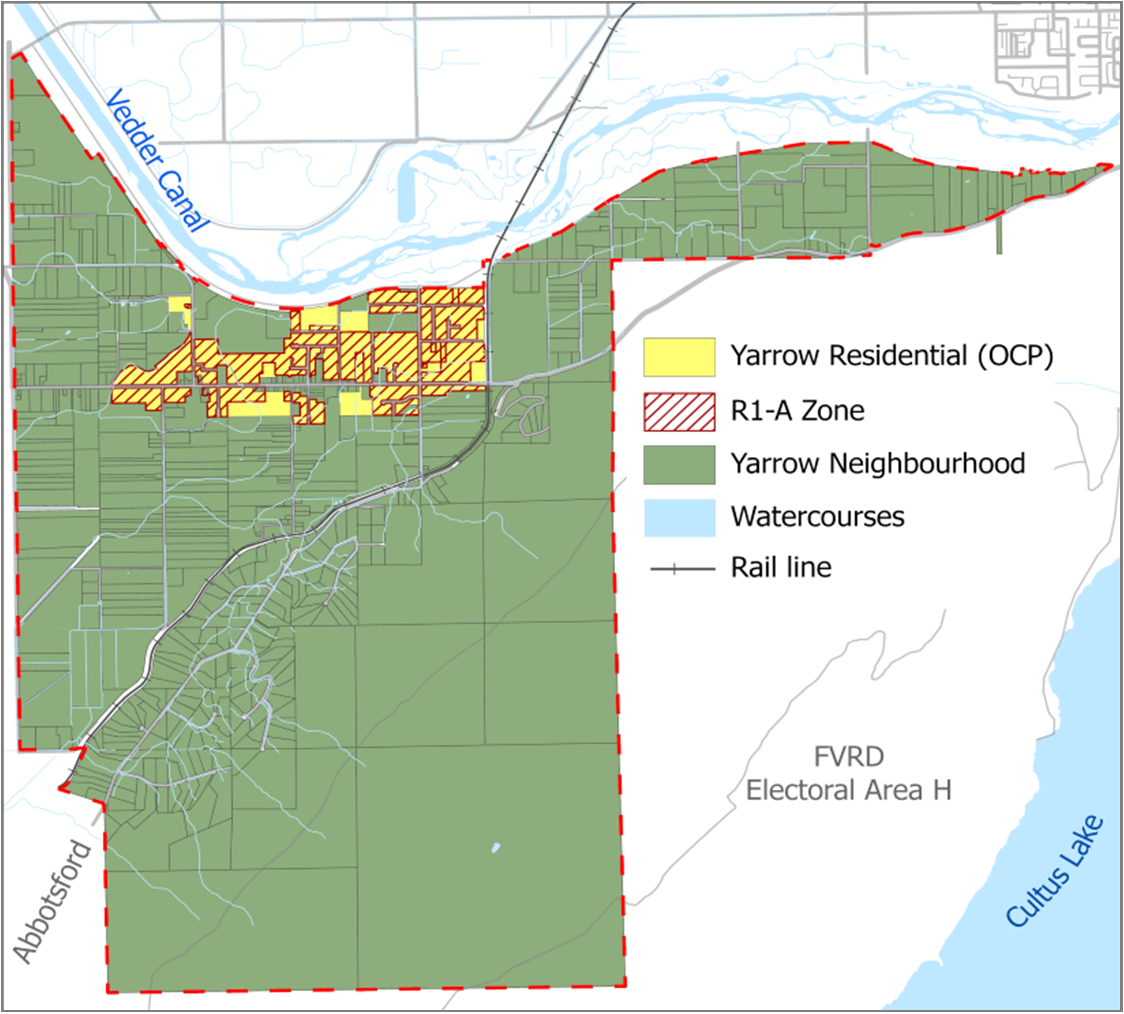 Due to the flat low-lying nature of the land, the water table sits very close to the surface in Yarrow. The water table is where the underlaying soil/sediment or rock is completely saturated. In Yarrow's case, this is close to the surface, which means there is a higher potential for contamination and pollution of groundwater.
The homes in Yarrow have their own septic systems, and are not serviced by the City of Chilliwack sanitary sewer. Provincial regulations pertaining to septic systems can be found under the Sewerage System Regulation pursuant to the Public Health Act.
Due to the naturally high year-round groundwater levels, increasing development and reliance on septic systems, the City of Chilliwack implemented maximum gross floor areas of all buildings and structures for residential use, which can be found in the City of Chilliwack's Zoning Bylaw 2020, No. 5000. These requirements help address the risk the cumulative effects of individual septic systems could cause groundwater levels to rise and impact public health, the environment and property.
For properties within the Yarrow Neighbourhood, as established by the City's Official Community Plan Bylaw 2014, No. 4025, as amended, an accessory dwelling unit shall only be permitted subject to a satisfactory independent hydrogeological assessment indicating that the proposed accessory dwelling unit can be accommodated on the lot.
Hydrogeological assessments are required for some subdivision applications when triggered by various criteria such as reduced parcel sizes or sensitive features. The primary reasons for hydrogeological assessments are to protect against groundwater and surface water contamination, and to limit groundwater mounding.