Urban Forests
Urban Forestry
The charitable organization Tree Canada describes Urban Forestry as "the sustained planning, planting, protection, maintenance, and care of trees, forests, greenspace and related resources in and around communities for economic, environmental, social, and public health benefits for people."
As of 2021 Chilliwack has inventoried 10,437 individual trees in our urban canopy that cover over 27% of the community's footprint. These provide economic and environmental benefits such as increased property values, positive impact on real estate consumer preference, reduced runoff and erosion, improved air quality, energy savings through shading buildings, and sequestered carbon. Chilliwack's tree assets are valued at over $38 million and provide more than $3.9 million worth of ecological services to residents every year.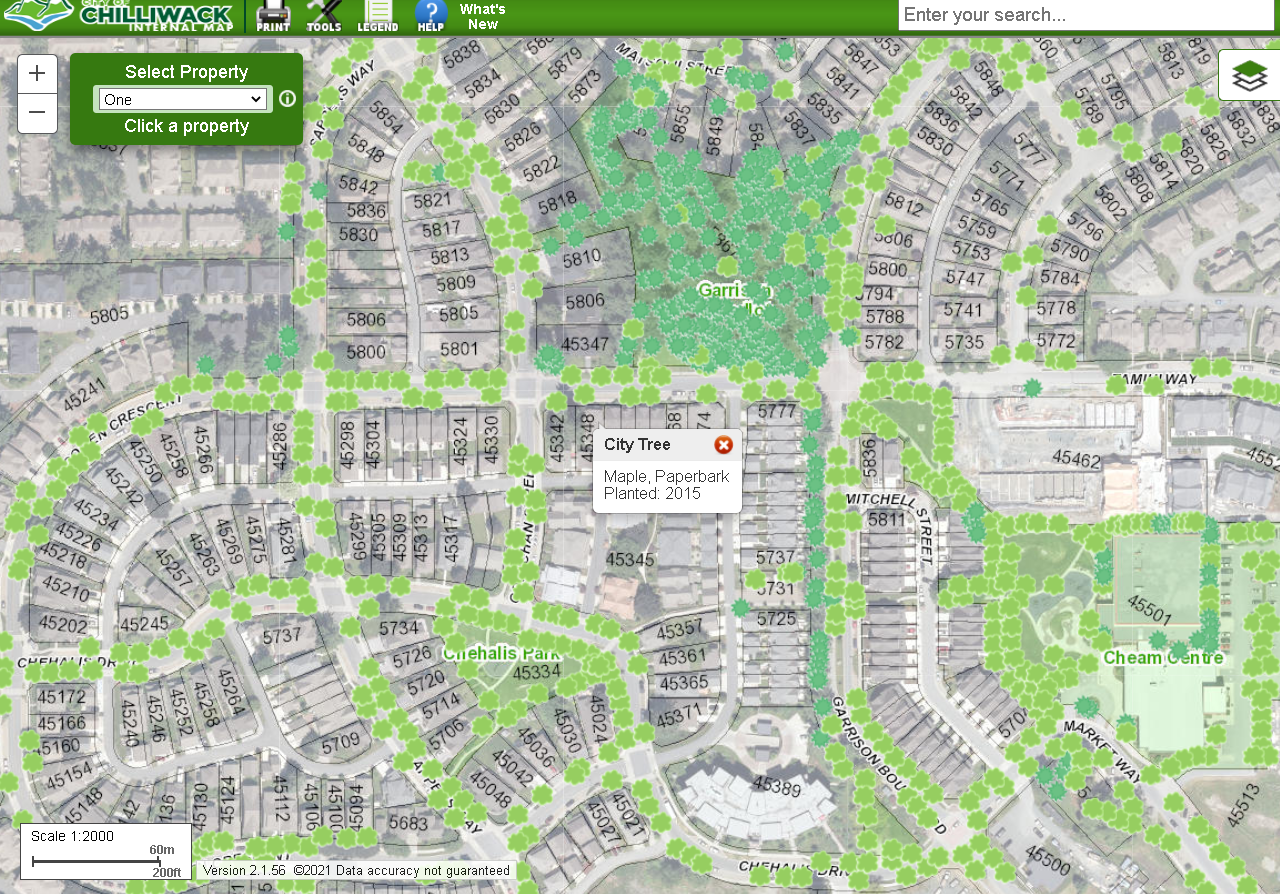 The City maintains a detailed inventory of City-owned trees comprising our Urban Forest that is available to the public at maps.chilliwack.com by selecting the "City Trees" layer.
The following sections describe various ways the City of Chilliwack is collaborating with partners and community members to grow our collective urban forest.
Street Tree Program
The City initiated the Street Tree Program over 30 years ago. Since then, thousands of new trees have been planted around the community. Using a mix of species, the City is ensuring a diverse and sustainable street tree inventory. The Street Tree Program also replaces ones damaged by storms, vehicle accidents, or poor tree health.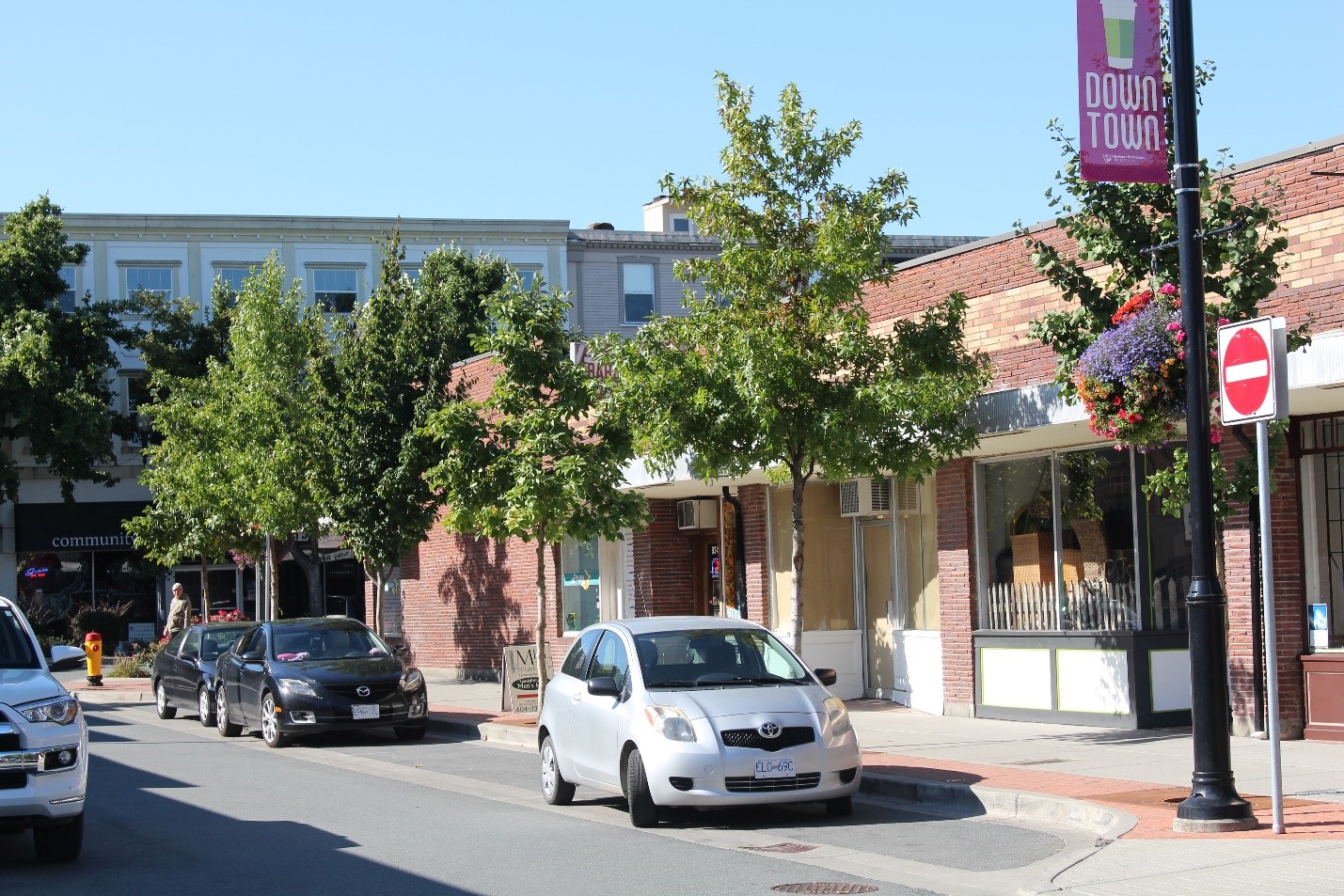 Young trees on Mill Street will grow to add to the area's aesthetic as well as keep shopper's vehicles shaded and cool during hot summers.
Once planted, all street trees are entered into the city inventory and put on a regular maintenance schedule. If you notice a concern regarding a tree on public property, please connect with our City arborists so the tree can be assessed promptly. Please remember that pruning or cutting street trees on your own, or hiring someone to do it for you, is not permitted.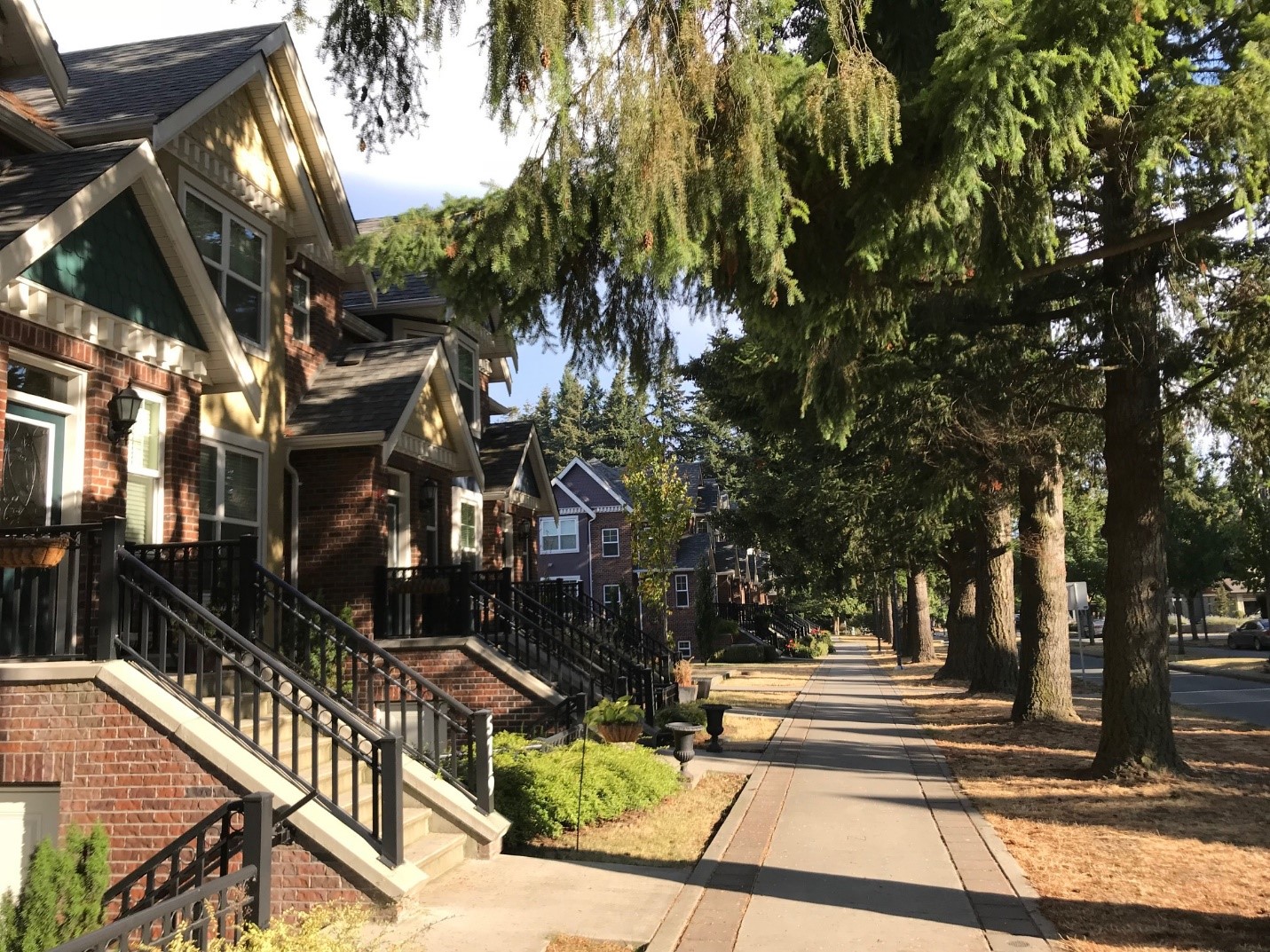 Mature Douglas Fir trees retained as street trees during development in Garrison Crossing add to the unique character of the neighbourhood.
The City also partners with Tree Canada and BC Hydro's Community Regreening Project every year. The grants help fund the purchase of trees that are suitable for planting under, or near, hydro transmission wires to lessen the risk of future power outages.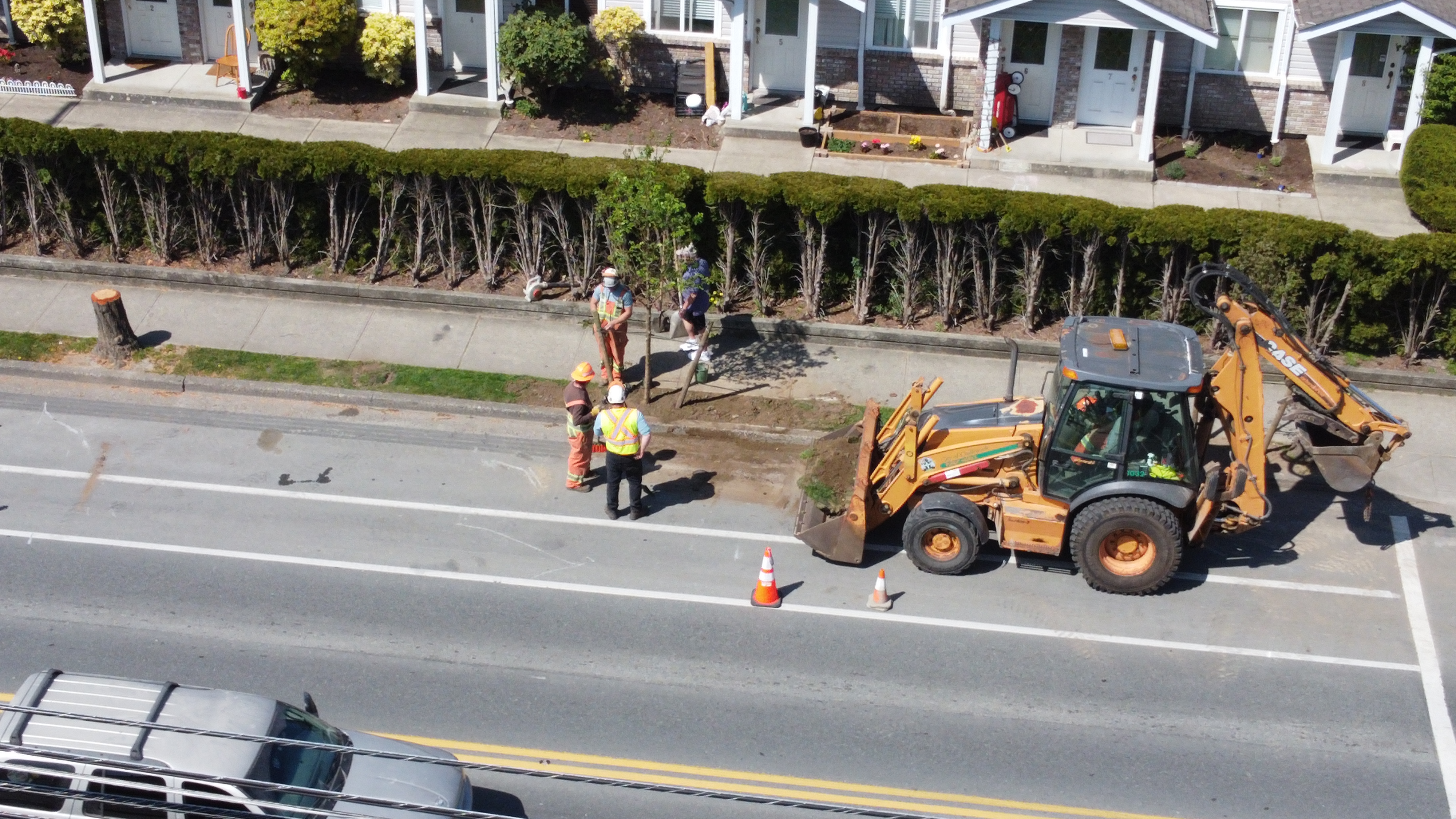 New street tree species are selected for their ability to accommodate site-specific situations like narrow planting strips or locations under hydro lines. This tree, and many others, are planted with the support of BC Hydro's Community Regreening Project.
Growing Climate Resilient Forests for Chilliwack
The Growing Climate Resilient Forests for Chilliwack (GCRFC) project is a collaboration between Shakti Restoration Ltd. and the City of Chilliwack to add supplemental tree seedlings to Mt. Thom Park that can adjust to the changing climate. Disturbance in the area before the site was a park, has led to the forest becoming set in a deciduous-dominant forest cover. Bronze Birch Borer beetles have compromised the health of the current birch-dominant forest and few new seedlings are established to take over the canopy after their decline. To supplement the seedling stock for the forest's next generation, this project will plant thirteen native tree varieties to maintain habitat now and create a forest cover resilient to climate change in the future.
Plantings will occur in three phases, pending grant funding and project sponsors.
• Phase 1: Spring 2021, ~2,000 seedlings, COMPLETED
• Phase 2: Fall 2021, ~10,000 seedlings
• Phase 3: Spring 2022, ~68,000 seedlings
The City has reviewed geologic maps and soil classification data in conjunction with aspect, elevation, and exposure to determine seven unique planting zones. Each zone has a prescribed mix of tree species for higher survival rates into the future. Many species of trees that will be planted are able to withstand warmer temperatures and longer durations between summer rains. One such species being contemplated is Willamette Valley Ponderosa Pine which, in contrast to pines found in BC's interior areas like Kelowna, is genetically adapted to life west of the Cascade mountain ranges. These trees typically grow in warmer southern areas around Oregon but are anticipated to adapt to the warming trends predicted for BC. Further, Garry Oak ecosystems are typical of southern Vancouver Island. However, isolated groves can already be found in the Fraser Valley and the Fraser Canyon on warm rocky outcrops. The GCRFC project aims to establish a band of Garry Oak along the rocky bluffs near the top of Mt. Thom Park.
Growing climate resilient forests now will help to ensure that park users and wildlife can continue to enjoy the natural setting of Mt. Thom into the future.
Click here to learn more about other ways the City is taking action on climate change. Further, there are ways you can help wildlife right in your own yard by Gardening for Nature.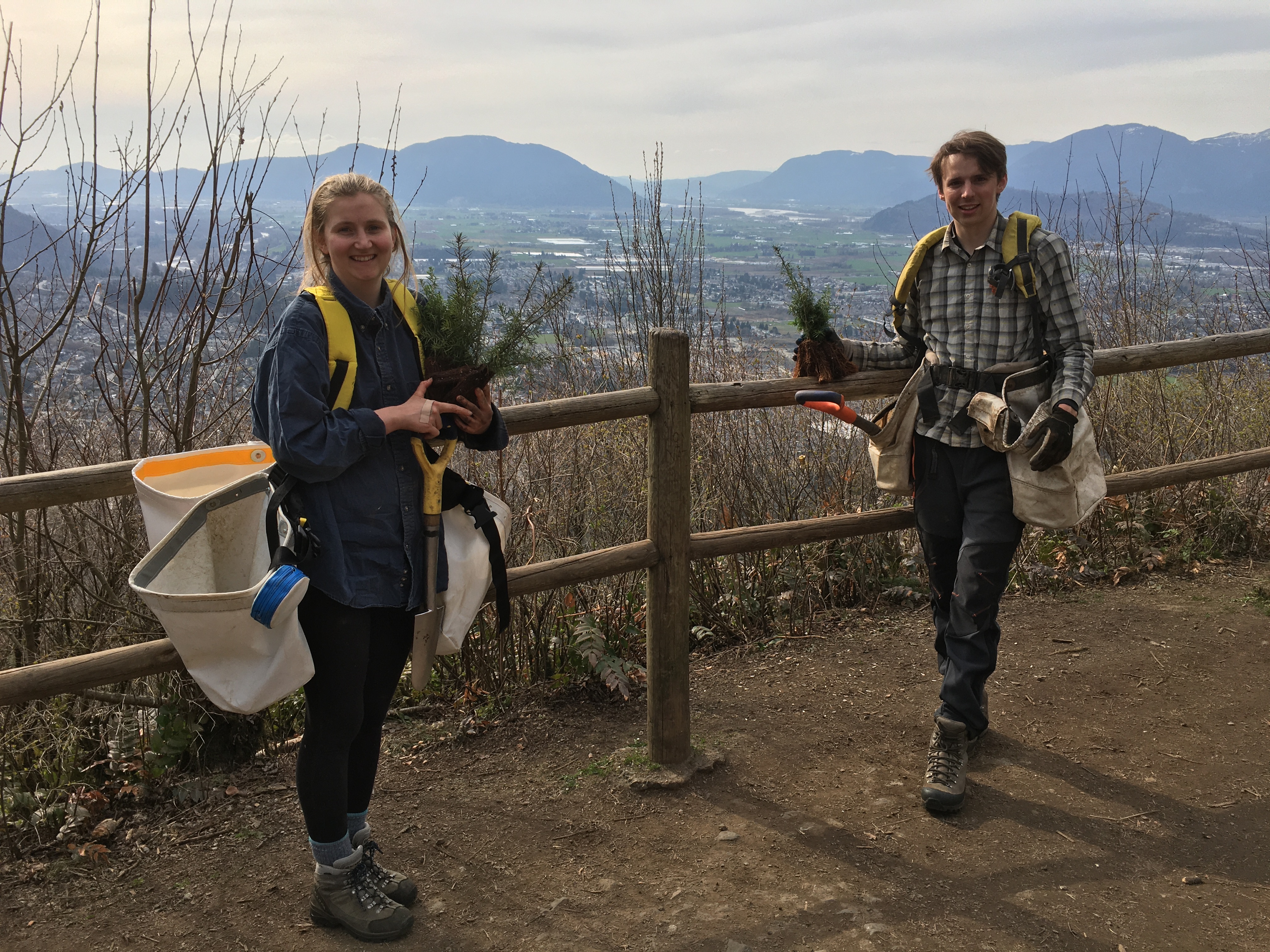 Tree planters reloading with Douglas Fir seedlings at the summit of Mt. Thom Park during Phase 1 plantings.
Restoration Plantings
Enhancing creek-side areas through tree planting can increase residents' likelihood of witnessing a kingfisher or blue heron hunting during the day and hearing frogs call in the evenings, even in urban areas. As the community continues to grow, strategic and deliberate protection and enhancement of Chilliwack's natural features will ensure the long-term health and continued enjoyment of the ecosystems by both wildlife and people alike. Students, community groups, and residents are increasingly getting involved in habitat enhancement for wildlife and specifically for the salmon that inhabit many of our streams, and even ditches.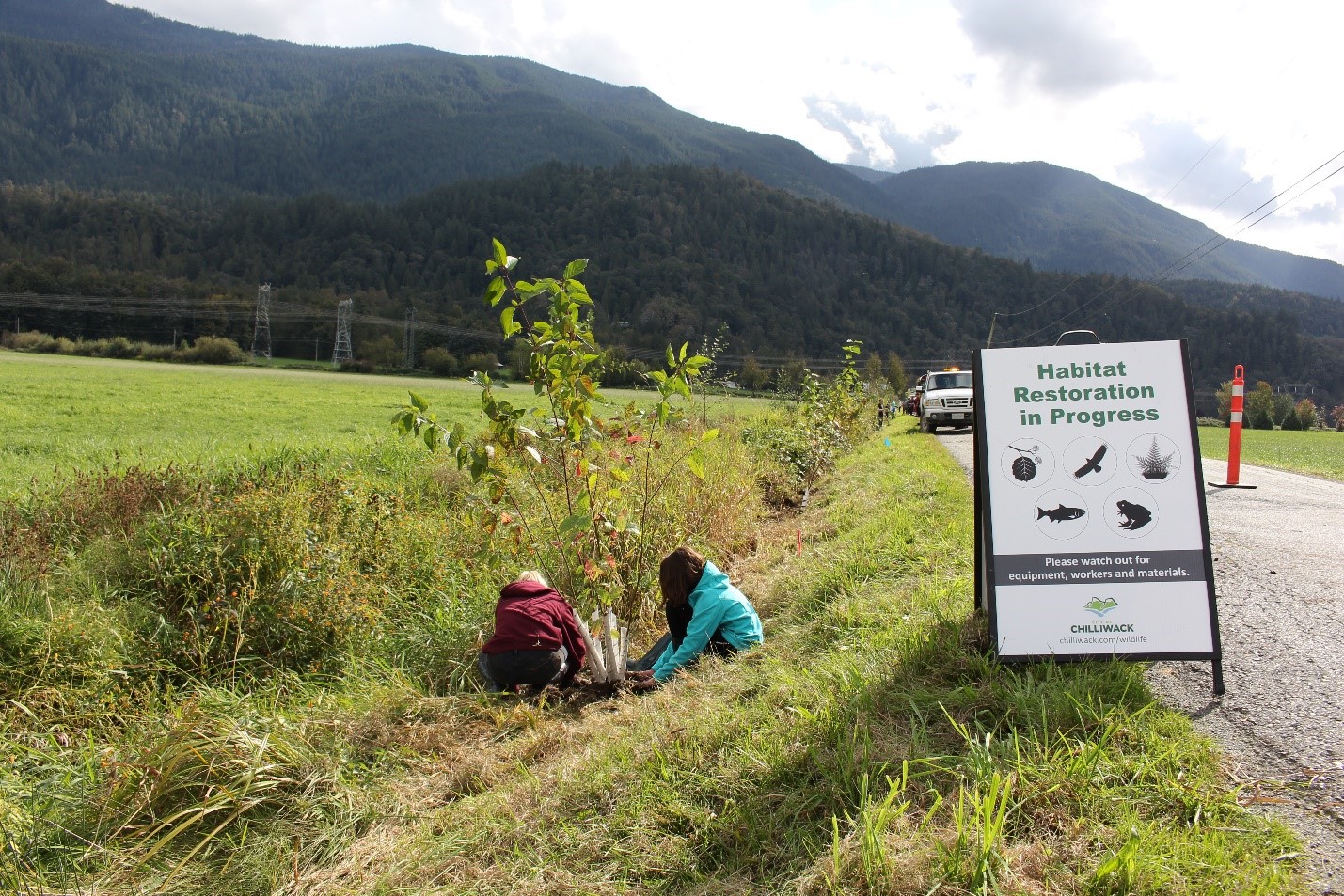 School students have come back year after year to help improve habitat for Coho salmon along Dunville Creek. The trees they have planted will slowly provide protection from predators such as herons and eagles. Further, shade from the trees will help cool the water and reduce the amount of grass in the stream channel beside them.
Helping Heat-Stressed Trees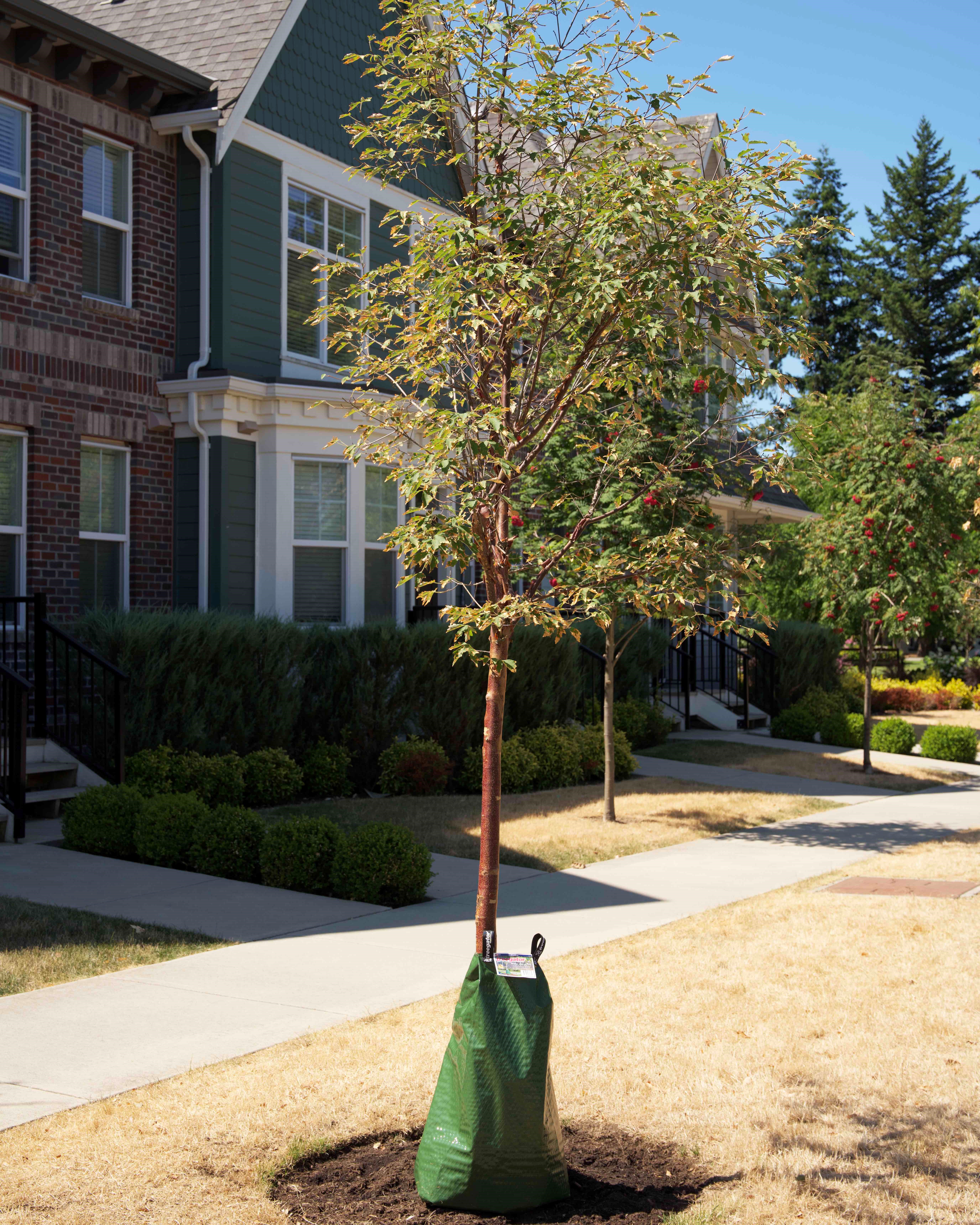 Heat-stressed trees benefit from frequent watering. If you can, please lend a hand by filling tree bags near you.
Hug (and water) a tree. Trees need more water than normal in hot and dry weather. City crews are busy watering hundreds of recently planted street trees as often as possible. However, during this unprecedented heat the trees can use additional help. If you can, lend a hand by filling up watering bags around street trees if there is one near you. The tree bags are designed to slowly release water allowing for absorption deeper into the soil where the roots need it most. If in doubt, scratch the surface of the soil to see if it is moist a few centimeters down. If dry, filling up the bag would be a positive way to help our urban forest withstand this heat. In contrast, sprinklers often only hydrate the upper level of soil and are not efficient for reaching a tree's roots beneath. Please abide by watering restrictions and avoid the use of sprinklers for this purpose.
Community Partner Plantings
To celebrate 85 years of service to the community, the Rotary Club of Chilliwack partnered with the City to facilitate the planting of at least 85 commemorative trees. So far, over 109 trees have been added to Chilliwack's urban forest through this program. To learn more, or to sponsor a tree of your own, visit chilliwackrotary.com/trees
Development Tree Management
The City's Tree Management (Land Development) Bylaw requires new developments to achieve a tree density of at least 50 trees per hectare, including street trees, which become part of the City's inventory, and trees on private land. The required density can be attained through retained trees and/or newly planted trees.
Tree Planting as a Climate Action
Energy consumption, air quality and greenhouse gas (GHG) emissions are inter-related issues with significant potential to affect our quality of life and the environment. Recognizing the carbon sequestration benefit of trees, the City has a tree planting program, which involves in-house activities plus coordination with outside volunteer groups to plant trees in the community. As our commitment to Climate Actions grow, so to will the number and varieties of trees we plant to help mitigate climate change. Chilliwack's current urban forest provides the following benefits, known as ecological services, for residents and wildlife alike.
Benefit from Urban Forest
Estimated Amount (tonnes)
Estimated Value
Carbon Dioxide stored in trees (total, not annual)
1,690,000
$67,609,548.31
Carbon Dioxide sequestered annually in trees
66,990
$3,687,708.87
Particulate Matter < 2.5 microns removed annually
15.99
$144,830.90
Ozone removed annually
328.99
$70,061.96
Particulate Matter >2.5 microns removed annually
110.20
$50,863.18
Nitrogen Dioxide removed annually
33.03
$1,345.33
Carbon Monoxide removed annually
6.06
$781.43
Sulfur Dioxide removed annually
20.82
$235.14
Ecological services our urban forest provides to Chilliwack residents each year for free.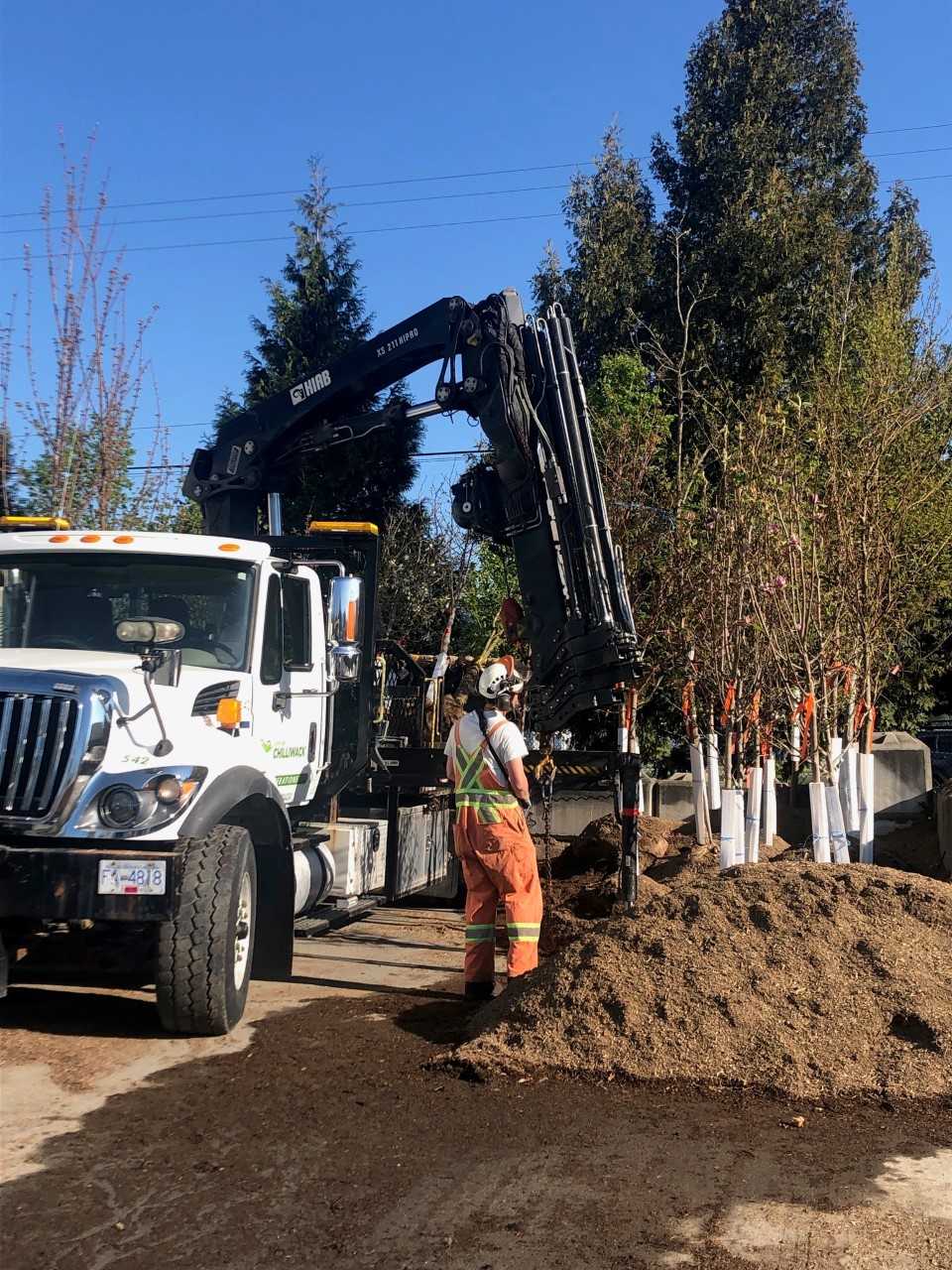 New trees, provided with support from BC Hydro's Community Regreening Program, being loaded for transport to their planting location. The new trees contribute to the City's climate action goals.
Tree Care
Although trees seem hardy, they can be very sensitive to changes such as heavy pruning, storm damage or infections. Unlike humans, trees do not heal wounds, they seal them. Since trees cannot replace damaged tissue, they have developed a clever way of dealing with wounds such as cut branches, scraped bark, or damage from weed-whippers. Through a process called compartmentalization, a tree slowly grows to encompass and seal off cuts, damage, or diseased areas.

Proper pruning techniques used during the right time of year can help your tree compartmentalize the wound and heal faster. Many informative tips to help care for your trees on private property can be found here and here. Heavy pruning such as "topping" can introduce disease, cause higher risks of future tree failures, and reduce the aesthetic qualities of your trees.