Wild Salmon
Wild Salmon in Chilliwack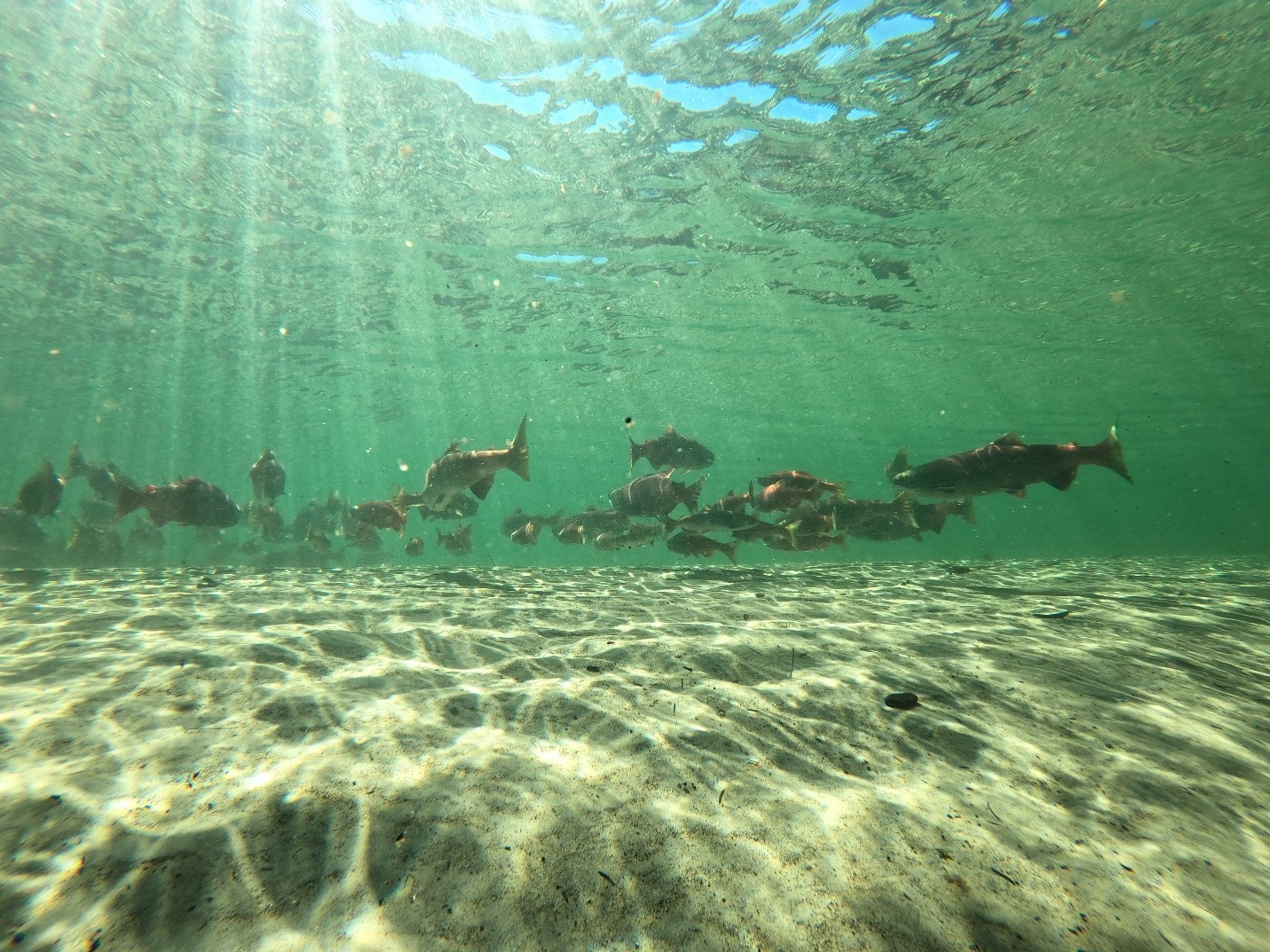 Sockeye and Kokanee salmon returning to their natal waters to spawn after traveling up the Chilliwack River.
Chilliwack streams are home to all five pacific salmon species. Wild populations of Chinook, Chum, Coho, Pink, and Sockeye salmon all migrate into Chilliwack to spawn in the many local streams. The juveniles rear in calm backwaters, side channels, and wetlands before heading to the Pacific Ocean as part of their multi-year journey. More information about all species can be found here.
Additionally, there are two local hatcheries that supplement fish stocks. The Sq'ewqéyl (Skowkale) Hatchery is an Indigenous volunteer-run hatchery that raises up to 20,000 Chum salmon every year for release into Chilliwack Creek. As it once was the original alignment of the Chilliwack/Vedder River, Chilliwack Creek is both culturally and ecologically significant. As such, the hatchery is the cornerstone of Sq'ewqéyl's Comprehensive Community Plan and part of a long term goal to include an education center & interpretive trail, and land-based healing/cultural programing. Even at present, in addition to building fish stocks, the hatchery has been building capacity within the community through training opportunities for Sq'ewqéyl members as well as through partnerships with School District 33, Scout/Guide groups, and the City of Chilliwack to create a legacy of renewal. The federal Department of Fisheries and Oceans operates a hatchery on the Chilliwack River as well. Some hatchery fish have their adipose fin clipped which differentiates them from wild stock.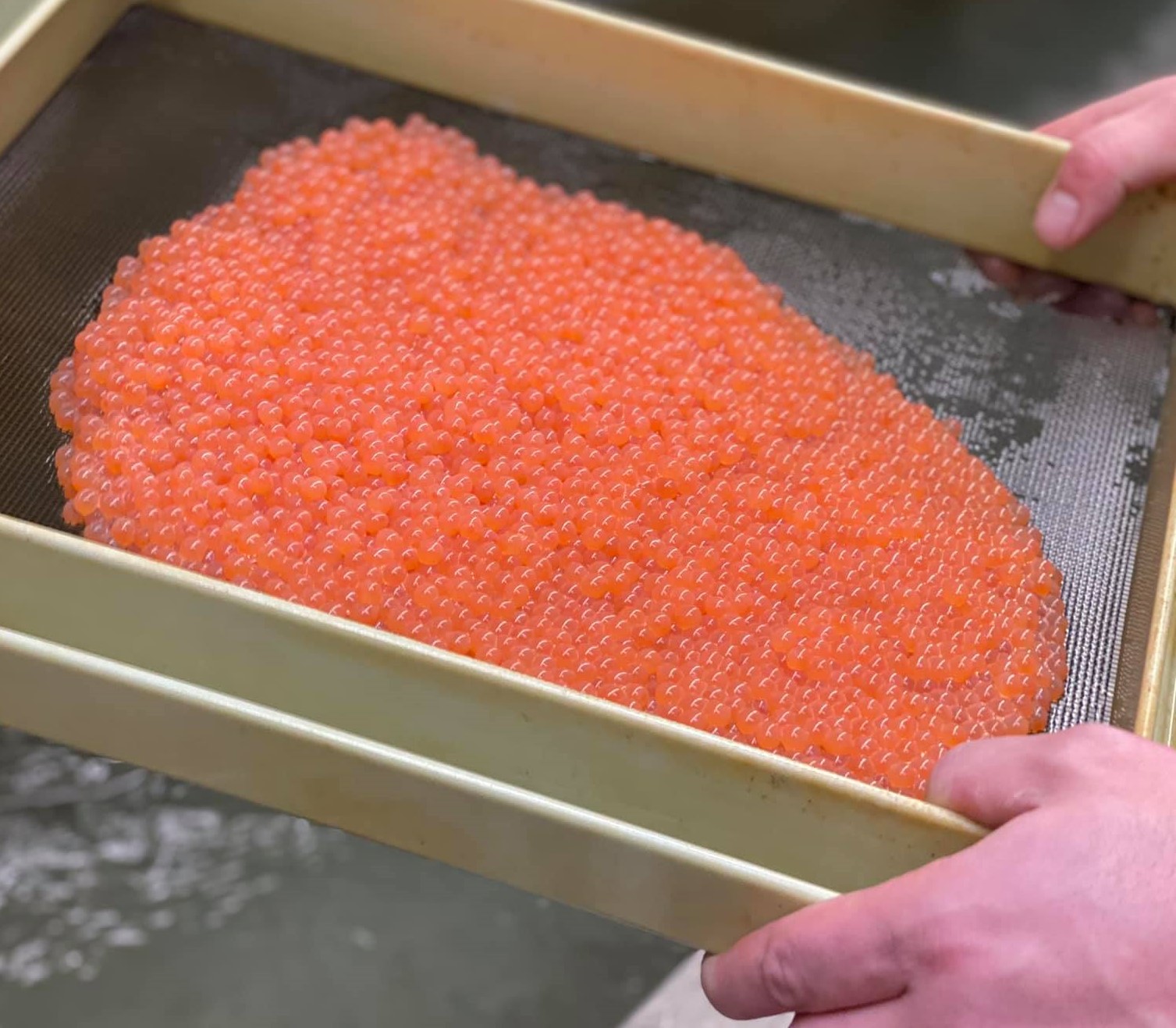 Eggs of Chum salmon in the Sq'ewqéyl (Skowkale) Hatchery. Photo courtesy of Sq'ewqéyl.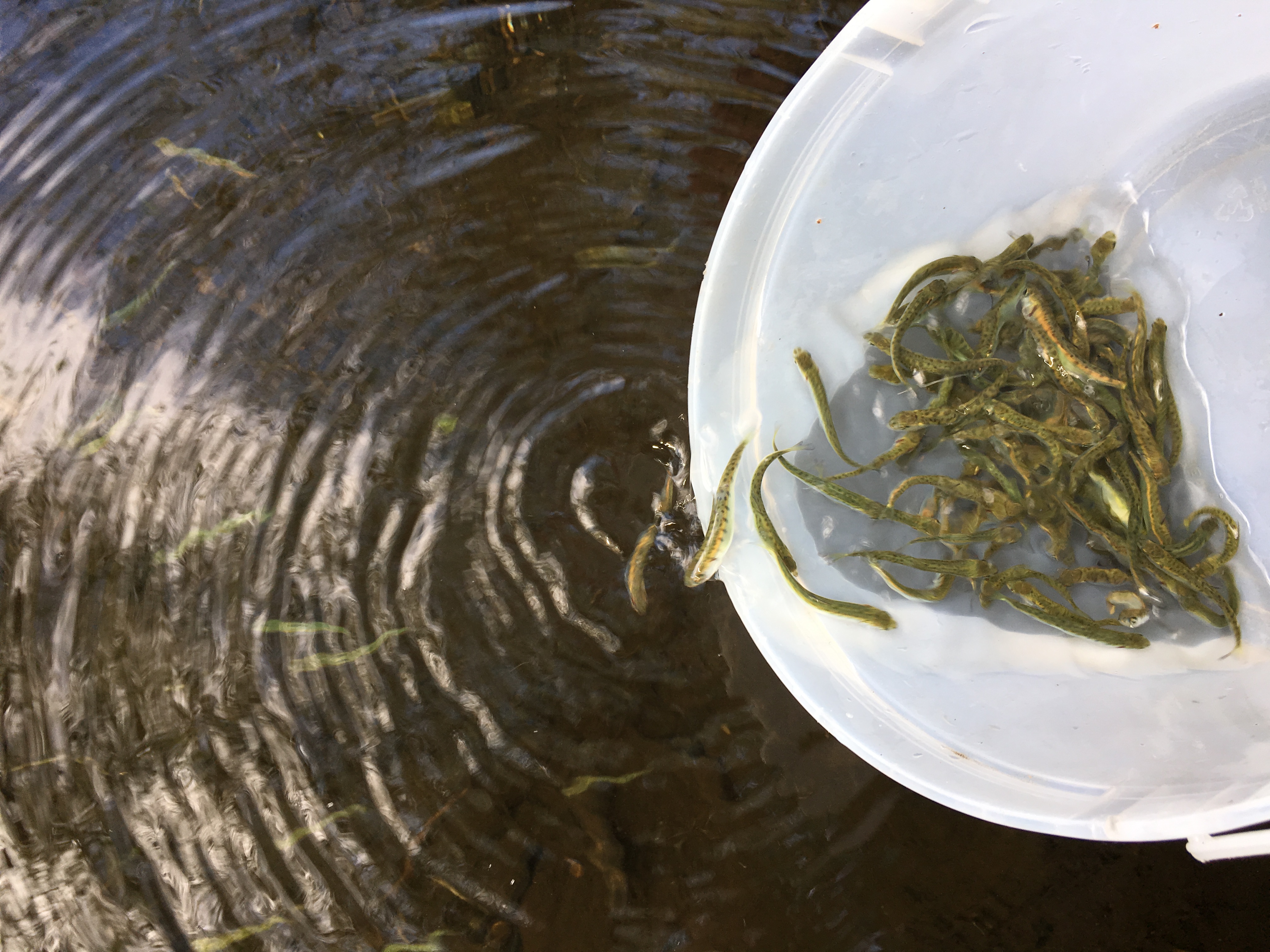 Releasing Chum salmon fry from Sq'ewqéyl (Skowkale) Fish Hatchery into Chilliwack Creek.
Salmon Habitat Creation and Restoration
Streams in Chilliwack that support salmon and other fish are protected from disturbance, alteration, or degradation. Further, the City of Chilliwack actively works with other levels of government, non-profit groups, and community members to enhance fish habitat. A local example of a habitat creation project with the Fraser Valley Watersheds Coalition can be seen here.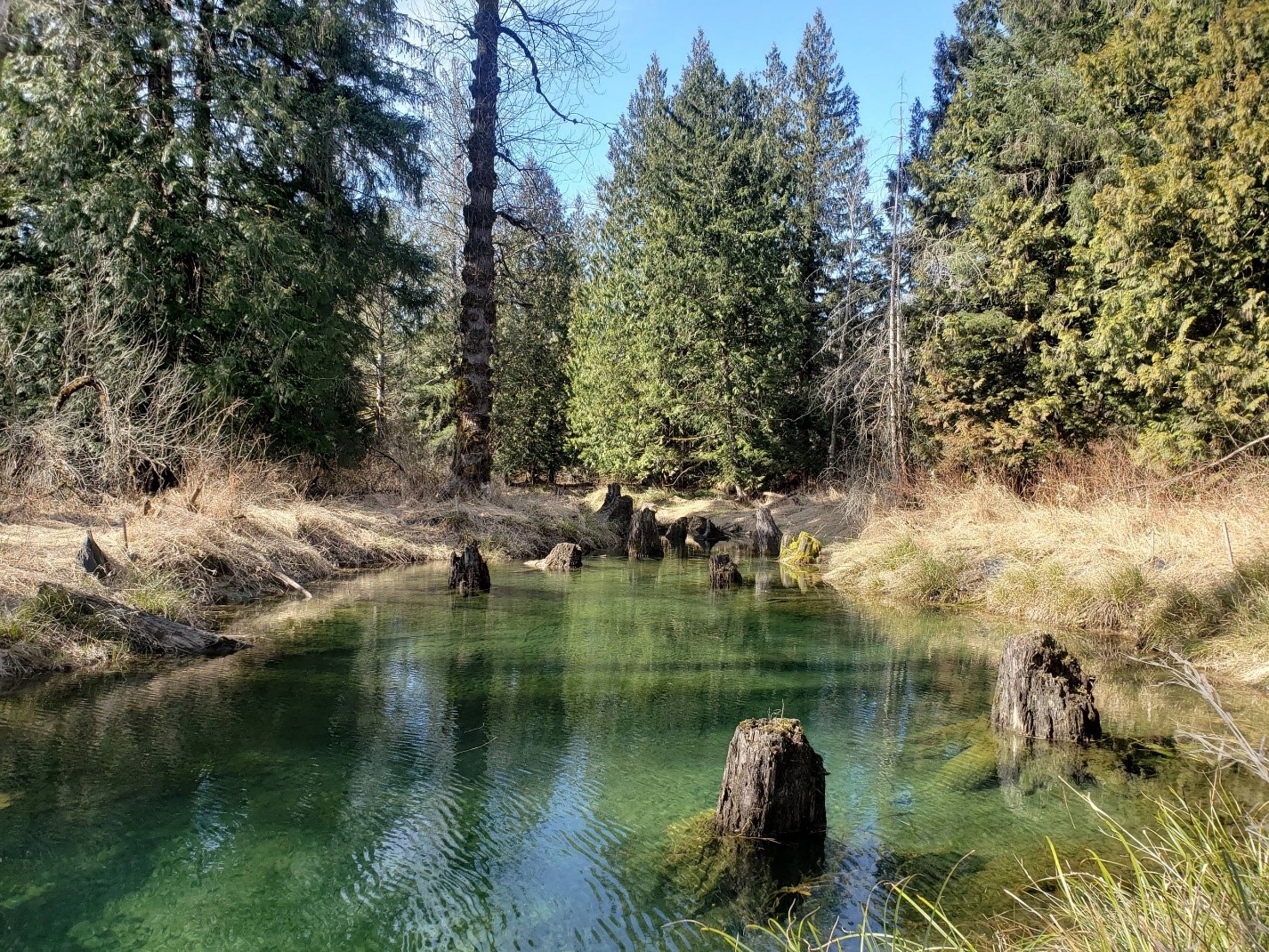 Salmon habitat takes many forms. This side channel was constructed to provide refuge to juvenile fish as they grow.
The City has initiated multi-year efforts to enhance current salmon streams and restore habitat in streams that could once again support salmon populations. Projects are undertaken each year as opportunities for funding, partners, and landowners come together. If you are interested in enhancing or restoring habitat on your property, or supporting projects around town, please connect with the Environmental Services Department at 604.793.2907 to learn more.
Students from Vedder Elementary planted trees and shrubs along this salmon stream to improve fish habitat.
Stewarding our Natural Areas
The City also works to steward our natural areas and salmon streams while balancing the benefits of residents getting outside and connecting with nature. You can help protect the salmon in your neighbourhood by keeping your dogs on-leash and out of creeks. Dogs can innocently trample delicate fish eggs, frighten adult fish, and negatively impact habitat for juveniles. That said, we know our four-legged friends need ways to cool off, too. Try taking your dog to a shady dog park like Island 22, or help them cool off at one of the dog swim areas at Cultus Lake. For a full list of dog off-leash parks in the area, visit chilliwack.com/offleash.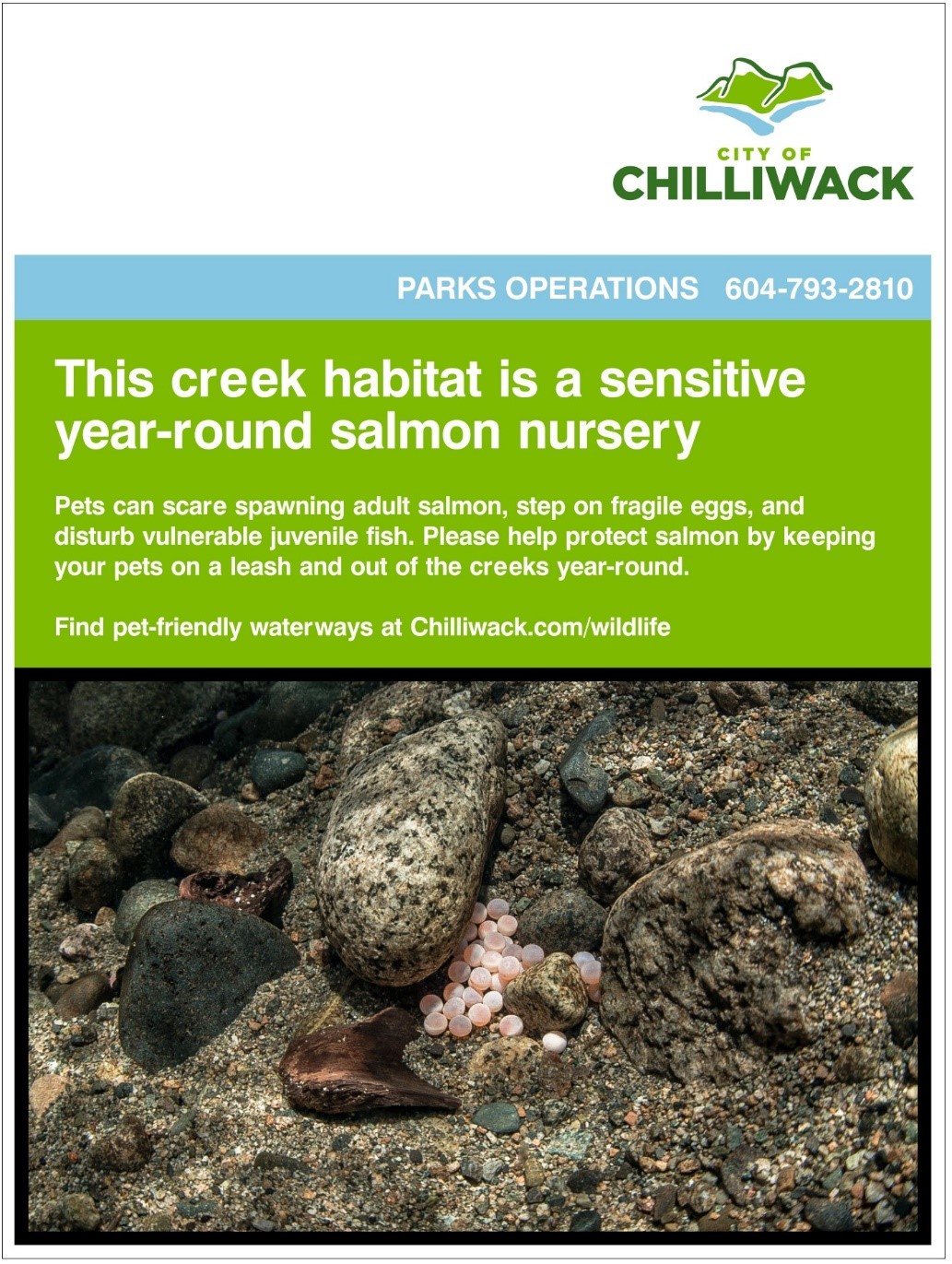 Informational signage posted around sensitive salmon habitats in Chilliwack.
Places to view Salmon:
Although many Chilliwack streams support salmon, there are fewer public locations where the spectacle of spawning can be observed from a respectful distance. Polarized glasses will help to reduce reflection off the water and improve the chances of seeing fish. The best times to go are a few days following a rain when the river is low and clear. When watching salmon, please consider a few common courtesies:
Keep pets on a leash and out of the water. Pets and people may step on newly laid eggs that are shallowly buried in the gravels of the stream bottom.
Approach slowly and quietly so as to not scare any spawners away. Avoid casting shadows on the streams at that may scare the fish off of their reds (nests) or induce stress.
Keep voices down and avoid fast movements such as throwing rocks or sticks.
Enjoy with your eyes and camera only. Please stay out of streams and do not attempt to help the fish. It may look like they are struggling or stuck, but death is a natural part of the salmon lifecycle and they should be left to complete it naturally.
Peach Creek trail and Peach Ponds
Great Blue Heron Nature Reserve
The pedestrian bridge over the Hope Slough at Kinsmen Park.

Fishing for Salmon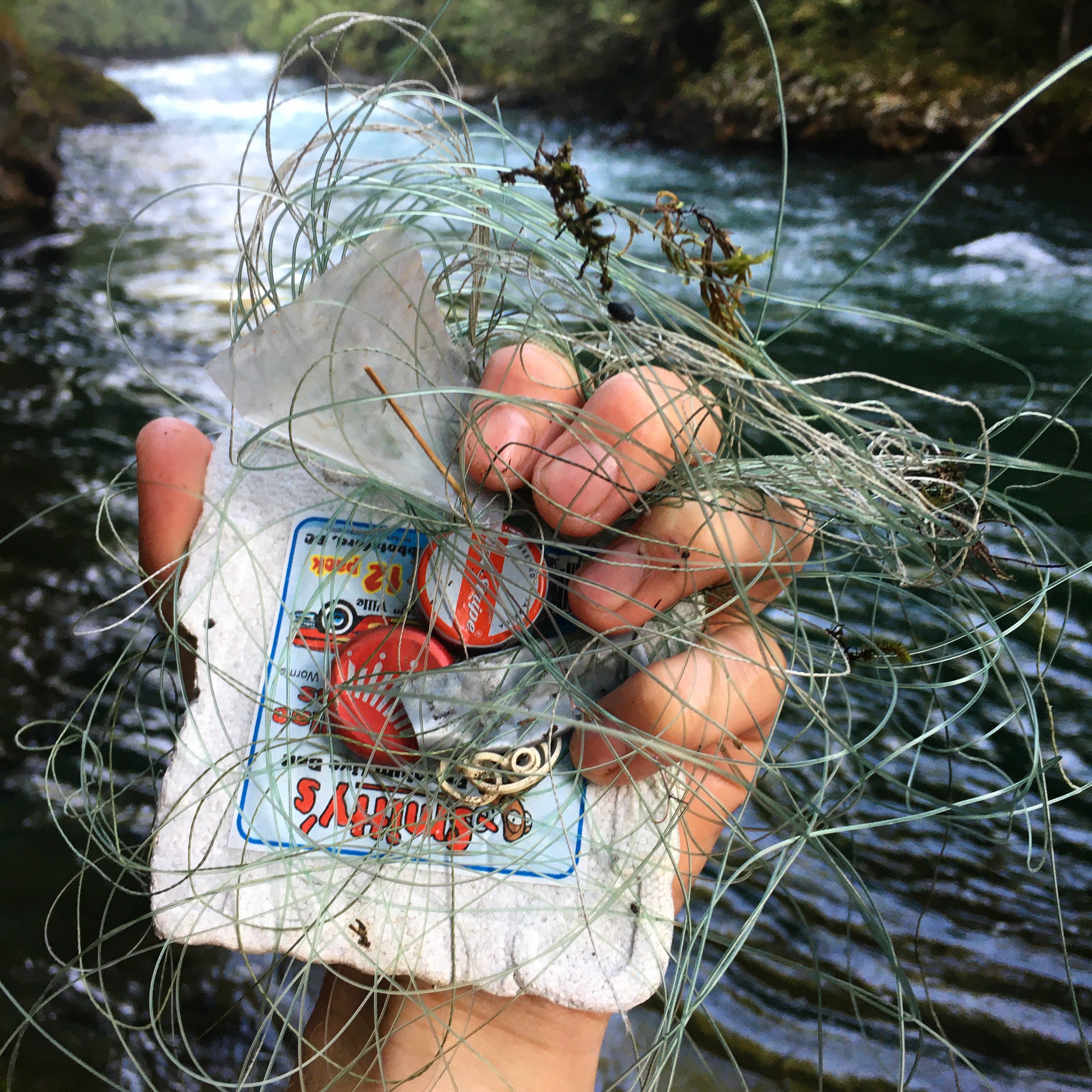 Fishing litter collected at an off-limits fishing hole on the Chilliwack River.
Many enjoy angling for salmon along the Chilliwack/Vedder River. However, some locations are off limits to fishing. Know the rules and regulations before you go. Ensure you have the proper license, gear, and know what locations are legal to fish before you go by visiting Freshwater Fishing In BC. For more information, good locations, and trip ideas visit Fishing BC. Also, always remember to pack out what you pack in as even small snips of line are litter in sensitive aquatic environments.