HealthLink BC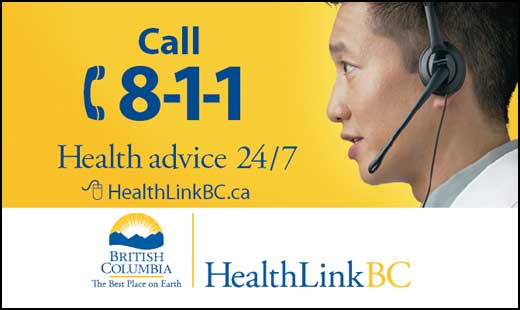 HealthLink BC is a non-emergency health information service which provides residents of British Columbia with 24/7 access to medically-approved information and advice. Our services are available online at www.HealthLinkBC.ca, via telephone through our 8-1-1 non-emergency health line and in print, through the BC HealthGuide handbook and HealthLinkBC Files.
WEB: www.HealthLinkBC.ca is an interactive website with medically-approved information for more than 4000 health topics and over the counter and prescriptions drugs, as well as interactive search mapping functionality that provides the most comprehensive list of healthcare resources in BC
PHONE: By simply dialing 8-1-1 from anywhere in BC, residents can speak with a registered nurse, pharmacist or dietitian about their non-emergency health questions and concerns, 24 hours a day, seven days a week.
PRINT: The BC HealthGuide handbook is a self-care manual which provides information on more than 200 common health concerns, first aid treatments and home care remedies. We also have HealthLinkBC Files available.
HealthLink BC's goal is to enable residents to better manage their health and the health of their families.