Low Flow Toilets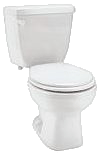 Low-flow toilet conservation is just as important in the home as it is outside. The majority of water consumption comes from domestic use. Toilets represent 30% of indoor water use. Converting to a low-flow toilet can save between 80-100 litres of water per toilet per day.
Older toilets (conventional toilets) can use as much as 23 litres of water per flush – approximately 30,000 litres more per year than a low-flow toilet, which uses 6.0 litres per flush (LPF). The new 6.0 litre toilets are engineered to perform better and conserve water. With an average life span of 15-20 years, it makes sense to install a low-flow toilet for the water and dollar savings alone.
The City is offering $50 rebates when you purchase and install a low-flow toilet model. *Some conditions apply - see below for details.
Toilet Rebate Program
Participating in the Toilet Rebate Program conserves water and helps reduce the cost associated with water and sewer use in the community. It costs money to bring in water and take it out of your house, so using less water per flush will conserve our valuable water resource and save money in the long run.
Installing low-flow toilets will help homeowners save on utility bills and help reduce the negative impact on the environment.
Here is what you need to do:
Determine if you are eligible. (See eligibility criteria below.)
Download and review the toilet rebate brochure.
Purchase and install a CSA or Warnock Hersey approved 6 litre per flush toilet or High Efficiency Toilet (HET). Keep your original sales receipt to obtain rebate. You must purchase a toilet with a maximum performance (MaP) rating of 350 or higher. Please visit www.map-testing.com for information on performance ratings. Download the latest report on Maximum Performance Testing of popular toilet models at www.map-testing.com/downloads
Obtain proof of installation of your new low-flow toilet. Your plumber's invoice or photos of installation are required for the rebate.
Bring your old toilet(s) to Bailey Sanitary Landfill. You are responsible for unloading your toilet. Your scale ticket is proof of drop off. Keep your scale ticket to obtain rebate. OR Submit a photo of the old toilet removed with the tank broken.
Mail OR Bring your completed application form, original receipt, proof of toilet removal, and proof of installation to City of Chilliwack - Engineering Department at 8550 Young Road. (Applications and scanned requirements can also be accepted by email at engineeringdept@chilliwack.com)
Eligibility Criteria
Available only for City of Chilliwack residents on City water supplies.
Applicant must be a registered property owner.
Toilet(s) being replaced must have a flushing volume of 13 litres of greater. YOU MUST INDICATE THE FLUSH VOLUME OF YOUR OLD TOILET TO RECEIVE REBATE.
Not eligible for toilets replaced as part of any construction activity that requires a permit.
New toilet(s) must be CSA or Warnock Hersey Certified and must not exceed 6 LPF.
New toilet(s) must have a maximum performance rating (MaP) of 350 or higher.
Not eligible for toilet(s) purchased before April 6, 2010.
For single-family houses built prior to September 30, 2005. (Condominiums and apartments, industrial, commercial, and other non-residential properties are not eligible at this time.)
Multi-family (townhouses and duplexes) and detached home strata are eligible; however, a letter from their Strata Management Company or certified professional is required stating that the current sewer system in its current orientation can in fact function with lower flows without detriment.
Can't find what you're looking for? Please view our Frequently Asked Questions page.
Answers to frequently asked questions about the Toilet Rebate Progam.