Cross Connection Control Program (CCCP)
The City of Chilliwack's Cross Connection Control Program is intended to eliminate actual and/or potential cross connections within the City's water distribution system to maintain water quality. The program aids in protecting the public water system by requiring the installation of approved backflow prevention devices on private and/or public properties.
Currently the City is in the process of assessing all water service connections to determine their backflow requirements as well as the property owner's installation obligations.
To aid in accomplishing the goals of the CCC Program, the City of Chilliwack has developed a unique strategy for existing facilities. The City will cost share the expense of retro-fitting plumbing in order to bring the facility into compliance with the City's Waterworks Regulation Bylaw 2004, No. 2995.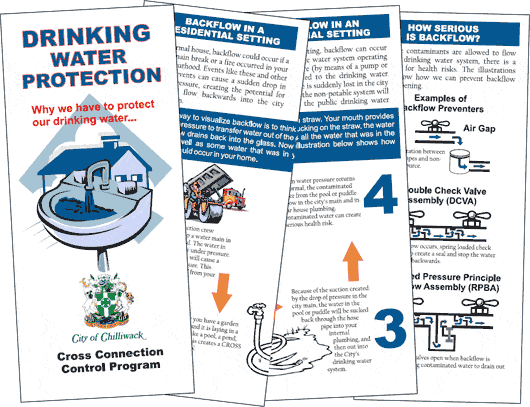 Common Questions about Cross Connection Control