Bulk Water Distribution Kiosk
The City of Chilliwack has established a bulk water distribution kiosk on Bailey Road near Matheson Road (Bailey Landfill Access Road). The primary purpose of this kiosk is to provide users with a site which is easy to access and use for residents of Chilliwack who currently have issues obtaining water from other sources. An application form must be submitted to Public Works in order to establish an account and obtain an access code.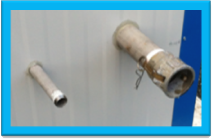 Users are required to provide:
Water carrying vessel
Filling hose -

¾" hose with a female iron pipe threaded fitting
2" hose with male cam-lock fitting
The kiosk is open from 7am-7pm Monday through Saturday.
If you have any questions regarding this station, please contact the Public Works Department at 604-793-2810.