Bulk Water Filling Stations
The City of Chilliwack has now made available two Bulk Water Filling Stations, within the Chilliwack area; located at 46893 Bailey Road and 45160 Yale Road. The primary purpose of these stations is to provide water to users who are currently having issues obtaining potable water.
As of January 2020, a fee-based system has also been applied. This fee system includes an annual membership fee which will be due at the beginning of each calendar year. Account holders are required to complete an application form and pay the membership fee at the City of Chilliwack's Engineering Department, located at 8550 Young Road.
According to the City of Chilliwack Miscellaneous Rates Bylaw 2001, No.2750" Schedule "G" Potable Water Filling Station user charges shall be as follows:
An annual fee is due and payable to the Collector of the City of Chilliwack prior to the issuance of a Potable Water Filling Station access card.
(a) Residential User Annual Fee $ 25.00
(b) Commercial User Annual Fee $ 100.00
2. Commercial User Dispensing Fee $ 5.00 (Billed Quarterly)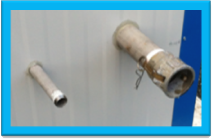 Users are required to provide:
Water carrying vessel
Filling hose

¾" hose with a female iron pipe threaded fitting
2" hose with male cam-lock fitting
An application form must be submitted to the Operations Department in order to establish an account and obtain an access code.
If you have any questions regarding this station, please contact the Operations Department at 604-793-2810.