First Nations Policing Section
The Upper Fraser Valley Regional Detachment First Nations Policing Section provides policing services to several First Nations communities. The area of responsibility extends from Mission to Boston Bar and as far north as the northern tip of Harrison Lake. Bands include: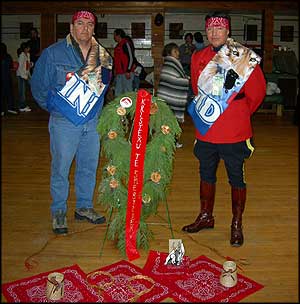 First Nations Members participate in a dedication
ceremony at the new Cheam Health Centre.
Seabird Island
Chehalis
Cheam
Popkum
Skowlitz
Aitchelitz
Chawathil
Kwawkwawapilt
Skawahlook
Shxwha:y
Soowahlie
Squiala
Tzeachten
Skwah
Six First Nations Constables are currently posted with the First Nations Community Police Section. This specialized team responds to police calls in First Nations communities and provides a strong proactive policing approach to assist in achieving strategic priorities and safer communities. Restorative Justice is a valuable tool that members promote within the communities and that assists in providing culturally sensitive police services.
The First Nations Community Police Section also involves community program partners:
MADD
DARE
Federal Department of Fisheries and Oceans
Blockwatch
Citizens on Patrol
Community Actions Task Force
A key factor in helping establish stronger relationships within First Nations communities is the individual commitment of each First Nations Policing member. Members are encouraged to immerse themselves in the rich culture of the First Nations communities in order to gain a better understanding of the history and values of the people they serve. This commitment has been instrumental in building strong working relationships within the communities.