Building Permits & Inspections: Commercial, Industrial, Institutional, Multi Family Residential Projects
Introduction

The City of Chilliwack has prepared this page to assist developers in understanding the City's building permit and inspection process.
A building permit for commercial, industrial, institutional or multi-family residential projects will not be issued unless the property is zoned correctly for the use intended, and the lot has been legally registered.
Upon review of the following information, anyone intending to submit an application for a building permit is urged to contact the Development and Regulatory Services Department, Building Division, for assistance.
General Building Permit Application Process – Commercial, Industrial, Institutional and Multi-Family Residential Projects
1. Pre-Application Stage

Owners/Builders intending to construct building structures other than one and two family residences, should hold preliminary discussions with the Development and Regulatory Services Department and with the Planning and Strategic Initiatives Department, prior to submitting an application for building permit.
In most circumstances, prior discussion has already taken place with the Planning and Strategic Initiatives Department, as the vast majority of commercial, industrial and multi-family projects are in Development Permit (DP) areas requiring that a DP be obtained prior to a Building Permit being issued. On the rare occasion where a DP is not a requirement, preliminary discussions with the Planning and Strategic Initiatives Department will clarify design questions with respect to the zoning regulations of a property, and other matters as they relate to the applicable bylaws and policies of the City. It is very important to your financial planning that you consult with our staff and obtain estimates of development cost charges and other levies that will have to be paid prior to issuance of a building permit. (See Section 4 of this brochure).
2. Application Submission for Building Permit

Applications for building permits must be complete, and will not be accepted otherwise. A comprehensieve list is identified in the City of Chilliwack's Building Bylaw, and includes the following:
A Building Permit application form identifying the name and status of the applicant as either the owner or agent for the owner (these forms are available upon request or can be downloaded);
Civic address and legal description of subject lands;
Proof of ownership as evidenced by a State of Title Certificate;
An authorization letter, should the owner of the property have an agent/developer act on his/her behalf;
An owner's undertaking (Schedule D from the Building Bylaw) for Part 3 Buildings;
If there is no sanitary service to the property, sealed septic filing papers are required from a Civil Engineer (Public Health 207 - 2776 Bourquin Cres. West, Abbotsford BC V2S 6A4 1-866-749-7900);
Two complete sets of dimensioned site plans, architectural, structural, mechanical, civil and electrical Drawings and Specifications (D&S) signed, sealed and dated by the responsible Registered Professional certifying that the D&S comply with the B.C. Building Code and to the relevant bylaws of the City (e.g. Building Bylaw). The Building Division requires that the drawings and specifications submitted are drawn to a scale acceptable to the Building Department (the Site Plan must be at a metric scale);
An original signed and sealed copy of the geotechnical report for the property and proposed construction;
Submission of the Schedule A from the Coordinating Registered Professional (CRP);
Submission of each of the required Letters of Assurance signed, sealed and dated by the Registered Professional of Record for the architectural, structural, mechanical, plumbing, electrical, fire suppression and geo-technical installations; and
Tree and Green Space Management Plan in accordance with Tree Management (Land Development) Bylaw 2008, No. 3585.
3. Application Review and Pre-Site Inspection

The Building Division coordinates the pre-site inspection and review of the application and the related Drawings & Specifications. The application review process includes referrals to various City departments, such as Fire and Engineering, as well as to external agencies such as the Ministry of Health when applicable. Compliance with B.C. Building Code and the relevant City Bylaws is carefully considered.
Having reviewed all the technical evaluations, the Building Division staff determines whether a Building permit may be issued or whether corrections and revisions are required. If revisions are necessary the Building Division staff will advise the applicant.
4. Additional Permit Requirements

You may require additional approvals and/or pay additional costs prior to the issuance of your Building permit. For example:
Development Cost Charges (DCCs) - most construction developments undertaken in the City of Chilliwack will require the payment of substantial Development Cost Charges.
Paving Bond – industrial, commercial and some multi-family residential construction projects may be required to deposit a paving bond;
Floodproofing Requirements – floodproofing may be required for several types of development within the Floodplain Area, see the Floodplain Management Bylaw;
Geotechnical Reports – construction on land that is subject to or is likely to be subject to flooding, mud flows, debris flows, debris torrents, erosion, land slip, rockfalls, subsidence or avalanche, may not be permitted unless a report is submitted by a Registered Professional geotechnical engineer certifying that the land may be safely used as intended;
Connection Fees – as applicable for water, sanitary and storm sewers;
Frontage Improvements Costs – where applicable will require entering into a Servicing Agreement to install certain works and services; or the payment of a non-refundable deposit for the estimated cost of such works and services;
Development Variance Permit – e.g. for proposed construction that requires Council's approval to relax standards specified in the Zoning Bylaw;
Latecomer Fees – a charge imposed on benefiting lands by a resolution of Council which will be collected by the City as a condition of a latecomer connection to or using excess or extended services;
Homeowner Protection Office Documentation – With the exception of purpose built rental units, the Homeowner Protection act provides for the licensing of residential builders and makes third-party warranties mandatory on new multi-family residential construction throughout the province; and
Tree and Green Space Management Plan and Security – Summary and security of retained tress and newly planed trees on developable land.
Please discuss with the staff members of the Development and Regulatory Services Department the applicability of any of the above requirements to your proposal. As some of the fees to be paid prior to issuance of a Permit are substantial, you should ensure that you obtain estimates of all charges to be paid before making an application for permit.
5. Issuance of Building Permit

After approval of the Drawings & Specifications and any other requirements as outlined above, the Building Permit may be issued upon payment of the calculated fees and securities.
Building Division staff will advise you prior to picking up the Permit what fees, securities, and development cost charges are payable, and in what ways they may be paid; i.e. cash, cheque, certified cheque or irrevocable Letter of Credit.
6. Required Inspections

The City of Chilliwack Inspection staff do not perform inspections which are otherwise performed by Registered Professionals (Architect and/or Professional Engineer) based on their scope of practice. These professionals are requierd to provide Letters of Assurance at time of Building Permit application, and subsequently a Schedule C-B prior to the applicant making a request for an 'occupancy inspection' by City of Chilliwack Inspection staff. If necessary, Inspection staff will liaise with Fire Prevention staff from the City of Chilliwack Fire Department to provide a coordinated occupancy inspection.
If the construction is such that a registered professional is not designing, inspecting and certifying certain works, inspection requests from a City of Chilliwack Building Inspector must still be made prior to covering and/or moving beyond those stages of construction.
It is the responsibility of the permit holder to contact the Building Division every time that a stage is ready for inspection. Please call for your inspection a minimum of one business day in advance, prior to 3:30 p.m., by phoning 793-2905.
7. Issuance of Occupancy Permit
The Building Inspector may issue an Occupancy Approval once all construction works and services necessary for the safe use and occupancy of the facility have been completed satisfactorily, and certified by all responsible Registered Professionals that the facility is indeed safe for use and occupancy. A final inspection approval will subsequently be required.
8. How Much Time Does the Procedure Take

The time frame for a building permit for a new commercial, industrial, institutional or multi-family residential project is in many respects dependent on current market conditions and the subsequent demand from the development community. It can range from a minimum of 6 - 8 weeks to process, to upwards of more than 12 weeks from the date an application has been submitted. This time estimate assumes that the application is submitted with complete Drawings & Specifications as described above and that no additional approvals or reports are required. The amount of time to complete various inspections and obtain permission to occupy a building, depends largely on the applicant's ability to respond to the requirements outlined in this brochure and the related bylaws and regulations. Please contact the Building Dept at 604 793-2905 for current timelines.
9. How Can I Find Out More?

For information related to your specific application and the time it will take to process your Building permit application contact City of Chilliwack, Development and Regulatory Services Department, Building Division, 8550 Young Road, Chilliwack, BC V2P 8A4 Telephone 604-793-2905, Fax 604-793-2285.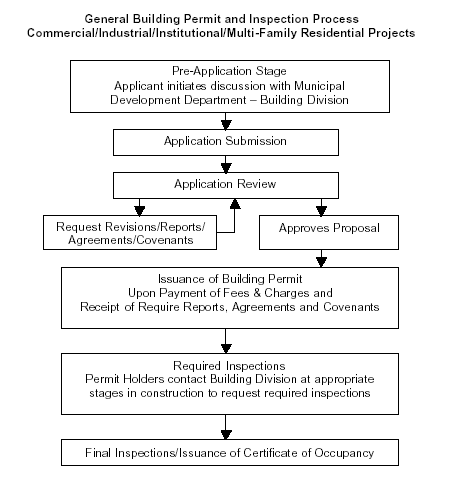 This page has been prepared to provide guidance only. It is neither a bylaw nor legal document. Please consult the Local Government Act and its Regulations, and the City of Chilliwack applicable bylaws for definite requirements and procedures.