Adopt a Catch Basin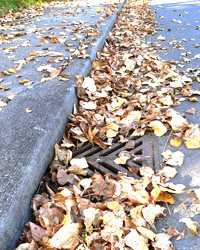 During the fall and winter seasons, we request residents assist City crews' efforts by clearing street drains in front their homes of leaves and debris during the autumn leaf fall, and of snow and ice during winter storms.
Help us keep our roads safe by:
Looking at the curb in front of your home today to see if there is a catch basin close by that you could help keep clear.
During the autumn leaf fall or winter storms, clear catch basins in front of your home if you are able. Help your neighbours if they are not able.
If possible, avoid parking over street drains to allow street sweepers and snow plows to clear to the curb during fall and winter.
To check if you have a catch basin in front of your property, please visit our online mapping system.
Call the Operations Department at 604.793.2810 if you suspect a blocked drain and are unable to help. Thank you for your assistance in keeping our streets safe!