Single-Use Item Reduction Strategy
The City of Chilliwack is considering options to reduce single-use items. We want to hear from you, so…
Let's talk trash, Chilliwack.
The City is conducting consultation with businesses in January 2020! There are three opportunities to provide feedback:
1. Have your say and take the survey by February 9, 2020:
https://form.simplesurvey.com/f/l/SUI-Business
If you would like additional background information prior to filling out the survey, click here for a copy of the open house/workshop presentation.
2. Attend an open house: Drop by to learn more about the project, see what options are being explored to reduce waste and ask staff your top questions. Light refreshments will be provided; please bring your own mug as single-use cups will not be available.
Time: Drop in any time between 4:00pm and 7:00pm
Date: Thursday, January 23, 2020
Location: Slesse Room, Evergreen Hall (9291 Corbould Street)
3. Participate in a workshop: Discuss the barriers you face to reducing waste and help generate ideas to overcome these barriers. Lunch will be provided. Please plan to stay for the entire workshop.
Time: 12:00 pm - 1:30 pm
Date: Tuesday, January 28, 2020
Location: Sardis Library (5819 Tyson Road)
The survey, open house and workshop are intended to receive feedback specifically from businesses that deal with substantial quantities of single-use items. Letters have also been mailed out to target businesses regarding consultation opportunities.
---
What is single-use?
Use it once, then toss it out. Single-use, disposable items, including plastic bags and paper coffee cups, are meant for one-time usage before being thrown in the garbage. Unlike reusable items, they are not intended for extended use, and their disposable, often light-weight nature makes them a convenient choice for grocery stores, coffee shops, restaurants and retail shops. Some single-use items can be recycled, while others must be disposed of. Items may include: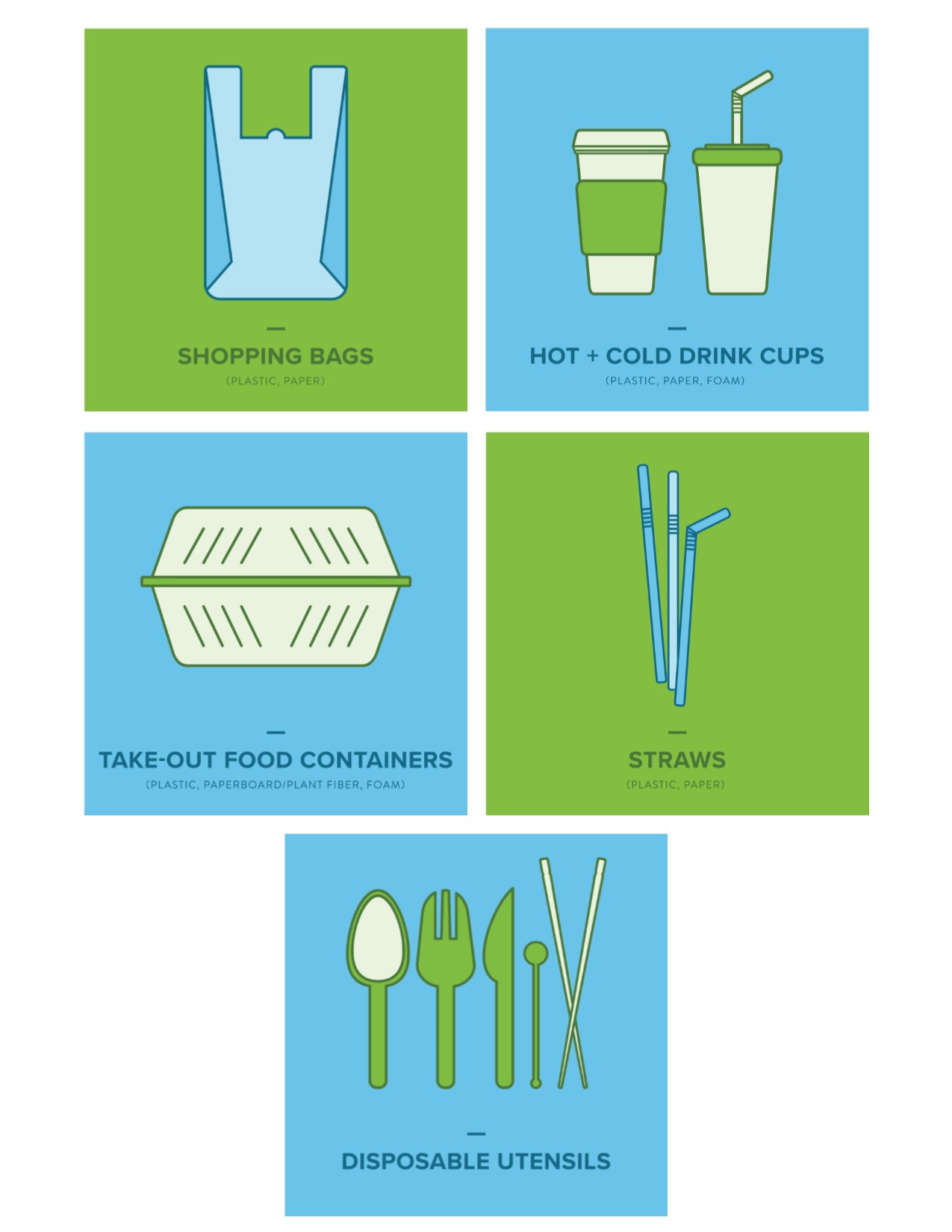 Why is single-use a problem?
It's easy to see the appeal of single-use items: Use it once, then toss it out.
But while these items are intended for short-term, single-use, they can take hundreds of years to decompose, contaminating our waterways, polluting our communities and filling up our landfills. Some items are recyclable, but due to material composition, many single-use items are confusing and/or hard to recycle. As a result, single-use items contribute directly to the amount of plastic in landfills.
Aside from creating waste, single-use items require significant resources like water and energy to be produced. The production process creates greenhouse gases, which can contribute to climate change. Their reusable counterparts also require resources, but thankfully last much, much longer.
How can we reduce single-use items?
There are different ways to reduce single-use items, and Chilliwack's strategy may include a combination of regulatory and educational components. The City has not selected specific measures yet. Some other communities have introduced regulatory measures, such as bans or mandatory fees to encourage reduction. These and other possible measures will be evaluated.
While we are gathering community input for our reduction strategy, the City encourages all residents and businesses to consider how they can start reducing single-use items.
Please see the "Single-Use Item Reduction" brochure for ideas and tips on ways residents can begin reducing single-use items.
Are we the only ones doing something about it?
Steps are currently being taken by the Government of Canada to develop a single-use item reduction strategy. This strategy may include bans on items like plastic bags and stir sticks as early as 2021.
The BC Ministry of Environment and Climate Change Strategy is also in the process of developing a Clean BC: Plastics Action Plan. They are exploring actions related to four policy areas, including expansion of their Extended Producer Responsibility (EPR) programs and potential bans on single-use packaging.
Over thirty other municipalities in British Columbia are investigating the impacts of single-use items on their communities or have already implemented bylaws to regulate their use.
How can I get involved? What's in it for me?
As federal and provincial government action gets underway, we also want to explore reduction strategies, but we want to hear from you first.
Communities are shaped by the people who live in them and the businesses that operate in them, which is why we want to talk to you. Together, we can create regulations or other reduction strategies that benefit everyone.
You can help shape Chilliwack now and for the future, creating a strategy that is fair to our people, our places and our planet.
How are businesses being involved?
Following engagement with residents in December, we are now conducting both in-person and online consultation with businesses in January.
We are hosting a workshop, open house and distributing an online survey. Please see the top of this webpage for more information.
When is this happening? What's next?
Engagement with residents took place in December 2019. The City hosted three pop-up booths in December where residents could learn about single-use items, talk one-on-one with staff, and share feedback. An online survey also ran in December 2019 and the City received over 1,000 responses - thank you to everyone who took the time to provide feedback!
Outreach to businesses is taking place in January 2020. See the top of this page for details.
Following this engagement process, staff will be developing recommendations based on what we've heard from residents, stakeholders and businesses.
For more information about the engagement process and upcoming events: environment@chilliwack.com