2019 Seniors' Housing Study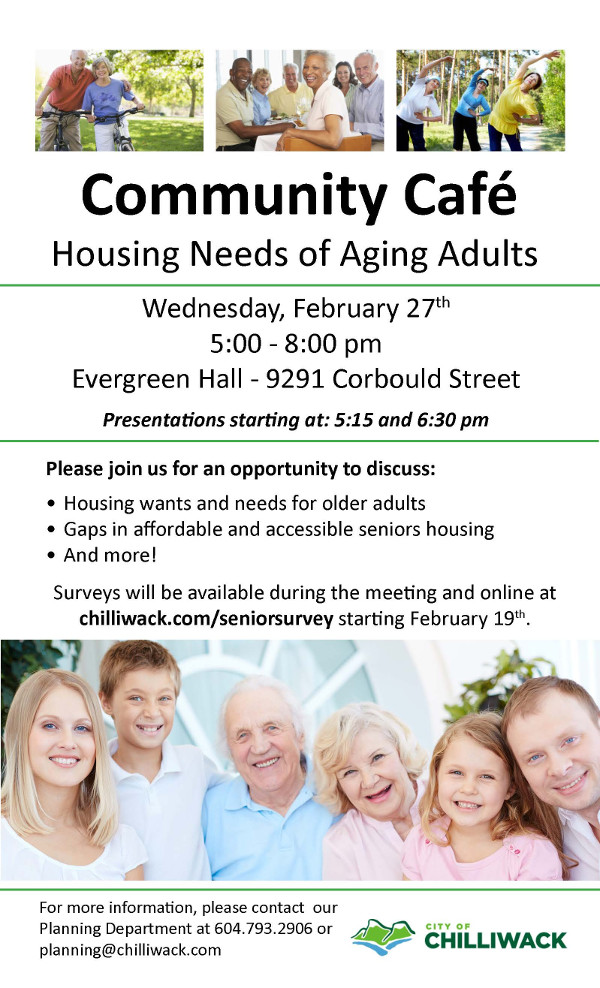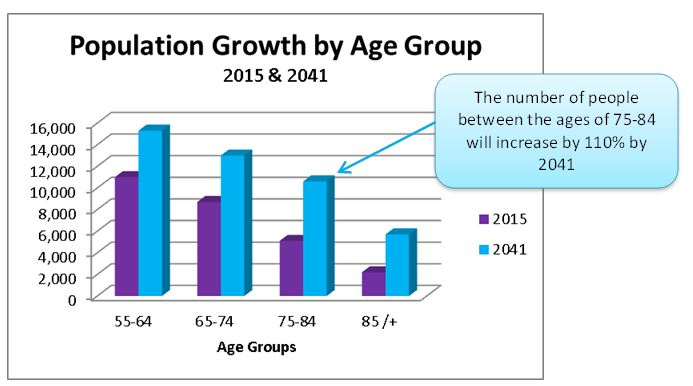 As the number of older adults (55+) in Chilliwack is expected to grow by around 66% by 2041, the provision of a diverse and adequate supply of safe, affordable and appropriate seniors' housing has come to the forefront. In order to ensure that seniors' housing needs are met as the community grows, the City has launched a Seniors' Housing Study.
By engaging in a Seniors' Housing Study the City hopes to open the door for all interested and affected people and organizations to come together and work towards a joint solution. Only by gathering as much input as possible from the people working on the ground or experiencing the challenges firsthand, be it seniors in the community, housing developers, service providers, healthcare professionals or the younger generation providing support for aging family members, can we gain the perspective necessary to create effective tools to address seniors' needs in Chilliwack.
As a part of the study, staff will evaluate what's working well and what is needed. Once the study is complete, the information gathered through this process can be used to advocate for assistance from higher levels of government and to encourage private citizens and organizations to pursue projects geared towards seniors' needs.
The project will encompass a review of current and future housing needs ranging from independent housing (rental and home ownership), to assisted living (limited care facility – cooking and cleaning services provided), to residential care facilities (for those who have complex care needs).
The study will include:
Review of the housing market, including a look at the range of housing types currently available, housing affordability and accessibility
Analysis of current and future housing supply and demand which older adults may require
Review of the policies and best practices other communities have used to address seniors' housing needs
Identification of appropriate options and recommendations for our community
Recommendations outlining the steps which can be taken by the City and various stakeholders to help address the need for seniors' housing
Community Engagement:

Engagement activities will take place in February and March of this year and include:

a survey - available between February 19 and March 15, 2019 on the City of Chilliwack website and throughout the community
focus groups
one-on-one interviews
a community meeting - Wednesday, February 27 from 5:00 pm to 8:00 pm at Evergreen Hall
The dates and time for these engagement opportunities will be set shortly and will be advertised on the City website and throughout the community
The project is expected to be completed by the fall of 2019.
For further information, please contact the Planning and Strategic Initiatives Department at 604.793.2906 or planning@chilliwack.com.
This survey will be used to inform the development of future policies and strategies for ensuring a range of senior's needs for living independently and enjoying community life are met.
On June 21, 2011 Council received a report on Adaptable Housing for information and directed staff to develop bylaw changes to require 50% of all new apartment units be built to the Adaptable Housing Standards of the B.C. Building Code, effective January 1, 2012. A report outlining the applicable bylaw changes is expected to go to Council in September.