Lickman Interchange Project
Lickman Interchange
June 24, 2019 - Traffic Pattern Change
On June 24, the traffic signal on Lickman Road at the eastbound off-ramp will be removed and all traffic will be routed to the roundabout. The signal removal will also require traffic going southbound turning eastbound onto Highway 1 to use the roundabout as shown below.
Historic connection to and from Highway 1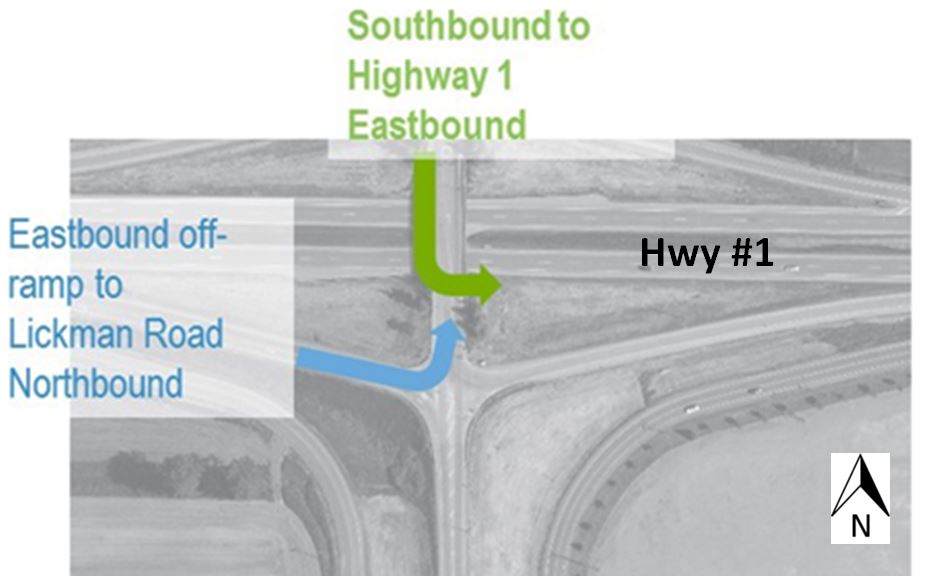 June 24, 2019 connection to and from Highway 1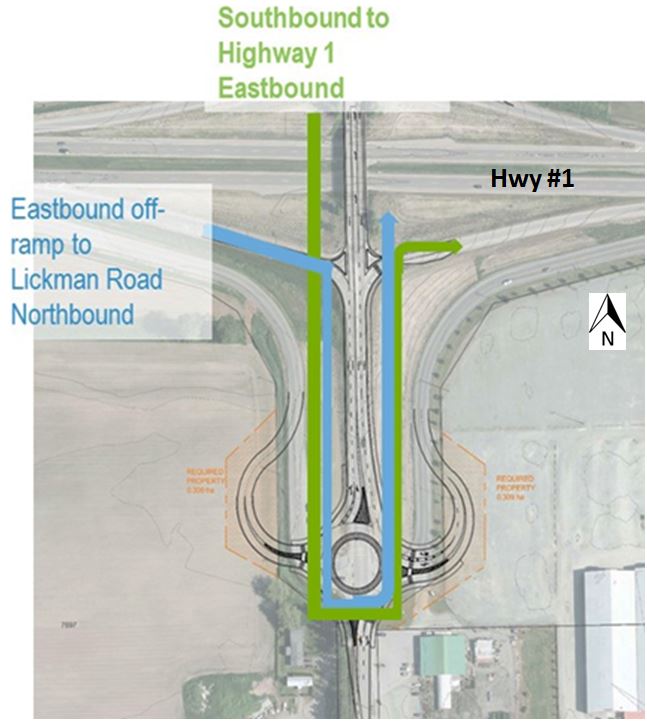 Construction: March - September 2019
This work includes improvements to the north and south portions of the Lickman Interchange. Key improvements on the north side include additional turning lanes at the Yale Road /Industrial Way intersection, and additional southbound climbing lane to the westbound on-ramp. Key improvements on the south side include an additional northbound lane, and additional southbound lane, removal of eastbound off-ramp / on-ramp signal to allow right-turn only at off-ramp, and construction of a two-lane roundabout at the Yale Road / Luckakuck Way intersection. Improvements also include extension of the northbound left turn lane on the suspended portion over Highway 1 as well as bike lanes in both directions on Lickman Road.
The improvements will enhance safety and provide more efficient vehicular movements and increased pedestrian and cyclist facilities. This project is funded in part by the Ministry of Transportation & Infrastructure.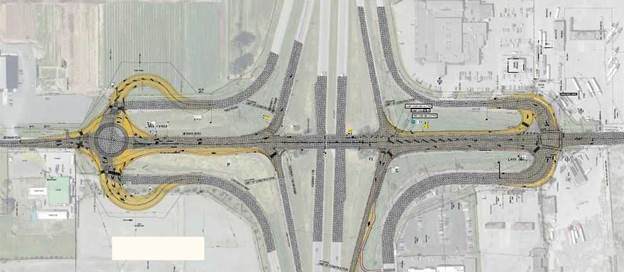 City staff hosted a Public Open House on March 8, 2017 to provide details and answer questions from the community regarding the planned Lickman Interchange upgrades.

*See the information boards from the March 8, 2017 Open House below: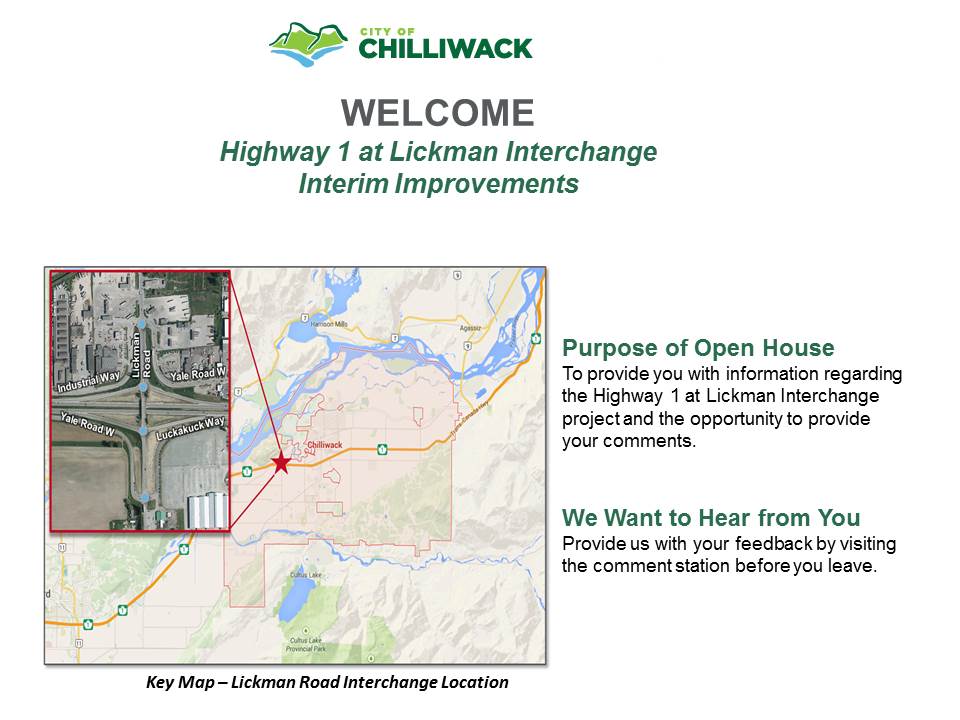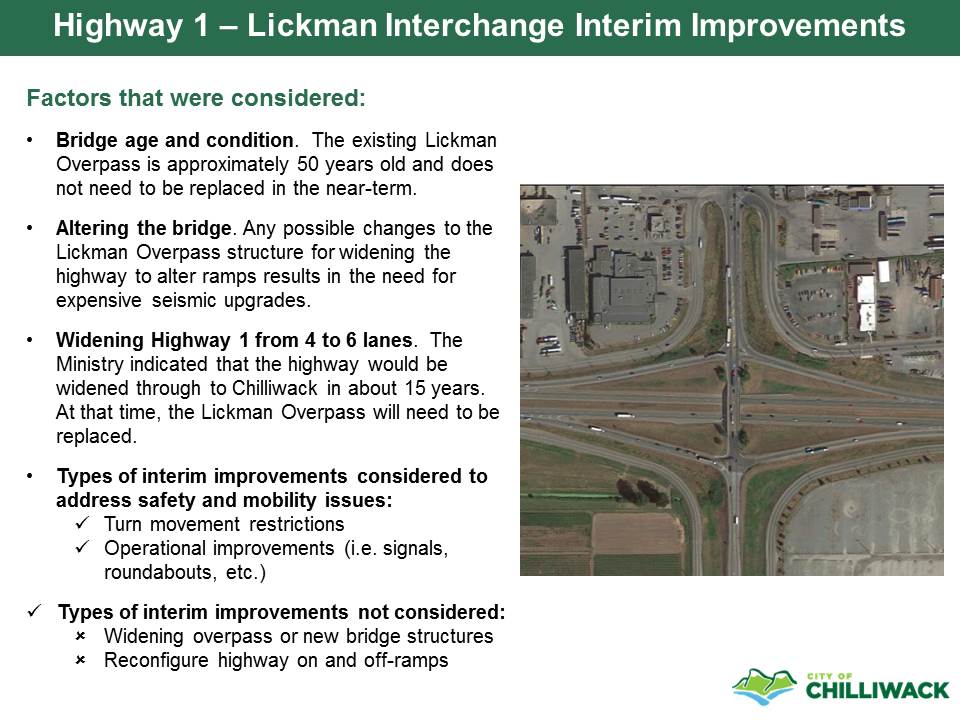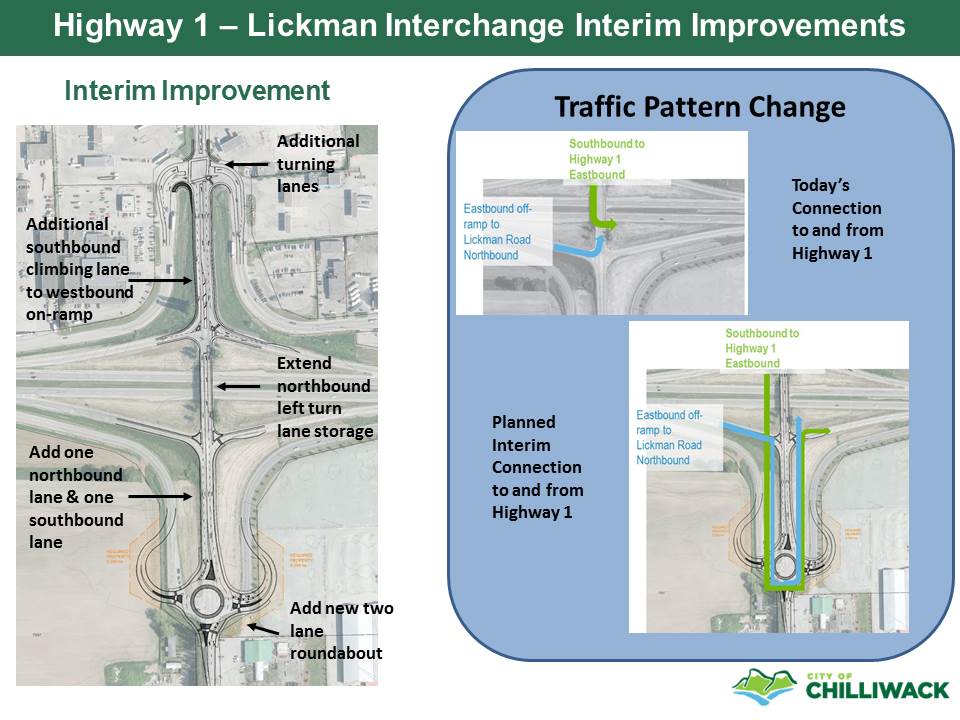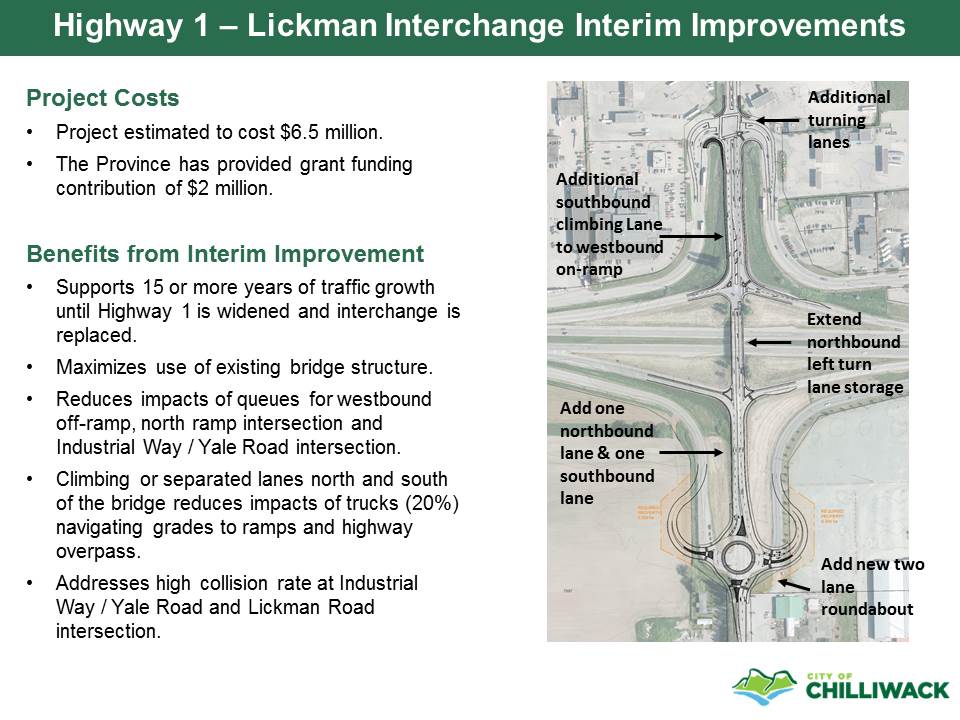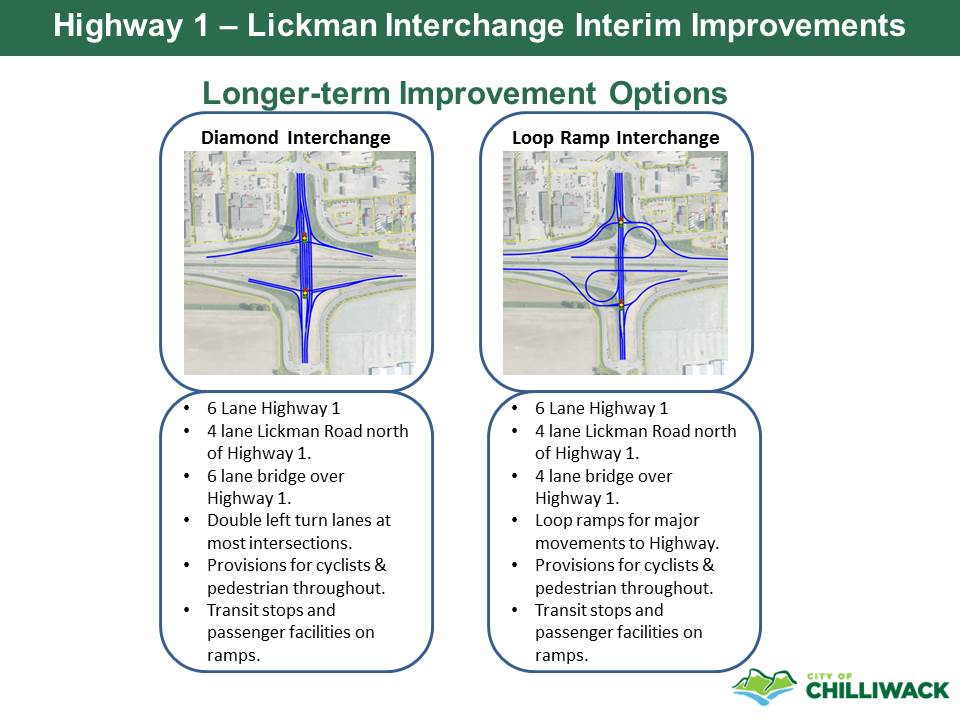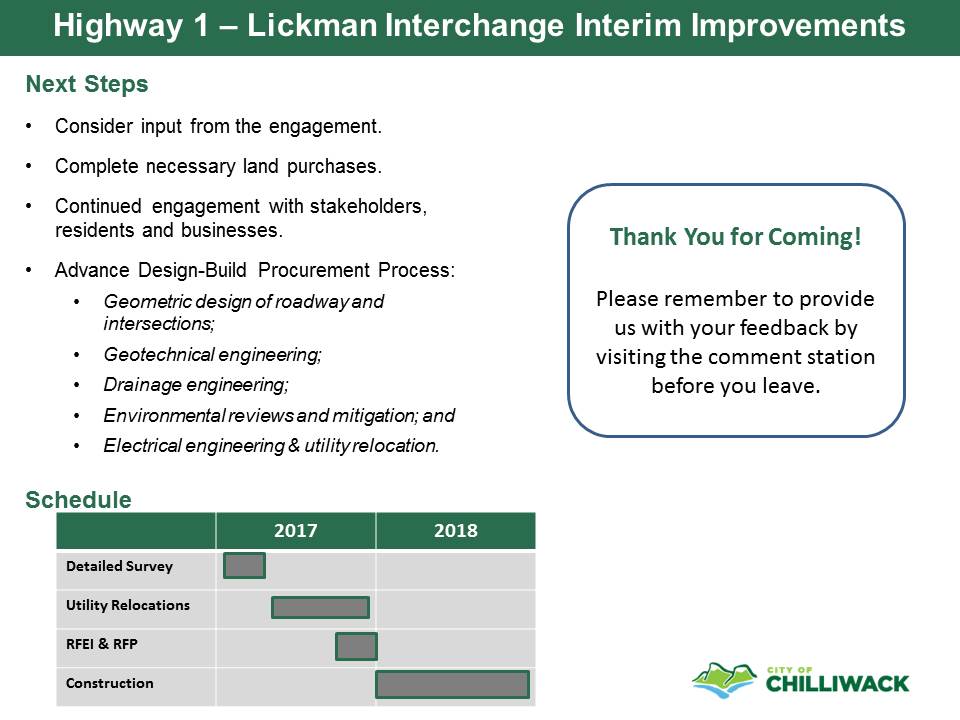 The Lickman Interchange Simulator
*See details and Council Staff Report and Presentation from the February 21, 2017 Council meeting below:
Ministry of Transportation Press Release: Interchange upgrade planned for Highway 1 and Lickman Road
In 2015 the City completed a study of the Lickman Interchange to provide a preliminary design to improve capacity and safety, provide for future growth and utilize as much of the existing infrastructure as possible, while developing a phased improvement plan.
The City then pursued grant funding to advance this project. with the announcement of a Provincial Grant the City will advance this to construction in the 2017-2018 season. Phase 1 will provide the following improvement elements:
Additional intersection turning lanes - Lickman at Yale / Industrial;
1 additional climbing lane (north side);
Lengthen the northbound left turn lane - Lickman at WB ramp;
2 additional downhill lanes (south side);
Eastbound off-ramp / on-ramp signal to be removed and right-turn only implemented; and
New two lane roundabout - Lickman at Luckakuck / Yale.
The existing Lickman Interchange Bridge structure does not meet modern seismic standards, and is too narrow to allow the Trans-Canada Highway widening to 6 travel lanes. for these primary reasons the Ministry of Transportation and Infrasturcture informed the City that the Lickamn Interchange will be demolished and replaced by the year 2030 (15 year life expectancy). As a result, the preliminary design work focused on those improvements that would not be affected by the interchange bridge replacement in the future.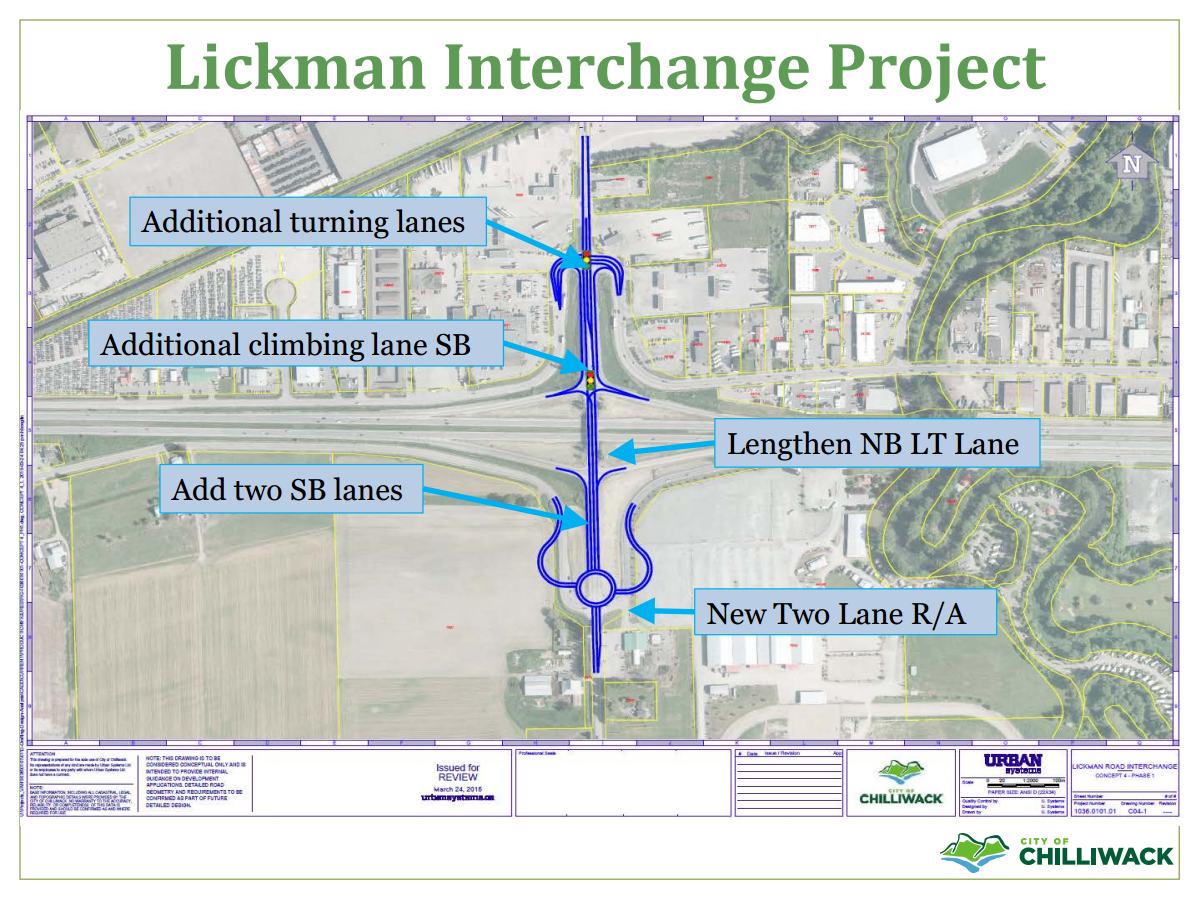 Lickman Interchange Project - Facts
2017-2018 Lickman Interchange Project will focus on City intersection upgrades, and interchange improvements that are reuseable.

Planned improvements on the north side (Yale Road) of the Interchange include additional turning lanes, additional climbing land and longer northbound left turn lane.
Planned improvements on the south side (Luckakuck Way) of the Interchange include a two-lane roundabout, additional trave lanes, eastbound off-ram / on-ramp signal to be removed and right-turn only implemented.
Provincial plans to widen the Trans-Canada Highway to 6 lanes will result in interchange replacement.
Ministry predicts 2030 (15 years) for Highway widening and Bridge Overpass Replacement.
Bridge overpass portion of Interchange cannot be improved without seismic upgrade.
Seismic upgrade on similar overpass structure has cost $2.0 million.
Bridge Overpass will be demolished in approximately 15 years for replacement to allow for Trans-Canada Highway widening.