Curbside Compostables (Organics) Collection Program
Reminder: Biodegradable and compostable plastic bags are not accepted in the curbside compostable collection program. Instead, line your kitchen catcher with newspaper or a brown paper bag.
Details about the compostables collection program are provided below.
All residents on the City's Curbside Collection Program have been provided with a Green Cart for compostable waste (combined food waste, food-soiled paper and yard waste) along with a Kitchen Catcher and more information to help you transition to the new program.
Food, food-soiled paper, and yard waste should be placed in your Green Cart for collection and composting. The "Kitchen Catcher" is used to store food waste in the kitchen before transferring it to the large Green Cart that is then set at the curb for collection. Please note that Kitchen Catchers are designed for indoor use only and are NOT acceptable at the curb as they do not have a locking mechanism to prevent wildlife interactions and keep materials contained.
Reminder: Don't flush unflushables! Disinfectant wipes, baby wipes and paper towels should be bagged, in securely tied plastic bags, and disposed of with regular garbage.
Suggested steps: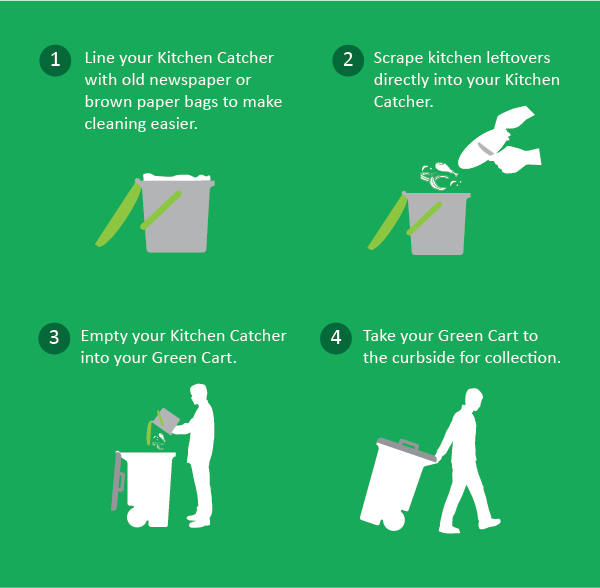 Accepted Materials in your Green Cart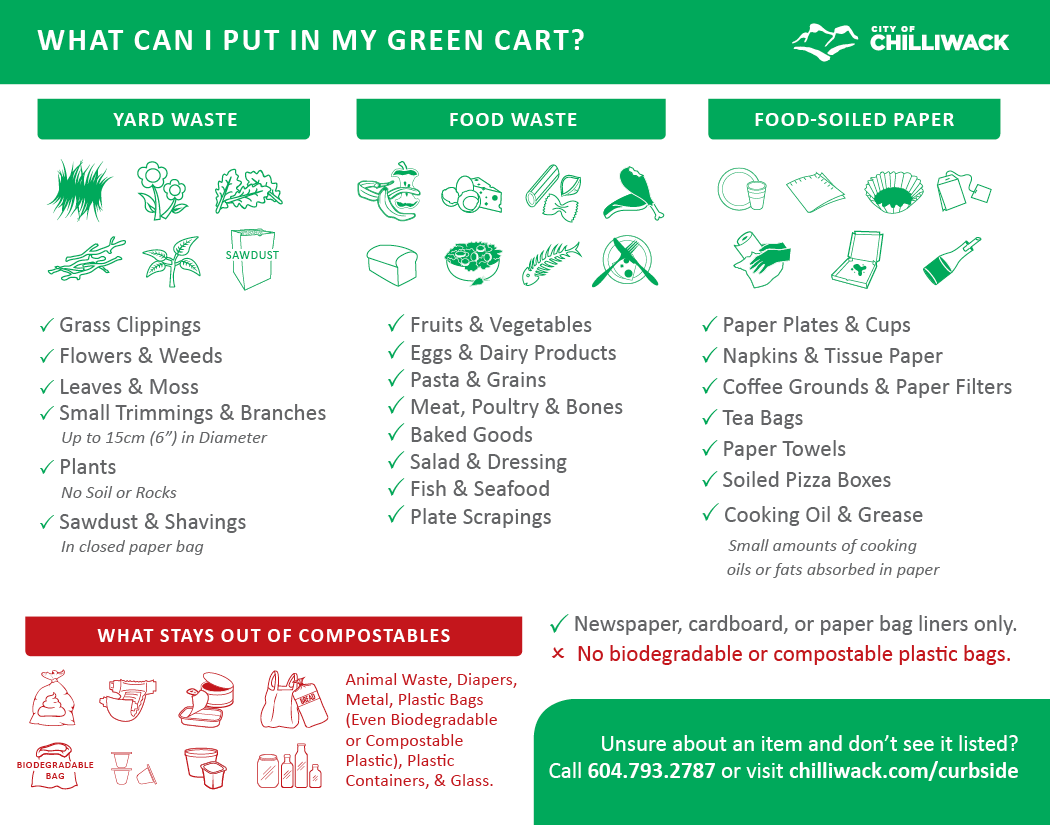 Not sure if an item is accepted?
Use the new Waste Wizard "What Goes Where" search tool to look up items for recycling, composting or disposal:
Yard Waste & Container Weight Limits
Did you know Green Carts have weight limits? If you think your cart may be too heavy please be reminded that residents are able to put out up to 10 extra paper bags of yard waste or bundles of branches per week, year-round in addition to your Green Cart (no Tag-a-Bag stickers required for the first 10 bags/bundles). Help prevent broken Green Carts and ensure your compostable waste is collected by redistributing the weight of yard waste into paper yard waste bags.
Green Cart Size and Weight Limit
80L - max 110 lbs
120L - max 120 lbs
240L - max 220 lbs
360L - max 330 lbs
Kraft Bags - max 33 lbs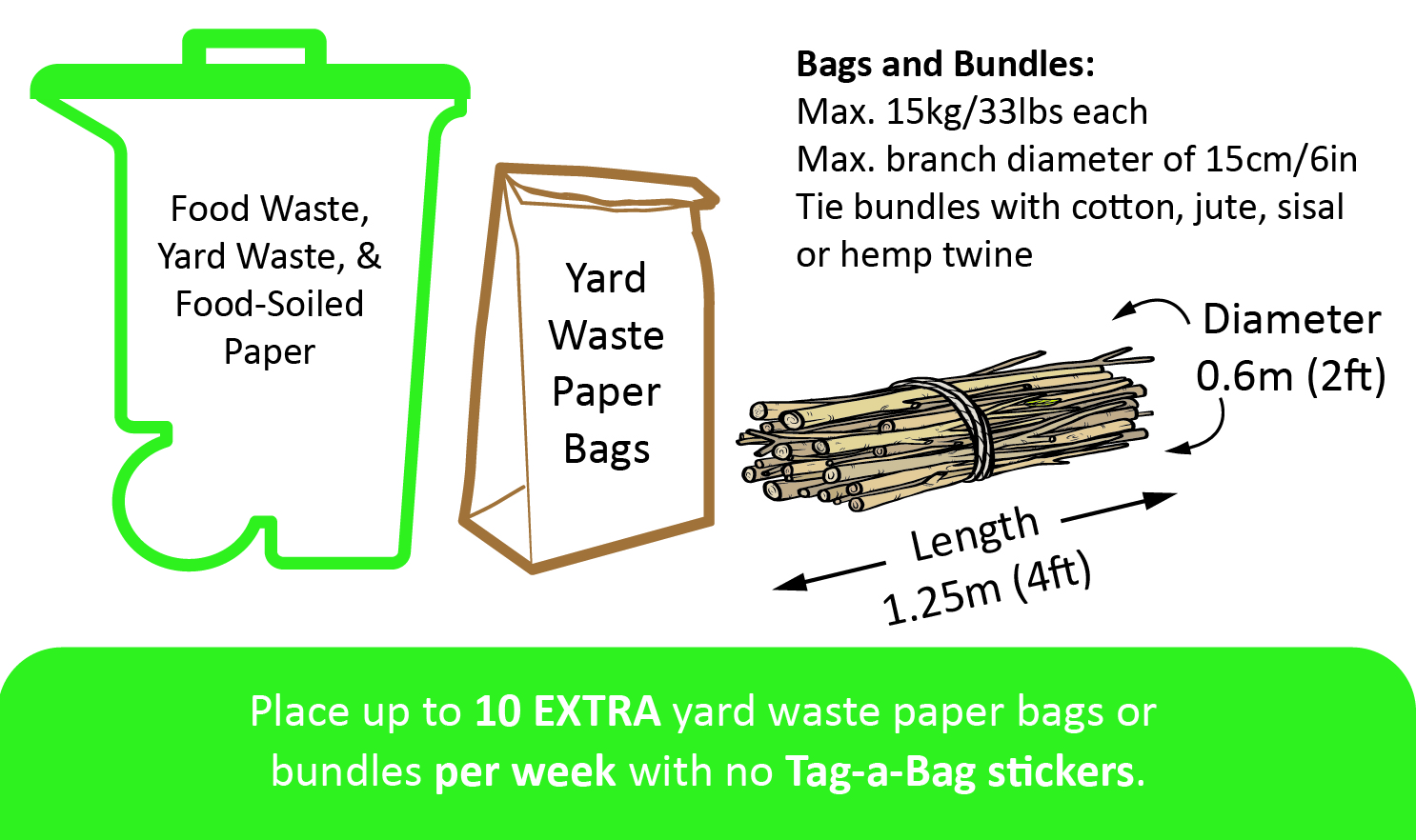 Containers and Collection Method
Garbage and recycling are still collected manually by curbside collection crews. A semi-automated collection system is being used for the collection of the heavier compostable waste.
The collection contractor has provided wildlife resistant standardized Green Carts to all residents. Residents are able to choose a cart size (eg. 80L, 120L, 240L, 360L) and pay a different rate accordingly.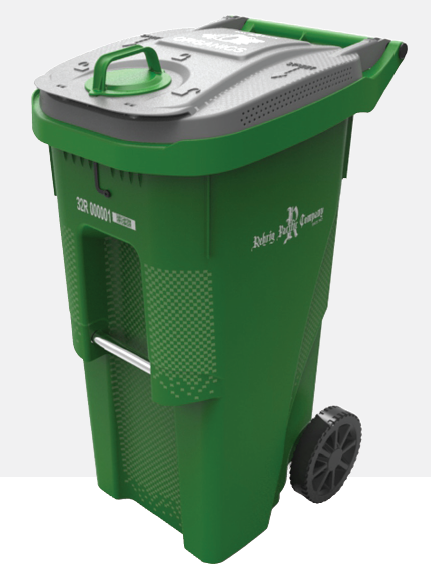 Click here for the Green Cart Size and Cost Information.
Please note that Green Carts are registered to the property that it was delivered to and should remain at the original property even if ownership changes.
Green Cart Exchange Information:
Green Cart size exchange requests may be made using the link below or by calling 604.793.2787. Please allow up to 4 to 5 business days for your exchange to be processed.
Emterra plans to exchange carts on the day after residents' regular collection day, but in some cases exchanges may occur on another day of the week.
In order to facilitate the exchange, please ensure your current Green Cart is accessible from the front of your residence (or from the back lane if you receive back lane collection). Emterra will not be able to exchange your cart without collecting the current size. If your cart is not exchanged the day after collection, please continue to use your cart but keep it accessible until the exchange occurs.
If you have any questions about your exchange request, please call Emterra at 604.795.7795.
Click here to request a different cart size.
Cart size exchange requests must be made by the property owner.
Tenants, please discuss cart size selection with your landlord.