Potholes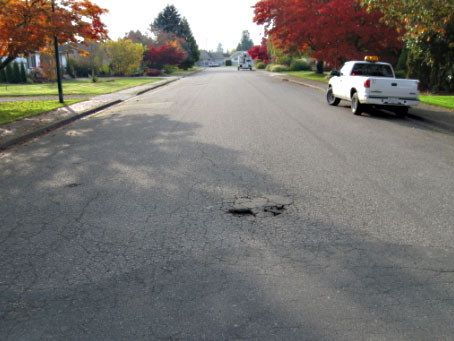 The Operations Department is responsible for dealing with hazards such as potholes.
When notified of a pothole, a work order is generated. Work crews are then dispatched, as soon as resources are available, but no later than 2 business days after notification. If crews or materials are not available within 2 business days, the pothole is marked by a flashing beacon, road barrier or cone to warn motorists of the hazard.

Reporting A Pothole
To report a pothole or other hazard within the City's roadways, please note the location and email [email protected] or call the Operations Department at 604-793-2810, 8:30 am to 4:30 pm, Monday to Friday.
For after hours service, please call the City's emergency phone number at 604-792-2233
Claims For Potholes
The winter can be particularly challenging with a number of roads in the community developing potholes. The City's responsibility with respect to damage caused by potholes is outlined in the Local Government Act. Section 744 states, in part, "a municipality is not liable in any action based on nuisance if the damages arise directly or indirectly out of the breakdown or malfunction of a sewer system, water or drainage facility or system or a dike or a road."
The City is not an insurer for the travelling public and therefore, does not reimburse for damage to vehicles caused by potholes. Claims due to damage caused by potholes, may be filed directly with ICBC or your private insurance provider.