Green Commuter Challenge
Join The City In Greening Your Commute!
May 28 to June 10, 2018.
The Challenge aims to encourage residents to leave their cars at home for their personal health, the health of our community and the health of the environment. Boost your fitness! Save money! Reduce air pollution!
How Can I Participate?
Everyone is encouraged to commute to work or school by biking, carpooling, walking or using public transportation.

Win a new bike by recording your Green Commute on a ballot

on-line

or at City Hall between May 28 and June 10, 2018 (ballot submission closes at 4:30 pm, June 11).
If you are biking on

May 29

, be sure to join the Community Ride to Work or stop by the Celebration Station at the FVRD!
Submit a new ballot on-line or at City Hall for each day you "Green your Commute!"
City and RCMP employees are not eligible to win prizes.
Looking for more prizes? In addition to Chilliwack's initiative above, sign up for these province-wide events:
BC Bike to Work and School Week

. From May 28 to June 3, 2018. This is specifically for people who ride their bikes instead of driving (doesn't include walking, carpooling or transit).

BC Commuter Challenge

from June 3 to June 9, 2018. Participants can walk, cycle, take transit, ride-share, or work from home.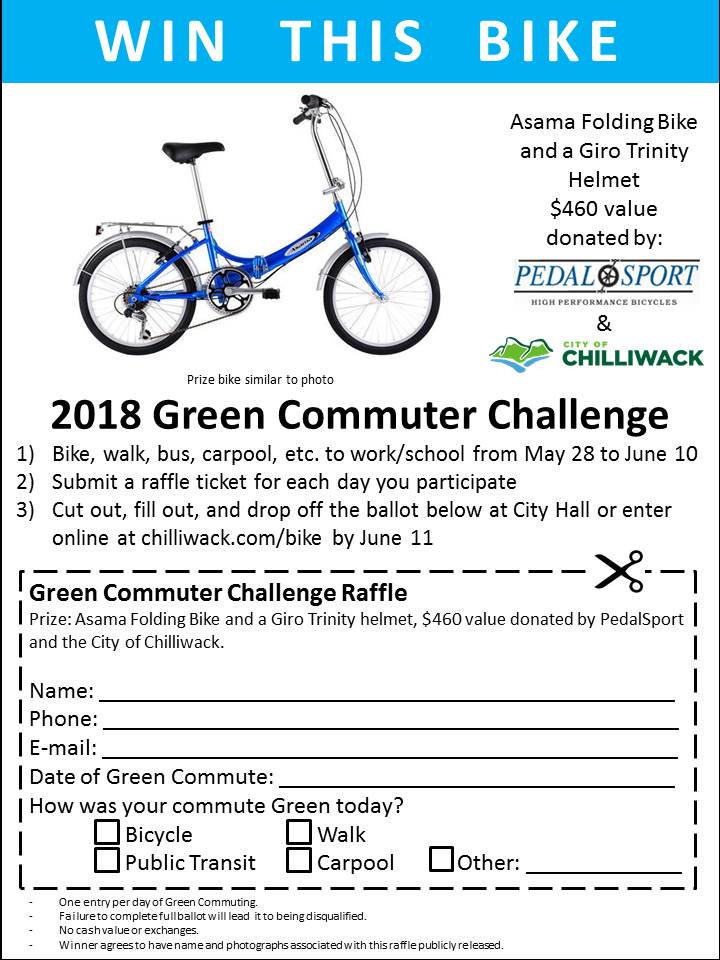 Biking Tips:
Ride with a friend
Prepare for changing weather
Bring a water bottle and bike lock
Be safe - wear a helmet and bright clothing, and use lights
Learn about our new Cycle Vision Plan and cycling networks
Bike safety and equipment: Bike Sense BC
Public transit routes and schedules: chilliwack.com/transit