Chilliwack Museum & Archives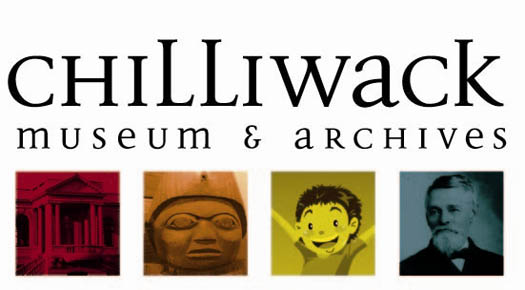 Website: www.chilliwackmuseum.ca Email: info@chilliwackmuseum.ca



Museum
45820 Spadina Avenue,
Chilliwack, BC V2P 1T3
Phone (604) 795-5210



Administrator:
Cari Moore

Hours:

Monday, Tuesday, Wednesday and Friday
9:00 am to 4:30 pm;

Thursday: 9:00am - 8:00pm

Saturdays: 10:00am - 4:00pm

Sundays: Closed

Archives
9291 Corbould Street,
Chilliwack, BC V2P 4A6
Phone (604) 795-5210



Archivist:
Tristan Evans

Curator:
Kate Feltren

Hours: Monday to Friday
8:30 am to 4:30 pm

Closed Saturday and Sunday
---
The Chilliwack Museum and Archives, operated by the Chilliwack Museum and Historical Society, have been collecting objects and records related to the history of the Chilliwack area since 1958. Communities represented in the collection include Chilliwack, Sardis, Rosedale, Yarrow, Greendale, Columbia Valley, Chilliwack River Valley, Popkum, Cheam, East Chilliwack, Ryder Lake, Promontory, Cultus Lake, Camp River and Fairfield Island.
Collections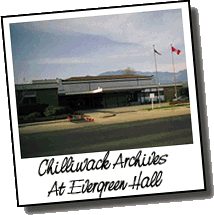 Archival Collections

Archival collections contain photographs and maps, oral histories, genealogical information, and records from individuals, families, clubs, businesses, churches, schools and community organizations. The Archives also holds municipal government records dating from the incorporation of the Township of Chilliwhack in 1873. Newspapers in original and microfilmed copies date from 1891 to the present (The Chilliwack Progress). Archives staff continue to actively acquire records from the community and assist the public with accessing records. View the archival collections online.
| | | | |
| --- | --- | --- | --- |
| | | Note - The City of Chilliwack lost the "h" in the spelling when it was incorporated in 1908 | |
Object Collections
Object collections includes material representing the human and natural history of Chilliwack and area. The Museum and Archives has objects from the Sto:lo and items dating to the late 1860's around the gold rush era and when farms were being established around Fraser River steamboat landings. The Archives continues to collect objects from the community. View the object collections online.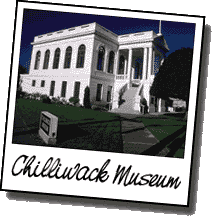 Education and Exhibits
The Museum offers educational programs for schools and groups in the classroom or at the Museum. There are two exhibit spaces on the ground floor as well as an education space and giftshop. The second floor houses our office administration and has the Chamber Gallery which is available for event rentals.