Sardis Neighbourhood Plan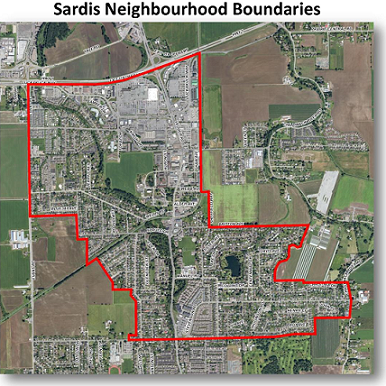 The City of Chilliwack has initiated the planning process to create a comprehensive neighbourhood plan for the Sardis area as it is expected that the area will see an increase in population of approximately 6,800 residents with an associated additional 4,000 dwellings. The plan, once complete, will establish a common vision for the neighbourhood and provide clear direction for future decision making regarding growth and infill development in Sardis, with a focus on promoting complete and healthy community development. Through the plan, environmental, physical, social and economic factors related to the development of this neighbourhood will be looked at in order to better define the role of this area within the City's overall long-term growth strategy.
Public Engagement:
On September 25, approximately 350 residents attended the public meeting at Sardis Elementary and 573 residents completed the online survey to provide input into the first phase of the planning process for a visionary plan that will shape the future of Sardis.
Results of the online survey and the Open House Summary are included below in the attachments section.
On November 4, three separate workshops were held throughout the neighbourhood to provide residents an opportunity to discuss, in depth, how best to integrate community priorities into the Sardis Neighbourhood Plan . The specific topics for discussion included: mobility, greenspace/trails and housing.
The Workshops Summary is included in the attachment section below.
Stay Tuned

Due to COVID-19, we cannot hold public meetings like we have in the past. We are looking into other, safe ways to bring the draft Sardis Neighbourhood Plan to you for feedback late summer.
For now, please contact the Planning Department by phone or email with any questions or comments:
We will add information about the draft plan and how you can send us your feedback to this page in late summer.