Trails
Heritage Wagon Trail
The Heritage Wagon Trail begins on Wilson Road and ends on Yarrow Central. The trail runs parallel to the Southern Railway tracks and is approximately 1 km long.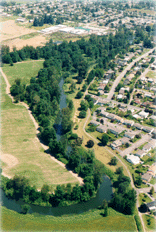 Luckakuck Trail
The Luckakuck Trail is a 1 km walk from Luckakuck Way and ending on Sapphire Drive. This nature trail runs along the Luckakuck Creek and is a great little shortcut to the malls and other shops in the area.
Mount Thom (map)
Starting at either Churchhill Parkway in Ryder Lake or Sylvan Drive in Promontory, this pedestrian trail goes all the way to the Mount Thom Summit. With well over 60 hectares to hike, the summit is 484 metres high from the base to the top of the mountain. The 100 to 300 metre climb in elevation makes a great afternoon activity.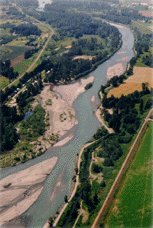 Vedder River Rotary Trail
The Vedder River Rotary Trail was a joint venture with the Rotary Club of Chilliwack, the Canadian Forces Base of Chilliwack and the City of Chilliwack. This beautiful trail runs along the Vedder River and is 15.5 km long. Great for running, biking, walking and horseback riding, many outdoor enthusiasts find this trail wonderful not only for the scenery but for the great accessibility to the Vedder River.
Teskey Trail
The Teskey Trail is still in the initial stages but does have portions to walk that end up in Promontory Park West. When completed, the trail will loop through the Promontory community.
The City is excited to introduce a new "virtual" tour of the Vedder and Peach Creek trail systems. Utilizing smart phone technology to "read" simple QR code signs, trail users simply locate and scan the QR codes on the signage along the trails and an educational video will play on the smartphone.