Fraser Valley Regional Library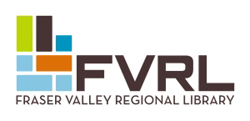 There is so much more than books at the Chilliwack and Yarrow Libraries. You'll find CDs, DVDs, newspapers and magazines, audiobooks, as well as entertaining and informative programs for all ages.
LIBRARY CARDS ARE FREE

You can get a free library card at any of the Fraser Valley Regional Library (FVRL) community libraries, as long as you live in the Fraser Valley or any area served by an InterLINK library.

ONLINE CATALOGUE
The library's online catalogue may be accessed from your home or office, via the library's website at www.fvrl.bc.ca. You can request or renew items, and check your record online, either at your local library or from anywhere in the world. We also have electronic versions of traditional print books that you can read on your computer or hand-held PDA's and newer generation phones.
HOMEWORK TUTOR
With your FVRL library card, you have access to free online peer tutors for homework help in Math, Science, and Social Studies.
ONLINE RESOURCES
Check out our online resources! From the comfort of your home you can explore your options under the green LEARN tab on the library's homepage at http://www.fvrl.bc.ca Click on ONLINE RESOURCES to download and burn eAudiobooks; receive emails alerting you to new library items that interest you; read the news from 219 Canadian newspapers; search British Columbia laws; search World Book Encyclopedia online, and much more.
INTERNET ACCESS
Don't have a computer at home? Free Internet access is available at both the Chilliwack and Yarrow libraries. Drop by and check us out!
The Sardis Library opened its doors on May 6 to the community after several years of planning and much anticipation.