Community Engagement
We want to hear from you! This page features a list of community engagement opportunities, open houses and more. We encourage you to get out and get involved.
Secondary Suites Study
We would like you to tell us what you think about secondary suites in Chilliwack. Learn more and take our online survey.
Staff will also have an information booth at Cottonwood Mall on Saturday, May 20 from 10:00 am - 5:00 pm to survey residents.
Safer City Information Booth
June 8, 2017
8:30 am – 2:30pm
Cultural Misconceptions Open House at Chilliwack Middle School
Safer City is at Chilliwack Middle School providing road safety education and hosting a few road safety related giveaways.
Canada Day
Saturday, July 1, 2017
6:00 - 10:00pm
Townsend Park
Stop by the City of Chilliwack's tent. We'll have some activities for the kids and a survey for parents to take while they wait.
Environmental Services Information Booth
June 21
10:00am – 2:00pm
Tzeachten Health and Wellness Event
Environmental Services will be at the event with information on water conseration and other important steps we can take to be more environmentally friendly.
Community Engagement Open House
Chilliwack City Council is hosting several community engagement meetings in 2017 to share information and hear residents' feedback.
If you have feedback or questions about your neighbourhood, please attend and speak with Mayor and Council. Questions can be submitted prior to the event to engage@chilliwack.com.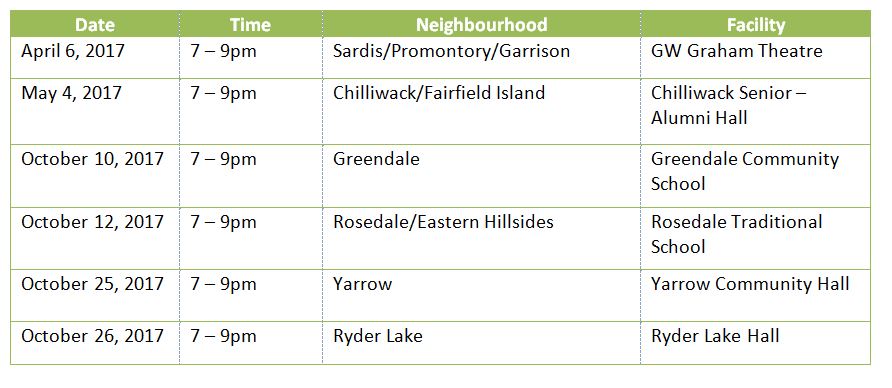 Neighbourhood Grant Program
Great cities are built on the foundation of strong neighbourhoods. Since residents often know just what is needed to enhance the quality of life in their neighbourhoods, the Neighbourhood Grant Program has been developed to support residents and organizations that have small but powerful ideas that will bring people together and enhance neighbourhoods.
Learn more and apply for a grant.
Public Notices
Information about upcoming Public Information Meetings, Public Hearings and other statutory notices can be found on our Public Notices webpage.
Past Engagement Opportunities (2017)
Curbside Compostables (Organics) Collection Program Outreach
Residents with questions about the Curbside Collection Program can call the City's Engineering Department at 604.793.2787, email curbside@chilliwack.com, stop by City Hall, or visit Environmental Services staff at various outreach events.
Summary of 2017 outreach events:
Event
Date

Time

Location
Home, Leisure & Outdoor Living Expo
Fri - Sun
Jan 27-29
27th 4:00pm-9:00pm
28th 10:00am - 6:00pm
29th 10:00am-4:00pm
Heritage Park
Spring Market
Sat, April 1
10:00am - 4:00pm
Landing Sports Centre
Community Engagement Meeting
Thur, April 6
7:00pm – 9:00pm
GW Graham Secondary School
Information Booth at Cottonwood Mall
Sat, April 15
9:30am – 5:30pm
Cottonwood Mall near London Drugs
Adopt-a-River Cleanup
Sat, April 22
8:30am – 12:00 noon
Great Blue Heron Nature Reserve
Community Engagement Meeting
Thur, May 4
7:00pm – 9:00pm
Chilliwack Senior Secondary School
Information Booth at Chilliwack Landing Leisure Centre
Tues, May 9
4:00pm – 8:00pm
Chilliwack Landing Leisure Centre
Information Booth at Cheam Leisure Centre
Wed, May 17
9:00am - 2:00pm
Cheam Leisure Centre
Information Booth at Cottonwood Mall
Sat, May 20
10:00 am - 5:00 pm
Cottonwood Mall near London Drugs
Cycle Vision Open House
Saturday, April 1
10:00 am – 12:00 noon
City Hall – Council Chambers
For more information, please visit the CycleVision homepage at http://www.chilliwack.com/main/page.cfm?id=2676


Roundabout Education Session
Thursday, March 30
5:30 – 8:00 pm
Everygreen Hall – Slesse Room
This is a drop-in session, so please feel welcome to stop by whenever it is convenient. Handouts, one-on-one questions, information boards and a simulator will be available to enhance our discussions.
For more information, please call the Engineering Department at 604.793.2907.
Parks and Trails Engagement
Come visit us at Cottonwood Mall on February 25 or March 4 from 9am to 1pm to talk about parks and trails! We want to talk to you about the following projects:
The new Experience the Fraser TrailThe Landing Spray Park reconstructionThe Landing Skate Park reconstructionThe Vedder Greenway and looping the VedderMore dog off leash opportunities in the communityThe addition of a Disc Golf Course for our cityOutdoor exercise equipment (green gyms) installation in three community parksThe City's Greenspace Plan and Trail Network Plan updates for 2017New play equipment for 2017 in our parksOur Neighbourhood Grant program
We'll be at the London Drugs mall entrance.
Members of City staff will be in attendance to explain the projects, to listen to your suggestions and to answer any questions you may have. If you are unable to attend the meeting you can still provide feedback by emailing operations@chilliwack.com or by calling 604.793.2810.
Open House: Lickman Interchange "Phase 1" Improvements
City staff will be hosting a Public Open House on March 8, 2017 to provide details and answer questions from the community regarding the planned Lickman Interchange upgrades.
Date: Wednesday, March 8
Time: Anytime between 5:00 – 8:00 pm
Location: Best Western Rainbow Country Inn (43971 Industrial Way)
More information is available by phoning the Engineering Department at 604.793.
2907 or visiting our website.
The Landing Skate Park Redevelopment Project
The City of Chilliwack invites you to participate in a design workshop to gather information in the planning and design for enhancements to your skate park.
Date: Saturday, January 14, 2017
Time: 9:30 am - 12:00 pm
Location: Evergreen Hall (9291 Corbould Street)
For more information, please call 604.793.2810.
Curbside Collection Booth
Curbside collection changes are happening this year and we want to talk to you about how you can make a smooth transition. Visit our Environmental Services team at the Home, Leisure and Outdoor Living Expo and learn more about organics collection and other changes happening in 2017 to your curbside collection.
Dates: January 27, 28 and 29, 2017
Location: The Chilliwack 2017 Home, Leisure and Outdoor Living Expo at Heritage Park
For more information, call Environmental Services at 604.793.2907.