Curbside Collection App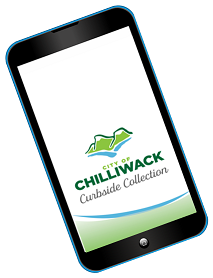 We are excited to launch our new Chilliwack Curbside Collection App to help residents get the most out of our curbside waste collection service plus find other free or low-cost recycling and disposal options for hundreds of items.
Download the mobile app Chilliwack Curbside Collection for Apple or Android devices and search your home address in our new collection calendar tool. You can then:
Sign up for waste collection reminders by email, phone call, text message and Twitter.
Download your collection schedule into your iCal, Google calendar or Microsoft Outlook calendar.
Print your collection schedule.
If you're not sure how to properly dispose of something, check out the What Goes Where tool, online or on the app. It will tell you how items can be reused, recycled, composted or disposed of.