Curbside Compostables (Organics) Collection Program
The Curbside Collection Program is changing in May 2017:
Compostable waste (combined food waste, food-soiled paper and yard waste) will be collected from all residents on the program weekly

Garbage collection will be reduced to bi-weekly

Some residents will have new collection days
Details about these program changes are provided below.
Green Carts for Curbside Compostables (Organics)
All residents on the City's Curbside Collection Program will be provided with a Green Cart for compostable waste (combined food waste, food-soiled paper and yard waste) along with a Kitchen Catcher and more information to help you transition to the new program.
Green Cart delivery information:
Carts will be delivered throughout the month of April

Carts will be dropped off at the front of residents' properties

Carts will be delivered Mondays through Saturdays between 7am and 7pm
Green Cart collection service starts the week of May 1. Please do not place your cart at the curb until then.
The cart size selection deadline for delivery in April was October 7, 2016. If no selection was submitted, you will automatically be issued a 120 litre cart. Green Cart size exchange requests may be made any time after June 1st, and the exchanges will start to take place in July.
Tenants, please discuss cart size selection with your landlord.
For more information:
May 2017 Curbside Collection Program Changes

Curious about how the new Curbside Compostables Collection Program will look?
General Process
Food, food-soiled paper, and yard waste will be placed in a separate Green Cart for collection and composting. The collection contractor will provide residents with a "Kitchen Catcher" to store their food waste in the kitchen before transferring it to the large Green Cart that is then set at the curb for collection.
Here's how it works: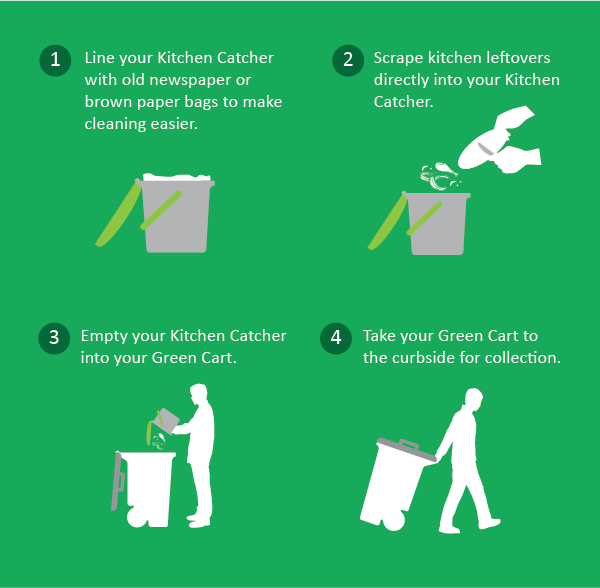 Accepted Materials in your Green Cart
Not sure if an item is accepted?
Use the new Waste Wizard "What Goes Where" search tool to look up items for recycling, composting or disposal:
Green Cart Tips
Place the provided sticker "What can I put in my Green Cart?" on the lid of your Green Cart for an easy reminder of what items are accepted.
Wrap food waste in newspaper, paper bags, paper towel or cereal boxes.
There is no requirement to line your Green Cart, but you may want to line it to help keep it clean. Options include newspaper, paper bags/liners, or other paper products.
Do not use plastic bags in your Green Cart, even biodegradable or compostable plastic. Not all compostable plastic bags break down sufficiently during the composting process, which can contaminate the finished compost product.
Freeze meat scraps in a paper bag until collection day.
Store your Green Cart in a cool, shaded, ventilated area and keep the lid locked
Wash your Green Cart periodically with mild soap or a vinegar‑water solution. Pour soapy water onto grass or gravel. Do not pour soapy water down outside drains.
Set your Green Cart out for collection every week even if it is not full.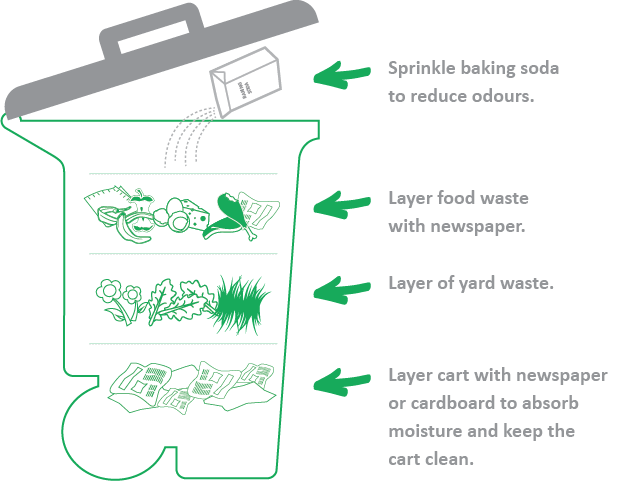 Note: The above illustration is a recommendation only, residents that do not have yard waste could layer material with paper products.
Collection Frequency
Compostable waste (food waste, food-soiled paper and yard waste) will be collected weekly and composted.
Unlimited Recycling will be collected weekly similar to the current program.
Garbage will be collected bi-weekly (once every two weeks) because quantities and odours will be significantly reduced without the compostable materials and bi-weekly collection will reduce collection costs. Residents will be able to put up to two 120 litre containers bi-weekly at the curb for collection.

Yard Waste
Every spring and fall (April-June, September-November) residents will also be able to put out up to 10 extra paper bags of yard waste or bundles of branches per week (no tag-a-bag stickers required) to assist residents when there are more prunings, leaves, etc. At other times, residents can put out extra yard waste with tag-a-bag stickers on them.
Note: Residents currently subscribed to the yard waste service will no longer need to subscribe; yard waste will be collected from everyone weekly as part of the new compostables service. The new curbside fees will be lower than fees currently paid by customers with yard waste subscriptions due to increased efficiencies.
Containers and Collection Method
The City will continue with the current manual collection of garbage and recycling by curbside collection crews. A semi-automated collection system will be adopted for the collection of the heavier compostable waste.
New collection trucks for compostable waste will be fitted with automated hydraulic arms on the side of the truck. The collection crews will wheel your Green Cart over to the truck and attach the cart to the hydraulic arm. The arm will then pick up the cart and tip the contents into the truck. The collection contractor will provide wildlife resistant standardized Green Carts to all residents. Residents are also able to choose a cart size (eg. 80L, 120L, 240L, 360L) and pay a different rate accordingly.
Collection Days
Collection days will be changing for some residents starting in May:
Ryder Lake and east Chilliwack residents will receive collection on Tuesdays
Some other collection boundary adjustments were made to better distribute workload since some areas of Chilliwack have grown faster than others
Each collection area will be divided into two 'zones' for alternating garbage collection.
A search tool for residents to confirm their new collection day and set up collection reminders is available here.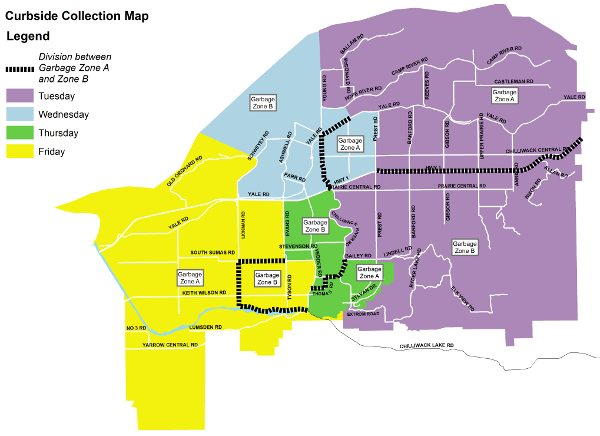 Watch: Presentation from March 21 Council Meeting regarding the Curbside Program changes