Chilliwack Track Complex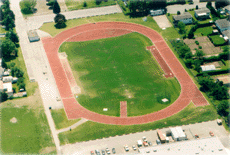 This complex was constructed in joint venture with the School District No. 33 and the City of Chilliwack for the 1993 B.C. Summer Games.
This facility features 8.46 hectares situated behind Sardis Senior Secondary School and is a 400 metre running track. The running track is a synthetic track surface and meets international standards. A fieldhouse has been constructed with washrooms, concession and a meeting room.
The complex is open for public use year round with the exception of special events.