Order of Chilliwack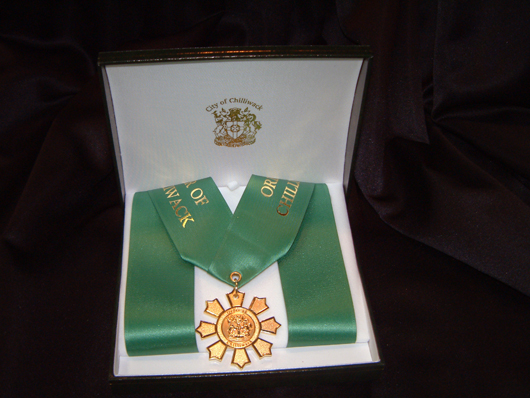 The Order of Chilliwack was established in 2001 as an award granted by Chilliwack City Council to exemplary citizens of the community. The Order is granted at the discretion of City Council to persons or groups whose names are put forward by members of Council in the form of a motion. The purpose of the award is to recognize citizens of Chilliwack who are appropriately deserving by virtue of outstanding achievement or long term contributions to the community.
Award Recipients
2001
Fred Bryant
2002
Rotary Club of Chilliwack
2008
Dorothy Kostrzewa
2011
Brian Minter
Mr. Brian Minter is the fourth recipient of the Order of Chilliwack medal, an award to recognize citizens for outstanding achievement or long term contribution to our community.
MR. FRED BRYANT TO RECEIVE ORDER OF CHILLIWACK
The Rotary Club of Chilliwack's extraordinary contributions to our community make it extremely deserving of the Order of Chilliwack award, being the City of Chilliwack's highest honour.