Bike to Work Challenge
Reduce air pollution! Save money!
Boost your fitness!
HOW DO I PARTICIPATE?
Submit your ballot on-line or in person at City Hall between May 20 and June 2, 2013.
Looking for more? Sign up for Bike to Work Week BC, May 27 to June 2, 2013. Let's join others in our province in communting sustainably! REGISTER at Bike to Work Fraser Valley to win more prizes!
Join the City in sustainable commuting!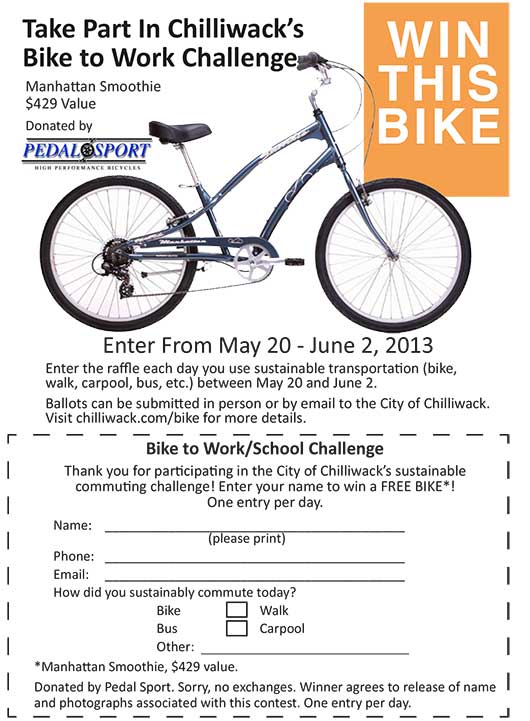 The City of Chilliwack's seventh annual Bike to Work and Fitness Challenge will be held from May 20 to June 2, 2013. The Challenge aims to encourage residents to leave their cars at home for their personal health, the health of our community and the health of the environment.
WHAT'S THE CHALLENGE?
The goal for the 2013 event is to beat last year's participation and effort while promoting environmentally sustainable commuting and increased fitness.
Everyone is encouraged to participate! The first component (Bike to Work or School) involves using a form of sustainable transportation to commute to work or school. If you do not own a bike, try car pooling, walking or using public transportation as an alternative.
The second component (Fitness Challenge) involves increasing overall fitness and well-being by participating in daily physical activities, such as walking, jogging, swimming, playing sports, gardening, etc.
Biking Tips:
Ride with a friend
Bring a water bottle and bike lock
Prepare for changing weather
Be safe - wear a helmet and bright clothing, and use lights
Pick a good route - cycling network maps are available at City Hall
Bike safety and equipment
www.bikesense.bc.ca
Public transit routes and schedules in Chilliwack
www.chilliwack.com/transit
Events happening for Canadian Environment Week & Clean Air Day