National Day for Truth and Reconciliation Events and Educational Opportunities
In-person events may be cancelled or changed due to the new regional health order. Please contact the event organizer to confirm event details.
Chilliwack City Council is committed to truth and reconciliation, and building good relationships with Indigenous neighbours. On September 30th, the National Day for Truth and Reconciliation, City Hall will be closed. Staff and members of the public are encouraged to learn more about the history and lasting impact of residential schools. To help support education, the City has compiled the following list of local events and educational activities. If you have an event or activity taking place in Chilliwack on September 30th that should be added to this list, please email the details to engage@chilliwack.com.
Skwah First Nation Truth and Reconciliation Walk - Cancelled
September 30
Time: 11:30 am – 1:30 pm
Location: Skwah First Nation
Organized by Raylene Mumford and Elia Juilian
National Day for Truth and Reconciliation Webinar
September 30, 2021
Time: 10:30 am to 12:00 pm
Organized by the Chilliwack Division of Family Practice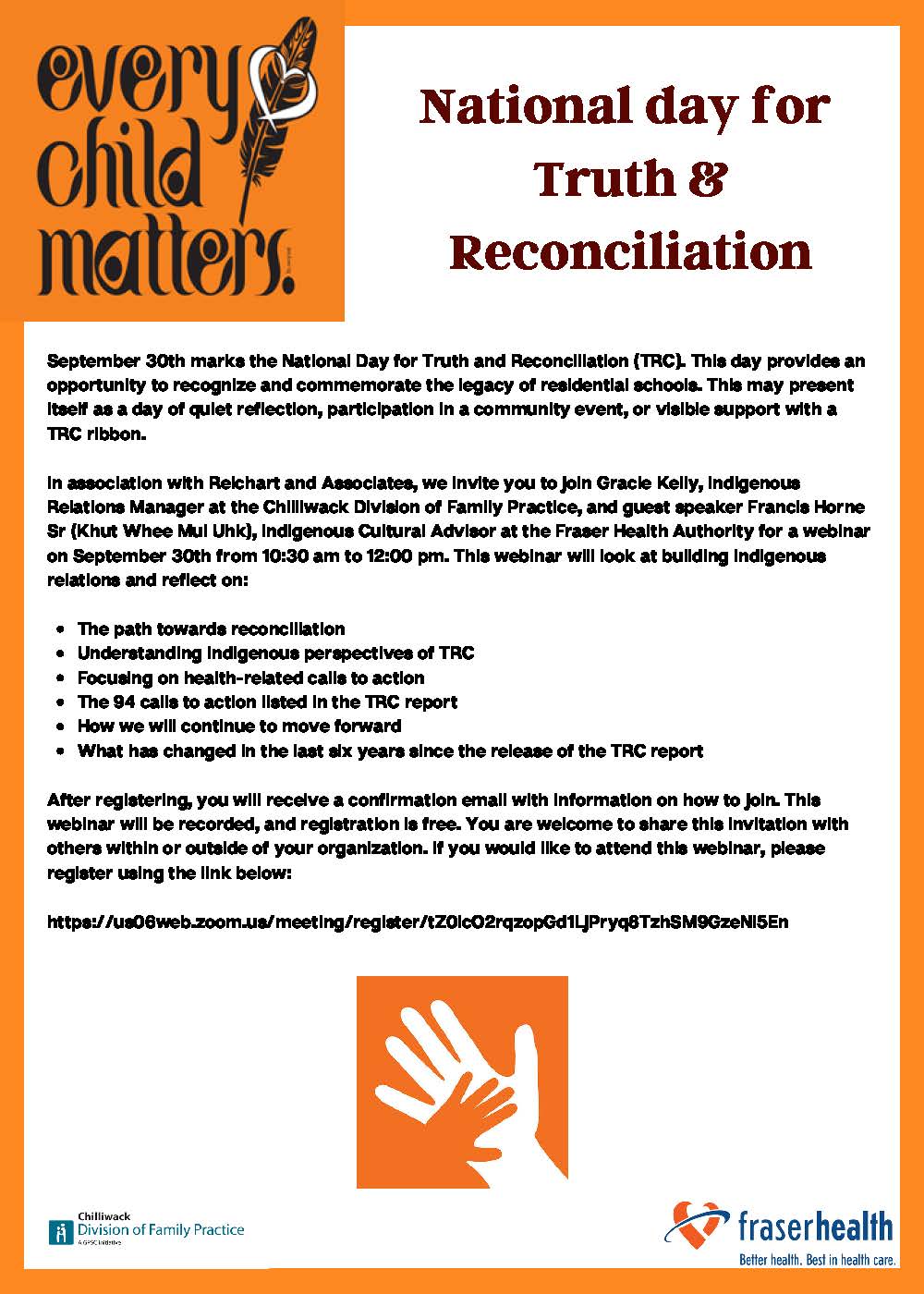 In association with Reichart and Associates, you are invited to join Gracie Kelly, Indigenous Relations Manager at the Chilliwack Division of Family Practice, and guest speaker Francis Horne Sr (Khut Whee Mul Uhk), Indigenous Cultural Advisor at the Fraser Health Authority for a free webinar that will look at building Indigenous relations and reflect on:
The path towards reconciliation
Understanding Indigenous perspectives of TRC
Focusing on health-related calls to action
What has changed in the last six years since the release of the TRC report
The 94 calls to action listed in the TRC report
How we will continue to move forward
Orange Shirt Day Awareness Event - Cancelled
September 30
Time: 10:00 am – 1:00 pm
Location: Chilliwack Central Park, 45951 Victoria Avenue (please bring your own seating)
For more information, call 604.795.5994
Organized by PCRS
National Truth and Reconciliation Day Candlelight Vigil - Cancelled
September 30
Time: 7 pm
Location: Yarrow Pioneer Park, 4390 Kehler Street
Organized by Tammy Ayre, Desiree Klynsoon and Kaeli Cernos
For more information visit facebook.com/events/249495700396635
No registration or RSVP is required.
Education, one of the many paths of reconciliation
The Chilliwack Chamber of Commerce, in partnership with the Ts'elxweyeqw Tribe and the Chilliwack Economic Resource Network, are pleased to announce the launch of a new educational program titled,
"Education, one of the many paths of reconciliation: Understanding our past to better our future". From workshops and tours, to storytelling by Indigenous Elders, there is something for everyone. See their press release for the full list of opportunities.
City of Chilliwack
Orange Lights
Orange lights have been permanently illuminated in the Vedder Road roundabout art to honour survivors of residential schools, along with their families and communities. The City of Chilliwack funded the Coast Salish artwork in the roundabout which celebrates the history of the Ts'elxwéyeqw Tribe and Stó:lō Nation. It was designed by Stó:lō Nation president and Squiala First Nation Chief David Jimmie, in coordination with Coast Salish artist Bonny Graham, and in consultation with the Ts'elxwéyeqw Tribe and the Stó:lō Nation Chiefs Council.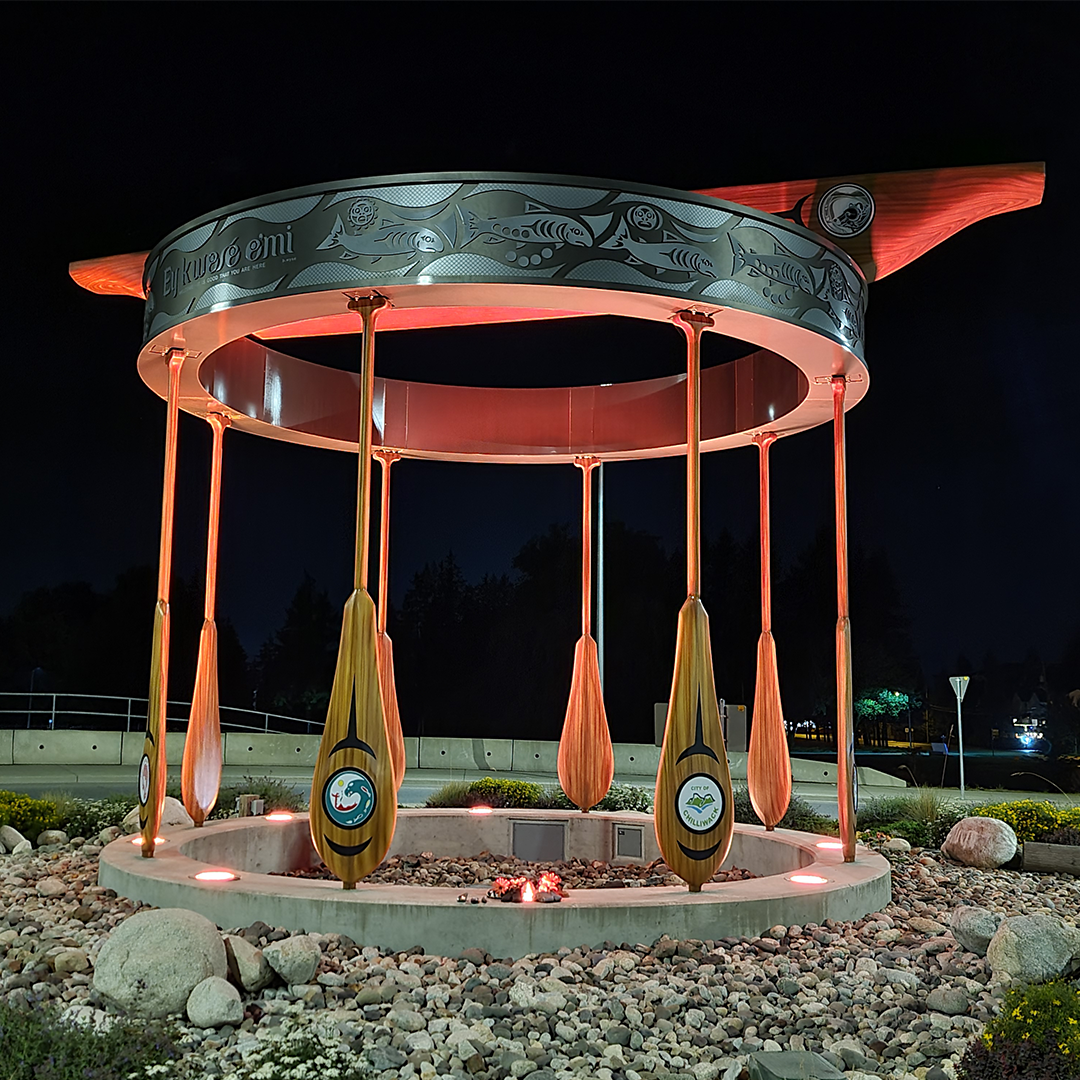 Flags at Half-Mast
This summer, when the remains of 215 children were found buried at a former residential school in Kamloops, the City of Chilliwack lowered flags to half-mast on civic flag poles in alignment with the government of Canada's half-masting notice.
Although the government of Canada has not indicated when flags should return to full-mast, the City of Chilliwack has consulted with local Indigenous leader, Squiala Chief David Jimmie, President of Stó:lō Nation Chiefs Council, and will return flags to full-mast on Friday, October 29.
Attachments
Description
Date
File Size
T&R Webinar
2021-09-29
198KB