Look for a Canadian Certification Mark when purchasing a Carbon Monoxide Alarm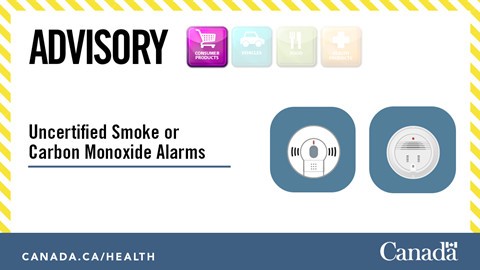 Health Canada is reminding Canadians to check that smoke and carbon monoxide (CO) alarms they purchase online bear a recognized Canadian certification mark.
The COVID-19 pandemic has required many Canadians to make everyday purchases online in an effort to reduce their exposure and follow local public health guidelines. For this reason, Canadians should be aware that there is a risk of purchasing uncertified smoke and CO alarms via online sales platforms.
Products that do not have a recognized Canadian certification mark may not meet Canadian performance standards and could fail or operate incorrectly. This could pose a risk to consumers who may not be alerted to a fire or CO incident in their home.
When purchasing a smoke or CO alarm, Canadians should look for a recognized Canadian certification mark from an organization that is accredited by the Standards Council of Canada. These marks, such as CSA, cUL, ULC or cETL, should appear directly on the product, not just on the packaging.
CLICK HERE for more information.
_____________________________________
Communications and Public Affairs Branch
Health Canada - British Columbia Region / Government of Canada
Health Canada-Santé Canada Communications BC - [email protected]
Direction générale des communications et des affaires publiques
Santé Canada - Région de la Colombie-Britannique / Gouvernement du Canada
Health Canada-Santé Canada Communications BC - [email protected]