Evans at Wells Intersection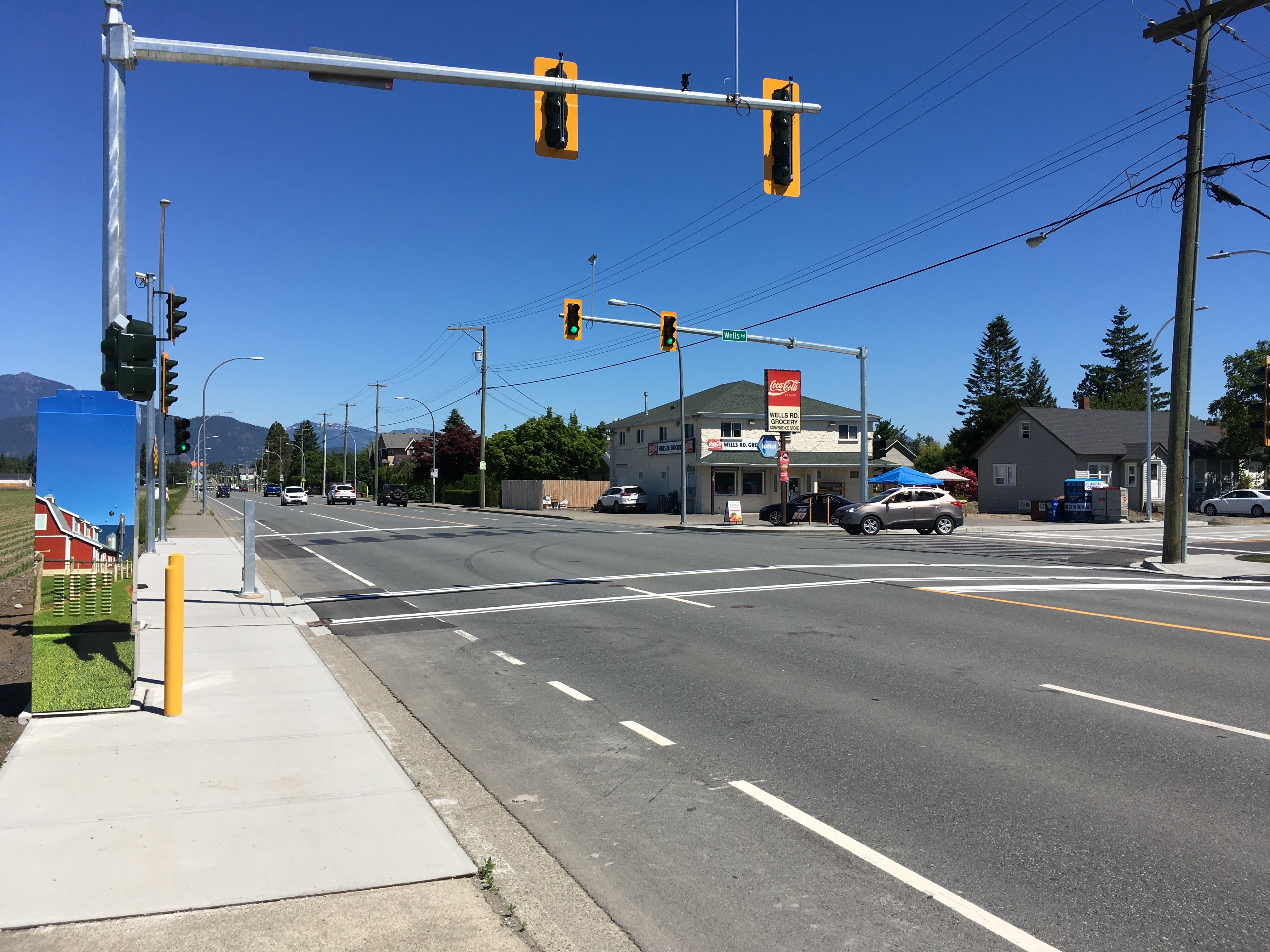 Background:
In 2018 the City conducted a traffic study to look at several options for Evans Road at Wells and Sumas Central. The objective of this study was to assess the traffic operation performance of the intersections along Evans Road at Wells Road and Sumas Central Road. It is found that although the free-flow direction (northbound and southbound) operates with excellent level of service, the eastbound and westbound stop-controlled approaches were found to have a poor level of service, indicating that there are inadequate crossing opportunity for left-turn traffic onto Evans Road during the peak hours.
Roundabout and signal options were evaluated on the basis of vehicle road safety, accessibility and safety for pedestrians, construction costs and property impacts. The study determined that installing signals at each Evans and Wells and Evans and Sumas Central Rd will provide the most benefit for lowest cost and property impacts. Given the higher demand on Wells Ave, as well as the previously budgeted pedestrian crossing at Evans and Wells, the first project will be the full signalization at Evans and Wells. The new signal at Evans and Wells will provide some improvement for traffic eastbound on Sumas Central, as the signal will create gaps in traffic which will provide turning opportunities for vehicles on Sumas Central. The proposed signal at Evans and South Sumas Rd will be given consideration within the 10-year capital program.
Project Details:
Installation of full traffic signal with right-turn overlap from Wells Road
Widening of Wells Road to include dedicated left-turn lane
Pedestrian push button crosswalks
Southbound left-turn phase and video activated vehicle detection
LED street lighting
Pedestrian accessibility improvements at the intersection.
Construction Timeline:
Traffic signal now complete
Top liftpaving of the Wells Road leg to be completed by late 2021
How this Signal Works:
Evans Road is a Major Arterial Road intended to manage high volumes of through traffic with as few interruptions as possible. Traffic signals are necessary to assign rights-of-way at key intersections but they always increase delay for motorists on the major road. It is important to minimized the delay for major road traffic as much as possible while still providing a reasonable level of service for all other motorists, pedestrians and cyclists approaching the intersection.
The primary warrant for the new traffic signal on Evans Road at Wells Road is for pedestrians crossing the four lanes of Evans Road. The secondary warrant is for vehicles turning left from Wells Road onto Evans Road.
An additional feature of this signal is the southbound left-turn phase that will come on when there are approximately 10 or more vehicles waiting in the southbound left lane at the beginning of the southbound green display. There isn't enough width on Evans Road to construct a southbound left-turn lane so through and left turning vehicles are mixed together in the left lane. This left-turn phase would unduly delay northbound vehicles if it were to be displayed every cycle, even at times when there are few or no southbound vehicles that would benefit from it. The traffic signal equipment does not have the ability to determine which motorists wish to turn left and which are continuing through the intersection. Whenever there are many southbound vehicles waiting it is likely that one or more of them will benefit from the display of the left-turn signal.
When the southbound left-turn signal is displayed the westbound right-turn signal for Wells Road traffic is displayed simultaneously for a slight increase in efficiency. This is called a "right turn overlap" phase.
For monthly updates on transportation construction projects, subscribe to our e-newsletter.