Curbside Compostables (Organics) Collection Program Frequently Asked Questions
What materials are accepted under the curbside compostables collection program?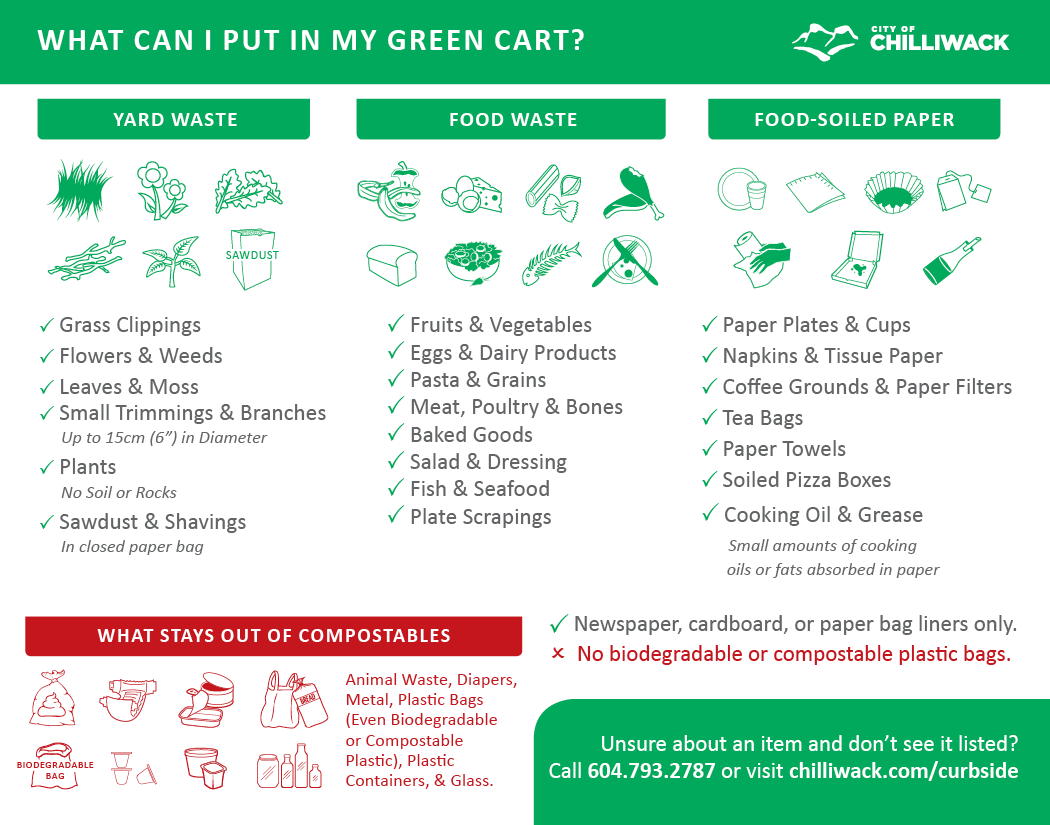 Do I need to fit all of my yard waste in my Green Cart?
No, residents are also able to put out up to 10 extra paper bags of yard waste or bundles of branches per week, year-round (no tag-a-bag stickers required).
Branches can be tied in bundles of no more than 1¼ metres in length with a diameter no more than 600 millimetres. The diameter of each branch can be up to 15 cm.
If residents have more than 10 bags or bundles, additional ones can be placed out for collection with tag-a-bag stickers on them.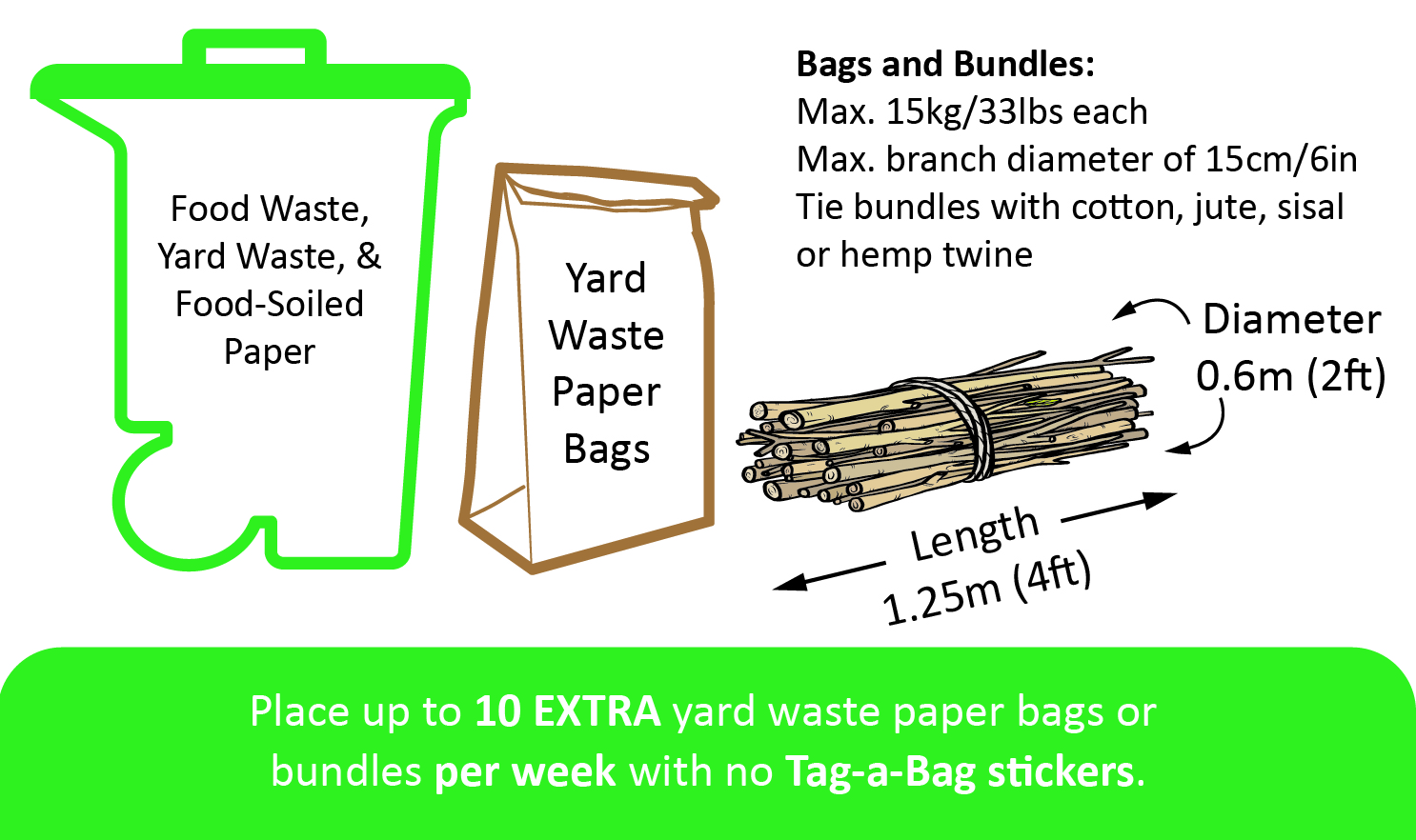 Can I exchange my Green Cart for another size?
Green Carts are available in four sizes: 80L, 120L, 240L and 360L (different rates apply).
The first cart size exchange is free (one free size exchange in every two-year period; additional exchanges cost $25).
Carts will be picked up and delivered by the City's contractor.
Cart size exchange requests must be made by the property owner. Tenants, please discuss cart size selection with your landlord. Click here to request an exchange.
What does the curbside program cost?
The monthly fee for garbage, recycling and compostables collection depends on the size of Green Cart. For detailed costs, click here.
Are diapers, personal hygiene products and animal litter accepted in the curbside compostables collection program?
No, diapers, personal hygiene products and animal litter need to be put in the garbage and do not belong in the Green Cart. Items that are not compostable or may contain composite synthetic materials are not accepted in the compostables collection program.
I have a garburator; why should I participate in the curbside compostables collection program instead?
The curbside compostables program allows you to put your food waste to good use by placing them in your Green Cart for composting. Unlike composting, using garburators put unnecessary strain on the City's Waste Water Treatment Plant . If everyone were to use a garburator instead of composting, the City would have to carry out expensive upgrades to the Waste Water Treatment Plan in order to handle the extra nutrient loading. Composting at curbside is easy; it creates good soil and saves energy, water and your plumbing too!
What happens to the compostables that are collected?
Instead of becoming waste at the landfill, food waste and food-soiled paper are taken to a processing facility in Abbotsford where they are turned into compost, along with yard waste.
Is food waste in the landfill really a bad thing? Doesn't this material break down into compost or soil anyway?
Food waste does not break down into compost or soil in the landfill because it needs oxygen to decompose properly. When this material is placed in the landfill, it gets mixed up with other garbage and is quickly compacted and buried.
Often the garbage stays in an airless environment, and very slowly breaks down. This process can take decades. As it slowly breaks down, the food waste releases significant amounts of methane, a strong greenhouse gas.
Why do we have bi-weekly garbage collection?
Bi-weekly (once every two weeks) garbage collection helps reduce the cost of collection, which means a reduced utility bill for residents compared to weekly garbage collection. There is less need for weekly garbage collection since food waste is separated and collected weekly. Removal of the compostable materials also means that the residual garbage has reduced odours.
Bi-weekly garbage collection also helps ensure that less waste ends up in our landfill by providing an incentive for residents to participate in the weekly curbside compostables collection program to compost their food, food-soiled paper and yard waste. Many other municipalities in the Lower Mainland have also switched to bi-weekly collection, for the above reasons.
Please note that residents are able to place up to two, 120L garbage containers (or bags) out for collection every two weeks.
Am I still able to use my backyard composter?
Yes, if you have a backyard composter, please feel free to continue using it. The compostables collection program complements backyard composting by accepting a wider range of food waste that may not be suitable for backyard composting such as cooked food, meat, bones, fish, baked goods, food-soiled paper products including paper towels and napkins and paper food-soiled packaging such as used paper cups and paper plates and larger diameter yard trimmings.
I am concerned about odour and keeping my Green Cart and Kitchen Catcher clean, how do I manage this?
Compostable material was previously included in your garbage and now it is just collected in a separate container, so there shouldn't be a significant difference in odours.
Click here for some tips on how to keep your Green Cart clean.
Why did my Kitchen Catcher with food waste not get collected at the curb?
Emterra cannot collect Kitchen Catchers because they are not designed to be used for collection and would get damaged. Kitchen Catchers also do not have a locking mechanism to prevent wildlife from accessing your material. The Green Cart is the only approved container for food waste at the curb and yard waste can either be placed in the Green Cart or in paper yard waste bags for collection.
I'm concerned about attracting wildlife to my property with the Green Cart, what can I do to prevent this?
Here is a list of steps you can take to prevent encounters with wildlife due to your curbside containers
Store your garbage, recycling and Green Cart in the house, garage, shed or bear-resistant enclosure until the morning of collection.
Freeze or refrigerate meat, fish, bones and plate scrapings until collection day.
Place your garbage, recycling and compostables at the curbside the morning of collection, not the night before.
Wrap your food scraps in newspaper or paper bags to reduce odours and to keep your Green Cart clean.
Layer food waste and food-soiled paper with yard waste in your Green Cart when possible.
Wash your curbside containers with a mild soap or a vinegar and water solution to reduce odours.
I am moving to another property in Chilliwack; do I take my Green Cart with me?
No, please leave your Green Cart at the property that it was delivered to, you will have the ability to order another cart for free once you reside in your new home.
Why did the City implement a curbside compostables (organics) collection program?
Like most other communities in the Lower Mainland, the City implemented the compostables program because it is the environmentally responsible thing to do and it supports our region's waste diversion goals.
Garbage audits revealed that on average, the garbage Chilliwack residents were putting out at the curb contained over 40% compostable material (mostly food waste plus some yard waste). Rural garbage audits showed slightly lower amounts, but still over 30% compostable material.

Food and yard waste can be composted to create a beneficial product, instead of taking up valuable landfill space. Keeping compostable materials out of the landfill also reduces odours, greenhouse gases, and problems at the landfill with birds, rodents and wildlife.
I live in a multi-unit building; am I part of this curbside compostables diversion program?
Multi-unit buildings are not automatically registered under the City's curbside program. If your townhouse complex would like to apply to be registered for the program, please call the City's Engineering Department at 604.793.2907 or click here for more information.
The Fraser Valley Regional District and member municipalities have developed a regional compostables diversion strategy, which will include all residential, commercial and institutional properties. Click here for more information.