Agricultural Area Planning
Farm Home Plate
Following an extensive public consultation process, in support of City initiatives to minimize the impact of residential uses on farm land and protect form land in the long term, Council adopted amendments to the OCP and Zoning Bylaw, in the summer of 2017. The amendments establish area and siting requirements for Farm Home Plate, which is a portion of the property where all residential and related buildings, structures and activities are clustered, leaving the balance of the property for agricultural use. The amendments apply to all properties on valley floor farmland, in the city of Chilliwack.
____________________________________________________________________________
Agriculture is an important part of Chilliwack's landscape and economy: it accounts for 67% of the City's total land base and 29% of economic activity.
Chilliwack's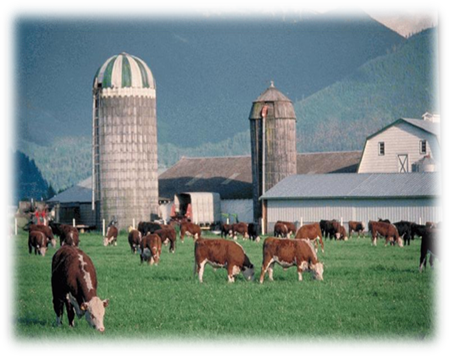 Official Community Plan (OCP) recognizes the importance of agriculture through goals and objectives that support effective growth management, and the strengthening of agriculture, through implementation of Chilliwack's Agricultural Area Plan, promotion of Chilliwack's primary role in agriculture, and promotion of agricultural development.
Chilliwack's Agricultural Area Plan (AAP) identifies four strategies, and associated policies and actions to support the long term sustainability of the agricultural industry and agricultural land use planning:
Industry Innovation
Industry Sustainability
Education and Communication
Environmental Responsibility
DPA No. 9 Farm Home Plate
The AAP is implemented by the City's Agricultural Advisory Committee, the Chilliwack Agriculture Commission and other community partners:
The Agriculture and Rural Advisory Committee (ARAC) is a select committee established by City Council to provide advice to Council on bylaws, plans, policies and applications relating to agriculture, agri-businesses, and agri-tourism in Chilliwack.


The Chilliwack Agriculture Commission (CAC) is a subsidiary of the Chilliwack Economic Partners Corporation (CEPCO), a unique, community-based economic development organization within the City of Chilliwack. The CAC's mandate is to encourage the establishment of Chilliwack as a center of excellence in agriculture by facilitating a diverse and sustainable agricultural sector, through: public awareness and education; new projects; and agricultural related business attraction, retention and expansion activities.
Agricultural Policy
Other Important Information Links