Rain Barrels
Rain barrels offer an alternate source of water for watering plants in and around the home. The City has purchased rain barrels and is offering them to residents at a subsidized cost. The high quality containers are a great way to reduce summer demand on your water system.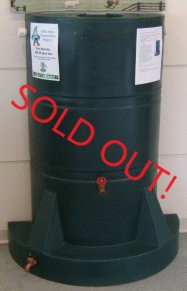 Rain barrels are currently out of stock. We have ordered more and are expecting the shipment to arrive soon. The website will be updated as soon as the next batch arrives!
Rain barrels can be purchased at the Engineering Department counter, downstairs at City Hall.
Rain Barrel Specifications:
Volume
363 litres (96 gallons)
Dimensions
It has a base diameter of 107 cm (42") and a height of 137 cm (54").
Features
The Rain Barrel has half cylinder design which sits flat against an exterior wall.

The inlet has a microscreen to prevent the entry of mosquitoes and to prevent debris from entering the barrel. All fixtures are included, but a section of PVC pipe will be required for the overflow.
Winterizing
Before temperatures dip below freezing (before the first frost) it is important to winterize your rain barrel by completing the following:

Disconnect from downspout
Drain the barrel
Leave the taps open

Cost
$105.00 plus tax
Limit of one (1) per household.
For more information, contact the Engineering Department at 604-793-2907.