OCP Review
| | |
| --- | --- |
| | Join the OCP Discussion! |
| 1. | Visit the PlaceSpeak website. |
| 2. | Find the "Connect to this Topic" button near the top right of the page. |
| 3. | Register with PlaceSpeak and join the discussion. |
| | |

PHASE II - OCP REVIEW
Growth Scenarios and Policy Review
Phase II – Growth Scenarios and Policy Review began in January, 2013 and is now complete. A Chilliwack & District Real Estate Board Forum took place in September, 2013. A copy of the Full Report is available to view.
Phase I – Public Engagement portion of the OCP review is now complete. Public Engagement Summary or Full Report available for your information.
CHILLIWACK 2040: OFFICIAL COMMUNITY PLAN UPDATE
The City is approaching the 85,000 population milestone which triggers a review and update of the Official Community Plan (OCP).
The Planning and Strategic Initiatives Department has initiated this review and will be seeking community input at various stages of the review process. Overall, the review and update are expected to take just over a year to complete.
The update will incorporate substantial planning initiatives the City has completed over the past 14 years, and look forward 30 years to ensure the Plan takes into account projected growth, emerging trends and changing community needs.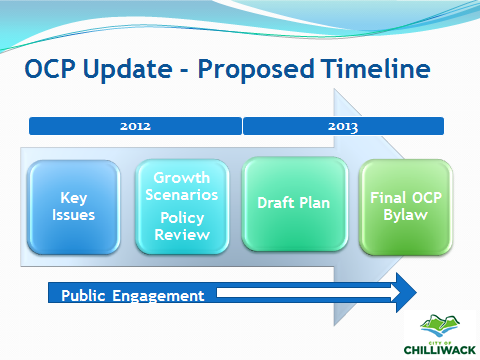 Your questions and feedback are important to us; please return to this site again soon for project updates and opportunities to learn more about how you can participate in this project.
Official Community Plan Update Video Player
As part of the Official Community Plan Update process, a report has been published regarding the City of Chilliwack Economic and Employment Prospects.