Chilliwack City Council Approves New Logo and Graphics Standard for City Hall
Chilliwack, BC – Council has approved a new logo and graphic standards for the City of Chilliwack. The new brand mark and guidelines will be used for the majority of City documents, correspondence, publications and signage. The Chilliwack crest will continue to be used on documentation that exercises Council's statutory authority.
"We're pleased to have an updated logo that is representative of the City of Chilliwack," said Mayor Sharon Gaetz. "The graphic standards and guidelines will ensure a contemporary and cohesive style for the City."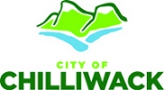 To develop a new logo, a working group comprised of City staff, as well as representation from Chilliwack Economic Partners and Tourism Chilliwack was formed in July, 2010 to begin the initial concept for a new logo. The group chose a Chilliwack company, 'Basecamp Creative' to develop the logo design work. Six logo concepts were narrowed down to two by the working group and were presented to City Directors and Administration, who selected the logo in its current form.
The logo design is intended to reflect an image which is modern, friendly and efficient. The focal point of the new logo is Mt. Cheam, which depicts a well known landmark using contemporary colour schemes and design elements. This mountain range denotes Chilliwack as a stable and sold community. The water features below represent the Vedder and Fraser rivers, two major water systems that flow through the Chilliwack area and remain significant components of the City's character and economy.
Rivers are also a symbol of grace and fluidity and epitomize Chilliwack's relaxed 'go with the flow' personality. Blue conveys stability and calm, while the two shades of green in the logo signify Chilliwack's diverse agriculture industry. Green is seen extensively in nature and so it is representative of Chilliwack's defining characteristic, the beauty of its natural surroundings.
The purpose of the City's new logo is to present a modern visual identity and design scheme that is representative of the City of Chilliwack. The logo will enhance the City's image with a contemporary look and also ensure the City of Chilliwack brand coheres with the brand identities of partner agencies, like Chilliwack Economic Partners and Tourism Chilliwack.
A Graphics Standards Guide featuring the new City of Chilliwack logo, letterhead, business cards and various corresponding templates has been created by City staff and will form the basis of all communications, both external and internal and provide a standard look for the City of Chilliwack.