Healthier Community Strategic Action Plan
Chilliwack's Healthier Community Strategic Action Plan Project
The City of Chilliwack, in partnership with groups and agencies in the community, has developed a Healthier Community Strategic Action Plan to address Chilliwack's most significant and persistent social issues.
Project Information
Previous community initiatives identified three priority areas - crime, homelessness, and mental health and addictions. Previous initiatives also called for community-wide collaboration and coordinated action as strategies to tackle these issues.
In the fall of 2010, the Healthier Community Strategic Action Planning project was launched. A collaborative effort involving government, community agencies, faith groups and individuals, the process identified community strengths, issues and opportunities, set priorities and developed a shared vision of a Healthier Community.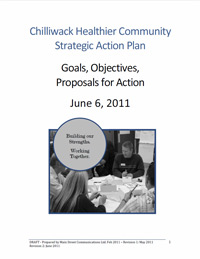 The process was guided by a steering committee that included broad representation from the health, education and social service sectors.
In October and November 2010, 78 people representing more than 30 organizations involved in the provision of health and social services, participated in one or more community engagement sessions to develop the Healthier Community Strategic Action Plan.
More than 25 youth from Sardis, Chilliwack, and GW Senior high schools, Sto:lo Alternate School, Chilliwack Community Services and Chilliwack Alcohol and Drug Services Youth programs participated in a parallel youth consultation session, and a public online survey yielded 75 responses.
The plan, prepared in early 2011, summarizes the process, outlines the community's goals in seven priority areas and lists objectives and proposed action steps for each area. Focusing on opportunities for coordination and partnership, the plan is intended as a guiding document for the community – one that will change over time as new priorities emerge and as goals are achieved.
Click on the link below to view the Strategic Action Plan and Appendices:
Chilliwack Healthier Community Strategic Action Plan - June 2011
Presentation of Draft Plan to Council
Healthier Community Strategic Action Plan video
Healthier Communities Project Overview, Presentation to Council September 2010
If you have any question, please call 604-793-2969 or email healthiercommunity@chilliwack.com